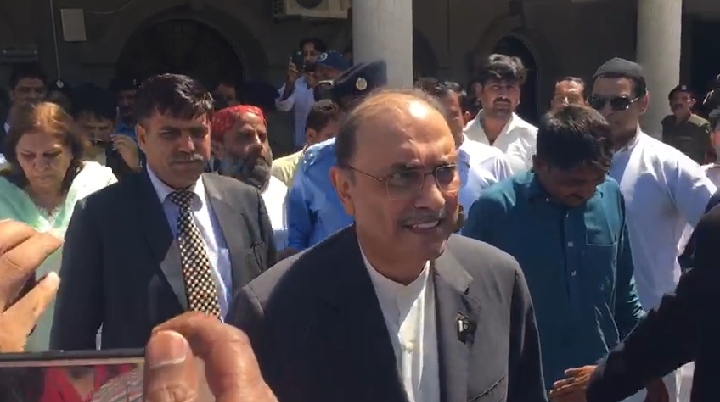 ---
ISLAMABAD: An accountability court in Islamabad on Tuesday rejected a petition seeking to shift former president Asif Ali Zardari from Adiala Jail to hospital, asking to approach the relevant forum.

A day earlier, the court had reserved the verdict on a plea filed by Zardari's counsel Sardar Latif Khosa pleading before AC-I Judge Muhammad Bashir that there was a threat to the life of his client because of ailing condition.

He prayed before the court that the co-chairperson of the Pakistan Peoples Party (PPP) did not demand any relief from the government but he should be allowed to exercise his legal rights of availing medical facilities.

Court reserves judgement in Zardari's case

The PPP stalwart along with his sister Faryal Talpur were arrested by the National Accountability Bureau (NAB) in June in a multi-mullion fake account case.

Judge Bashir has maintained in a three-page written order that the court does not have the authority to declare the hospital a sub-jail and it is the domain of executive.

However, the court has directed the jail authorities to take the necessary measures in view of the medical report of the former president.

Bilawal blames PTI govt

Reacting to the court decision, PPP chairman Bilawal Bhutto-Zardari said the incumbent government would be held responsible if any harm done to his father health.

"If anything, God forbid, happens to my father, we will hold this [PTI] government responsible. Despite these tactics we will not compromise on our principles or democratic politics," said Bilawal in a series of tweets following the court order.


If anything was, God forbid, to happen to my father we will hold this government responsible. Despite these tactics we will not compromise on our principles or democratic politics. 3/3

— BilawalBhuttoZardari (@BBhuttoZardari) October 15, 2019
that he should be provided with medical facilities in prison & shifted to hospital for investigation/ treatment he has been denied his fundamental rights. Not only has he not been taken to hospital he has still not been provided with a fridge to keep his insuline & medicine. 2/3

— BilawalBhuttoZardari (@BBhuttoZardari) October 15, 2019
The Pakistani state continues to try and use my fathers ailing health to pressure my party. Despite being detained without being convicted of anything since August he is still to receive medical care. Despite multiple medical reports from the governments own doctors... 1/3

— BilawalBhuttoZardari (@BBhuttoZardari) October 15, 2019