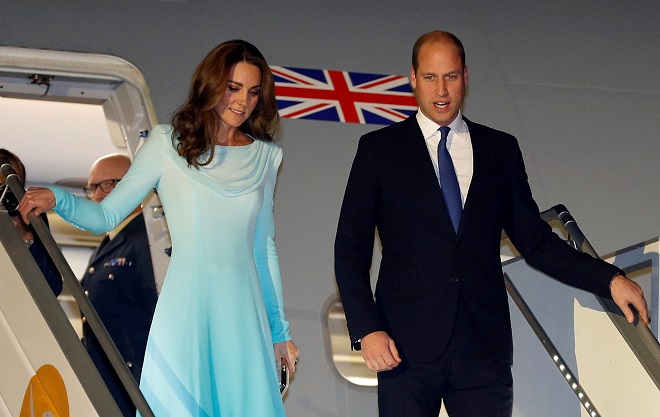 ---
British royal couple – Prince William and Kate Middleton – arrived in Pakistan on Monday night, beginning a five-day visit that will focus on boosting ties and addressing challenges such as climate change.

The couple disembarked from a British Royal Air Force plane, after an eight-hour flight, at about 9.30pm at Nur Khan airbase in Rawalpindi.

They were greeted by Foreign Minister Shah Mehmood Qureshi and Britain's envoy Thomas Drew, as well as officials of the Foreign Office and the British High Commission in Islamabad.

The Duchess of Cambridge wore a long pale blue variation of the shalwar kameez, a dress or tunic worn over trousers, Pakistan's traditional national outfit that many on social media and in the fashion industry had hoped she would don during her visit. Prince William wore a navy suit with a blue tie.


And touch down #RoyalVisitPakistan pic.twitter.com/RJNIvVFLAC

— Chris Ship (@chrisshipitv) October 14, 2019


Two children clad in traditional dress presented flower bouquets to the distinguished guests. The guests thanked them and talked to them for a while.


The Duke of Cambridge and Catherine, Duchess of Cambridge arrive at Pakistani Air Force Base Nur Khan.

Catherine's earrings 😍😍 pic.twitter.com/vHgRWTQu3S

— Isa (@isaguor) October 14, 2019


The Duke and Duchess of Cambridge will remain in the country till October 18.

[/fbvideo]

The trip has been described by Kensington Palace as the most complex the couple have undertaken due to security and logistical issues. It is the first by members of the British royal family in more than a decade.

The release of public details of the tour were limited due to tight security, but the visit would take them around the north and west of the nation of 208 million people, with the focus on climate change, access to education and security.




Excitement built up on Monday, with '#RoyalVisitPakistan' trending on Twitter and television stations airing footage from historic royal visits, including one by Prince William's grandmother Queen Elizabeth in 1961.

Foreign policy experts and officials have said the trip, made at the request of the British foreign office, represented a soft power push, which may help both sides further their diplomatic aims.

It comes as Britain seeks to reinvigorate its foreign relationships with the looming deadline for Britain's departure from the European Union, while Pakistan works to repair its global image to boost tourism and investment.

Prince William's grandmother, the ruling monarch Queen Elizabeth II, visited Pakistan in 1961 and again in 1997.

However, the most memorable royal tours for Pakistan remain the visits by his mother, the late Princess Diana, in 1991, 1996 and 1997.

Speaking ahead of the latest royal visit, British envoy Thomas Drew said Prince William and Kate's visit would showcase Pakistan as "a forward-looking country".

"They hope to meet as many Pakistanis as possible during the course of the visit," the British high commissioner said in a video message on Twitter. "They are looking forward to building a lasting friendship with the people of Pakistan."


We're in the final countdown to the arrival in Pakistan of the Duke and Duchess of Cambridge. Here is a flavour of what to expect. #RoyalVisitPakistan pic.twitter.com/zvg0MkTkNa

— Thomas Drew (@TomDrewUK) October 13, 2019


A statement released by Kensington Palace earlier this month described William and Kate's visit to Pakistan as "the most complex tour undertaken by The Duke and Duchess to date, given the logistical and security considerations."

"From the modern leafy capital Islamabad, to the vibrant city of Lahore, the mountainous countryside in the North, and the rugged border regions to the West, the visit will span over 1,000km, and will take in Pakistan's rich culture, its diverse communities, and its beautiful landscapes," read the statement.

It said the royal couple would "visit programmes which empower young people… and also cover how communities in Pakistan are rapidly responding and adapting to the effects of climate change."

"Their Royal Highnesses will also spend time understanding the complex security picture in Pakistan… The UK has been a key partner for Pakistan, and The Duke and Duchess will meet UK and Pakistan military personnel who are sharing expertise to improve security," the statement added.

(With additional input from Reuters)