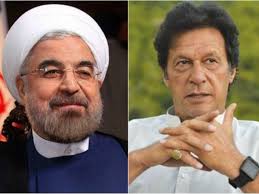 ---
DUBAI: Ahead of Prime Minister Imran Khan's Sunday visit to Iran, Tehran has said it is prepared for talks with Saudi Arabia, with or without a mediator.

"Iran has announced that, with or without a mediator, it is always ready to hold talk with its neighbours, including Saudi Arabia, to get rid of any misunderstandings," Iran's Foreign Ministry spokesperson Abbas Mousavi said.

Iran's Foreign Minister Javad Zarif echoed similar sentiments.

"We've always been open to discussing anything with Saudi Arabia. Saudi Arabia is our neighbour. We're going to be here together permanently," he told TRT World.

"We don't have any choice but to talk to each other, and we have been open to talking to Saudi Arabia either directly or through intermediaries," Zarif added.

When asked about PM Imran's upcoming visit to Tehran, Zarif said, "We've never rejected any intermediary... We've always been open to mediation, and we've always been open to direct talks with our Saudi neighbours."

Secret visit lays groundwork for PM's mediation visit to Iran, S Arabia

PM Imran's visit comes weeks after Washington had asked Islamabad to mediate between the two middle eastern rivals.

"The possibility of a visit of the prime minister to Saudi Arabia and Iran is on the cards," Foreign Office Spokesperson Mohammad Faisal said.

Last month, PM Imran said that US President Donald Trump had asked him to help defuse tensions in the region.

Iran's foreign minister signaled this week that his country would be willing to discuss regional issues with Saudi Arabia, but that Riyadh had to stop "killing people."

Saudi Arabia has blamed Tehran for attacks on Saudi oil plants on September 14, a charge Iran denies. The kingdom has said it prefers a political solution to a military one.