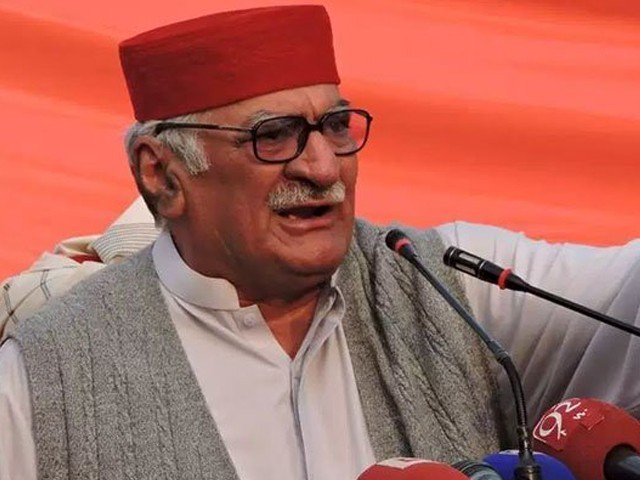 ---
PESHAWAR: Awami National Party (ANP) chief Asfandyar Wali has announced his party's full support for Jamiat Ulema-e-Islam-Fazl's (JUI-F) 'Azadi March' – a protest march scheduled for October 31 to oust the government of Prime Minister Imran Khan.

Addressing reporters here on Friday, the ANP chief said he himself would participate in the protest rally once it reaches Islamabad. "Khyber-Pakhtunkhwa chief minister would be held responsible if political workers are stopped or subjected to torture," he added.

JUI-F chief Maualan Fazlur Rehman has announced that his party would march on the federal capital on October 31 in an attempt to overthrow the Pakistan Tehreek-e-Insaf (PTI) government, which it alleges has come to power through rigging. Other opposition parties – the PPP and the PML-N in particular – are in two minds over joining hands with Fazl.

Should've considered boycotting parliament after 2018 polls: Nawaz Sharif

Wali, during today's media interaction, said the joint opposition demands an end to this "selected government" with fresh polls in the country. "Efforts are afoot to roll back 18th Constitutional Amendment through this selected prime minister… Action in Aid of Civil Power is as bad as imposing martial law and it contradicts with the Constitution."

Commenting on the current situation of the country, the ANP chief blamed the PTI government for prevailing rise in inflation, saying a further increase of seven per cent, as predicted by the State Bank of Pakistan (SBP), is nothing less than a security threat to the country.

"Opponents are being politically victimised… PML-N supremo Nawaz Sharif and PPP co-chairman Asif Zardari are being targeted through the National Accountability Bureau (NAB)," said the senior politician.

The NAB chairman on the other hand is totally oblivious of BRT, billion tree tsunami project and Malam Jabba scandal, he added.