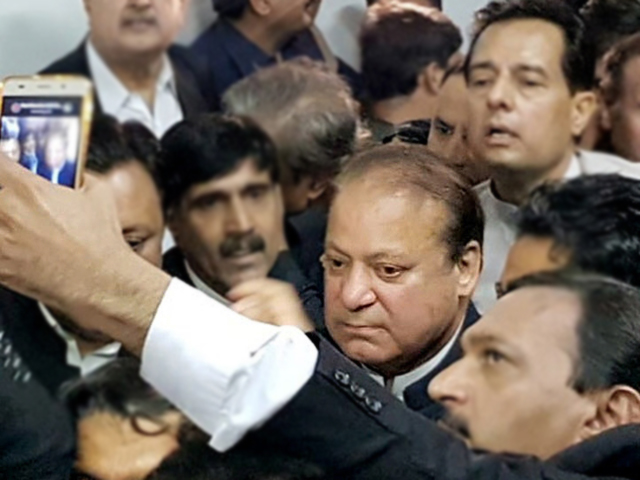 ---
LAHORE: After days of confusion and division among ranks of Pakistan Muslim League-Nawaz (PML-N) over their participation in the Azadi march, former prime minister Nawaz Sharif finally settled the matter dropped on Friday a strong hint that the party would take part in the protest.

Sharif spoke to reporters as appeared in the accountability court, which remanded the three times former prime minister into the custody of the National Accountability Bureau (NAB), Lahore, for 14 days, following his arrest in the Chaudhry Sugar Mills case.

Sharif's unequivocal support for the march to be led by Jamait Ulema-e-Islam-Fazl (JUI-F) chief Maulana Fazlur Rehman, gave credence to his son-in-law Captain (retd) Muhammad Safdar statement that confusion on the matter had finally been removed.

ANP announces support for Fazl's 'Azadi March'

Sharif told reporters that that he not only supported the decision of Fazl, but also considered his stance to be his own -- in a way confirming that PML-N will take part in Azadi march. "I have written to [PML-N President] Shehbaz Sharif [about his decision] and Shehbaz Sharif will brief [the party] on that," he said.

Sharif revealed that Fazl had proposed immediately after the 2018 elections that the parties should resign from the assemblies and protest but "we convinced him not to pursue" that course. "But in hindsight, his suggestion carried weight … Now, I believe rejecting his call would be wrong," he added.

The former PML-N chief's position on the Azadi march provided credence to Safdar's claims that he was making for several days that his father-in-law was in full support of Fazl's call. "Situation is finally cleared after Nawaz Sharif announced that he supports Maulana Fazlur Rehman," he told reporters.

"Nawaz Sharif is ready for any punishment but will not back down from his position," Safdar said. Sharif, he said in a separate media talk, had written a letter to his son Hussain, who would keep in touch with Fazl.

The statements of Safdar rejected the notion that there was any difference of opinion between the Nawaz and Shehbaz Sharif. He said that Shehbaz Sharif was a true loyalist and would do anything for his elder brother.

JUI-F rally exposes cracks in PML-N

Addressing the media outside the accountability court, PML-N spokesperson Marriyum Aurangzeb also dispelled the impression of any divisions in the party, saying that a conspiracy to drive a wedge between the PML-N and Nawaz Sharif had been foiled.

The conspiracies and plots to drive a wedge between Nawaz Sharif and Shehbaz Sharif have been going on forever. They have failed miserably and will continue to fail, she stressed. "The PML-N has taken a principled decision. It will stand with the people of Pakistan and Maulana Fazlur Rehman."

In the light of Sharif's instructions, Shehbaz has called a meeting of senior party leaders on Saturday (today) to brief them on the directions of Sharif. Senator Perveiz Rashid told a TV channel said that Shehbaz, in the meeting, would assign duties to the party leaders for preparations for the march.

Aurangzeb said that Shehbaz would announce the PML-N strategy, regarding the Azadi march in accordance with the directions of Nawaz Sharif. "We have also presented our charter of demands to the Rehbar Committee," she told The Express Tribune.

"All the parties in the grand opposition alliance have also presented similar demands, including resignation of Prime Minister Imran Khan, holding of fresh elections and investigation into the rigging of 2018 general elections," she added.

PML-N, PPP still unsure on 'Azadi march' participation

Nawaz Sharif arrested

The accountability court on Friday granted NAB a 14-day physical remand of Nawaz Sharif in Chaudhry Sugar Mills case. Sharif, who is serving his jail term at Kot Lakhpat Jail  following his conviction in Al-Azizia corruption case, was arrested on Friday.

Sharif was brought to the court amid strict security. However, a large number of PML-N supporters and leaders, including Capt (retd) Safdar, Pervaiz Rasheed, Mariam Aurangzeb, Asif Kirmani, Amir Muqam, Uzma Bukhari, reached the court to express solidarity with their leader.

They chanted slogans in his favour and against his detention. A few incidents of skirmishes between PML-N supporters and the police were also reported. A large number of lawyers had also entered the courtroom and chanted slogans, when Sharif appeared in the court.

During the proceedings, NAB presented an investigations report before the court. The report read that the accused remained Punjab finance minister and chief minister and the prime minister of Pakistan and held majority shares in the Chaudhary Sugar Mills Ltd (CSML) at different span of times.

It alleged that Sharif in connivance with co-accused Maryam Safdar, Hussain Nawaz, Yousaf Abbas Sharif and Abdul Aziz Abbas Sharif made investments of approximately Rs2,000 million rupees in the CSML and Shamim Sugar Mills Ltd from between 1992 and 2016, which are disproportionate to their known sources of income and that the origin of that money was unknown.

It further alleged that the accused, while serving as the prime minister showed an amount of $15,520,000 as loan to the CSML by Chadron (Jersey) Limited, St Hellier, Jersey, Channel Island, an off shore company in the year 1992 but the owners of that company had not been disclosed.

The accused acquired 11.527 million shares of the CSML worth approximately Rs400 million in 2008 with active, aid, abetment and assistance of his daughter Maryam Safdar, whereas the total declared income of both the accused persons that period was approximately Rs47 million. The report pointed out that the acquisition of the shares was disproportionate to their known sources of income.

The accused in connivance with Yousaf Abbas Sharif, Maryarn Safdar and others, laundered another amount of Rs410 million by showing false and fictitious transfer of 11 million shares the CSML in the name of a foreigner, Nasser Abdullah Hussain Lootah, whereas these shares were ultimately transferred back to the Nawaz Sharif in 2014 while he was serving as prime minister, the report continued.

The report alleged that the accused in connivance with other co-accused, Maryam Safdar, Yousaf Abbas Sharif and others acquired the Shamim Sugar Mills Ltd for approximately Rs1,200 million, while the accused persons had no sufficient or known sources of funds to acquire the Shamim Sugar Mills Ltd.

The report added that Sharif in connivance with his accomplices had also been involved in laundering funds of approximately Rs2,000 million, which were disproportionate to the known sources of income. The report prayed for physical remand of 15 days of the accused to procure evidence.

Defence counsel Advocate Amjad Pervaiz contradicted the allegations, telling the court that his client had never been a shareholder in CSML and also denied his role in its formation. He added that previous government had also investigated him in this regard but found nothing.

He said that it was a fake case as a joint investigation team (JIT) had already investigated the case and there was no justification for another investigation. He also challenged the demand for physical remand saying that he was already in prison and NAB could simply visit him there for investigation purpose.

Nawaz Sharif, while speaking before the court, termed all the allegations frivolous. He said that dictator Musharraf had established NAB to victimise him. He added that he earned the assets from his family business and before his coming to power.

He challenged to quit politics if the corruption during the times he served at public office is proved. He said that he had answered all the questions a NAB team had asked him during their visit to his cell in the jail.

He said that gave the information which he remembered at had asked for consulting his lawyers for further information, however, his requested was denied.
COMMENTS (2)
Comments are moderated and generally will be posted if they are on-topic and not abusive.
For more information, please see our Comments FAQ