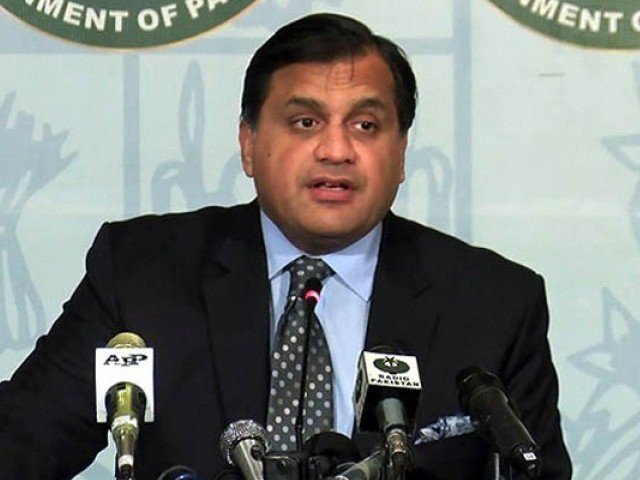 ---
ISLAMABAD: Foreign Office Spokesperson Dr Mohammad Faisal said on Thursday that Pakistan was not ready to join any arms race in the South Asian region.

The spokesperson passed the remarks during the weekly FO briefing when asked in regards to India's recent acquisition of advanced jet fighters from France.

"We [Pakistan] urge the world to refrain from pushing this region [South Asian region] into an arms race," said the FO spokesperson.

India takes first delivery in controversial French jet deal

"Pakistan knows how to defend itself. It does not matter if its a Rafale or any other fighter jet. The whole world is a witness to the episode of February 27."

"The main focus of this [PTI] government is on youth development, education and health."

Voicing concern over the indefinite curfew and blatant human rights violations in the Indian Occupied Kashmir (IOK), Dr Faisal said, "Pakistan demands the lifting of all sorts of restrictions and stoppage of human rights violations in the valley."

"We [Pakistan] do not expect any good from India. Those who are supporting New Delhi, they should remain standing with it. It does not make any difference."

"Pakistan is raising the situation of IOK on every platform. We are determined to resolve the matter as per the will of the people who are trapped in an open-air prison."

The spokesperson also welcomed the visit of US senators to Azad Jammu and Kashmir (AJK) and hoped the atrocities in IOK would soon be exposed to the world.

Faisal said despite Indian efforts to cover up brutalities in the valley, the plight of the Kashmiri people was being recognised across the world.

Kartarpur Corridor

Responding to a question about the Kartarpur Corridor, the FO spokesperson said a formal invitation had been extended to former Indian Prime Minister Manmohan Singh to attend the opening ceremony.

Dr Faisal added the ceremony would happen as per the schedule.

"Work on the Kartarpur Corridor is continuing with full speed and it will be completed on time."

"Pakistan is working on the dates of the South Asian Association for Regional Cooperation (SAARC) summit to be held in Islamabad which will be shared once they are finalised."

India takes first delivery in controversial French jet deal

Syrian conflict

Islamabad also appreciated Turkey's role in finding a viable political solution to the conflict.

During his press conference, Dr Faisal said commended Turkey's humanitarian efforts for graciously hosting over 3.5 million Syrian refugees on its soil.

"Pakistan also recognises Turkey's legitimate security concerns in the region. We will continue to support the territorial integrity of Syria and hopes a political solution to the conflict is reached soon that takes into account the concerns of all the regional stakeholders," said the FO.

Dr Faisal also said that there was a possibility of Prime Minister Imran Khan visit to Saudi Arabia and Iran.