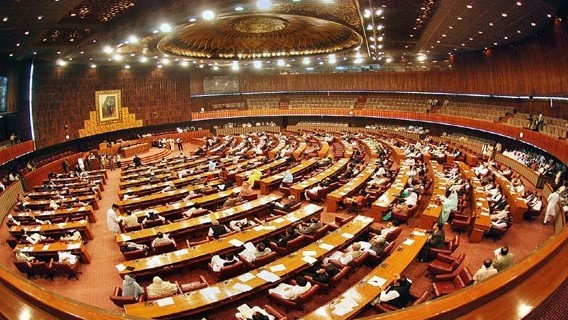 ---
ISLAMABAD: Low attendance in the assembly on Saturday was indicative of members losing interest on the issue of the budget.

The National Assembly's Session on budget has been adjourned till Monday.

Initially 65 parliamentarians were present in the house but only 32 remained seated during the session.

Prime Minister Yousuf Raza Gilani left the house during the proceedings while opposition leader Chaudhry Nisar and Pervaiz Elahi were absent.

During the debate Abdul Ghani Talpur said the electricity tariff should not be increased until loadshedding ends.

PPP Leader Ghaus Bakhsh Mehar participating in the budget debate said that ministers should resign before they criticize budget.

PML-N MNA Hanif Abbasi while criticizing the government said that Pakistan is the only country in the world where 70 per cent of the income is generated through indirect taxes. He urged the parliamentarians to build a national consensus for the construction of Kalabagh dam.

PML-N MNA Ahsan Iqbal said that the government has changed the financial minister for the fourth time and is not paying attention to important issues. Ahsan Iqbal also said that the federal government did not consult the provinces before announcing 50 per cent pay raise in the budget.

He said that the water crisis will be the greatest problem in future but no national policy has been formed to cope with it.

PPP Leader Hina Rabbani Khar while participating in the budget debate said that industrial growth was negative last year but this year it has improved to 4.1 percent.
COMMENTS
Comments are moderated and generally will be posted if they are on-topic and not abusive.
For more information, please see our Comments FAQ