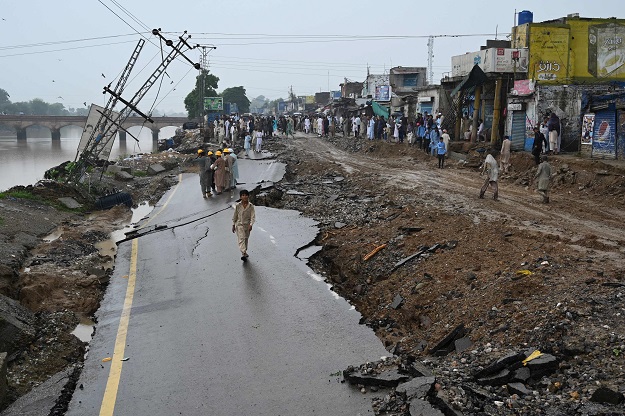 ---
ISLAMABAD: One person was killed as aftershocks continue in earthquake-affected southern Mirpur district of Azad Jammu and Kashmir (AJK).

Aftershocks were reported at 5am and then 10am on Sunday morning, and the first one caused the collapse of a residential building in the Khaliqabad area of Mirpur.

The building was damaged in the powerful September 24 earthquake in Mirpur and its adjoining areas, which killed dozens, injured hundreds and caused widespread devastation.

At least 30 dead, 452 injured as earthquake jolts AJK, Punjab

Three people were trapped in the rubble, all of whom were rescued and admitted to a hospital for treatment. One of the three, however, was critically injured and later passed away.

Officials said the 3.8-magnitude tremor was recorded around 15 kilometres west of Jhelum, an originated an estimated 15 kilometres below the surface.

On Monday, Prime Minister Imran Khan announced a relief package for the earthquake-affected people of AJK after the powerful tremor on September 24 over 40 people.

The shallow 5.6-magnitude earthquake also jolted several cities of Punjab and Khyber-Pakthunkhwa (K-P). The epicentre of the quake, which occurred at around 4pm at a depth of only 10 kilometres, was near Mirpur city in AJK, roughly 20 kilometres north of Jhelum in Punjab, according to the US Geological Survey.

The areas worst hit were Mirpur city, a small town Jatlan and two villages Manda and Afzalpur, where buildings and homes collapsed, trees were uprooted and cracks appeared on roads large enough to swallow cars.




COMMENTS
Comments are moderated and generally will be posted if they are on-topic and not abusive.
For more information, please see our Comments FAQ