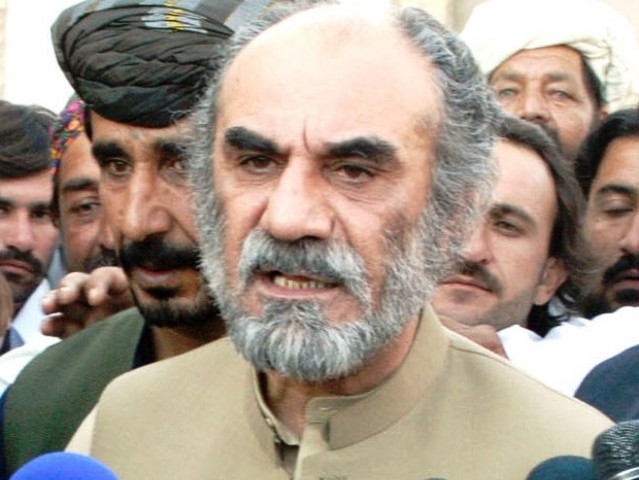 ---
QUETTA: Former Balochistan chief minister Aslam Raisani has vowed to continue fighting for the rights of the suppressed people of the country, saying provision of equal rights to all nations is the only solution to steer Pakistan out of the current crises.

Talking to a private news channel on Sunday, the senior politician stressed upon unity among politicians, army, judiciary and all institutions in order to strengthen the Federation.

"I have been using my political experience to protect the rights of Baloch, Pashtun, Sindhi and Punjabi nations which is why I don't need to join any political party," said Raisani, adding that the deprived nations had not gotten any benefit from constitutional amendments.

Do not use my martyred brother's name to shine politics: Aslam Raisani

To a query regarding the Reko Diq project, the former CM said, "Being the chief minister and head of the provincial government, I asked the Tethyan Copper Company (TCC) to fulfil all legal requirements but they violated the rules and regulations and went to the International Centre for Settlement of Investment Disputes (ICSID).

"The TCC should initiate talks with the Balochistan government as we need to pay 25% amount of fine imposed by the ICSID because we have only 25% shares in the Reko Diq project."

Responding to corruption allegations and the National Accountability Bureau's (NAB) reference, Raisani said, "NAB has not closed my file which is why they have been searching for corruption evidences against me. I have declared my assets before the Election Commission of Pakistan because I own properties in Quetta worth millions of rupees. I did not get rich after becoming the chief minister."

He said if there was any corruption against him, "I am sure that NAB would have placed me behind bars but they didn't find a smidgen of corruption against me".

On worsening law and order situation during his tenure as the CM, Raisani said, "I put in my utmost efforts to control the law and order situation but there were major international powers playing the war game due to which neither the CM nor the PM were able to revamp the security across the country."

Raisani granted admission to University of Balochistan

He refuted the perception outside Balochistan that Nawabs and Sardars were against education, saying being the CM he established six colleges, a digital library, university campus in Mastung, teaching hospital and high schools across the province.

Terming removal of Musharraf's ideology from Balochistan his major achievement, Raisani said, "Despite severe antagonism, I restored the Levies force and deputy commissioners across the province and declared Gwadar as Winter Capital of Balochistan." 

Published in The Express Tribune, October 1st, 2019.