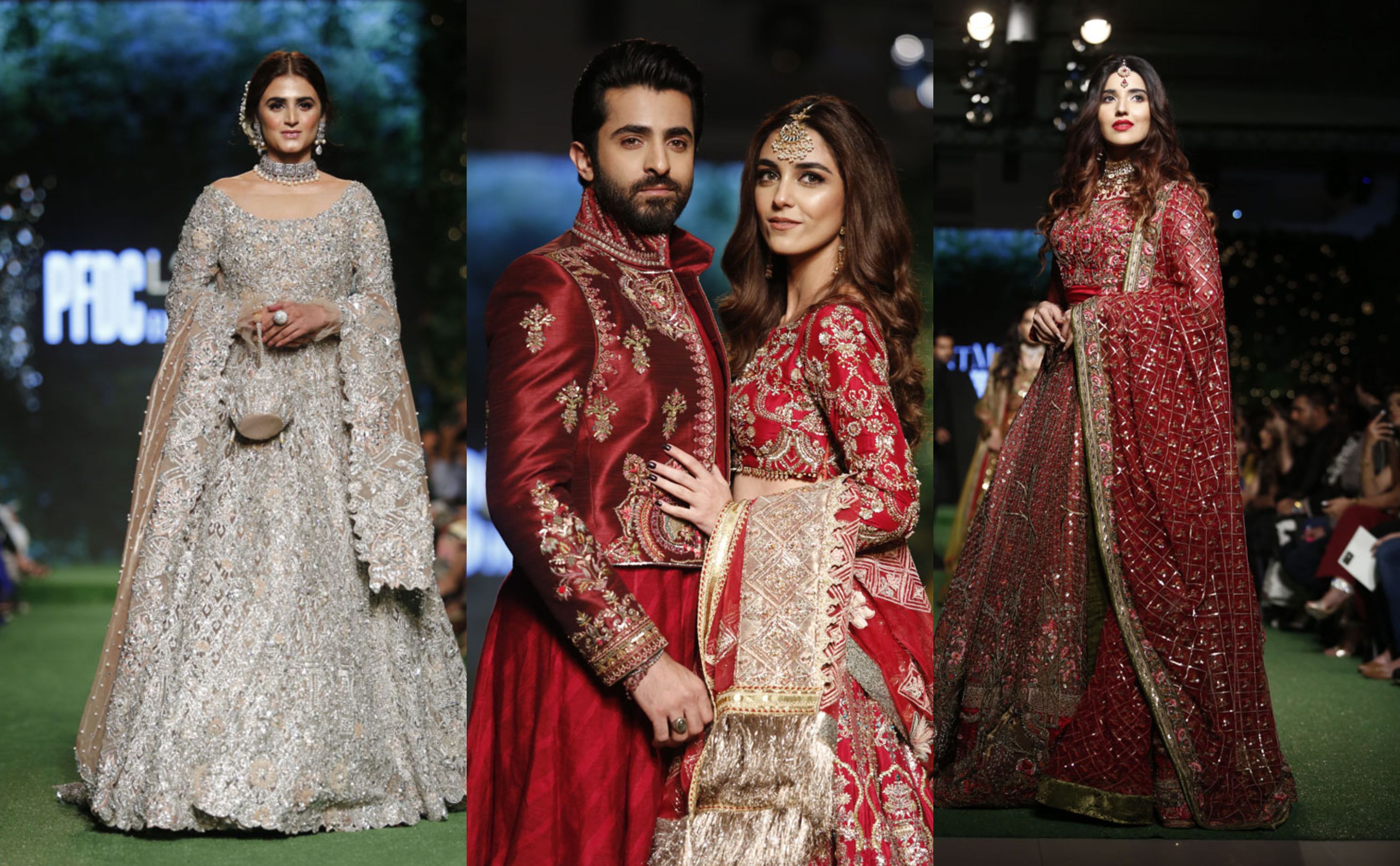 ---
LAHORE: PFDC L'Oréal Bridal Couture Week (PLBW) wrapped up on Saturday with design house HSY closing the evening with his opulent grand finale show. While the three-day extravaganza must be lauded for providing young talent a platform to showcase their offerings as well as freedom of expression to established designers, some failed to live up to the mark. PFDC must stay true to its stature and conduct a deeper screening before choosing the designer line-up for the prestigious event.




PHOTOS COURTESY: Shafiq Malik/Express

Fahad Hussayn presented a line that was disappointing to say the least and did not do justice to his otherwise great designing abilities. More of a circus than a fashion showcase, his pieces were far from bridal wear, almost as though he had tried too hard to bring together a unique collection. Even a train of celebrities like Imran Abbas, Ayeza Khan, Amanat Ali, Kubra Khan and Nimra Khan couldn't save Hussayn's show. However, debutante Neelam Noreen brought a myriad of eye-catching pieces on the ramp, especially bridal saris with embellished velvet pallus. Here is a rundown of the last day of fashion week.

MNR Design Studio

Collection: ChaharBagh




PHOTOS COURTESY: Shafiq Malik/Express

Mohsin Naveed Ranjha brought a Punjabi touch to the runway. His collection was an attempt to pay an ode to Islamic art and architecture. The line comprised floral motifs while some pieces entailed Shikaargah-inspired embroidery that caught our attention the most. The ramp witnessed ghararas, lehenga cholis and short shirts on rich fabrics like velvet, tissue and woven silk with ample gold and silver wire work and applique. Maya Ali and Sheharyar Munawar strutted in show-stopping ensembles.  Maya sported a double layered deep red lehenga while her Parey Hut Love co-star looked dapper in a matching deep red kurta with straight pants and a short embroidered full sleeves jacket.




PHOTOS COURTESY: Shafiq Malik/Express

What I appreciated was that Mohsin stayed true to his roots, creating a collection of timeless hand woven masterpieces. Moreover, the designer's trademark finishing on dupattas is a detail all brides-to-be repeatedly request for. However, on the downside, ChaharBagh was restricted to a clientele who would want something extremely traditional and typical of Punjabi culture. His menswear consisted of an alluring colour palette while the cuts were equally up to the mark.

HSY

Collection: Empire




PHOTOS COURTESY: Shafiq Malik/Express

The couturier cast his spell once again while drawing inspiration from four influential empires – Ottoman, Mughal, French Polynesian and Russian. He travelled all year round in search of unique motifs and incorporated them with age-old embroidery techniques employing the use of dhaga, reshamkora and naqshikada.

The collection had both heavy and light bridals. It was a manifestation of the brand's design essence based on fabrics such as tissue net, brocades and woven silk. The menswear collection was nothing short of spectacular with its regal detailing and cuts. Mehreen Syed walked the ramp for HSY in a deep red ensemble with gold dhaga and resham embroidery paired with a contrasting burnt orange block-printed shawl finished off with a chunky gold border.

Nickie Nina

Collection: Gulabkaar




PHOTOS COURTESY: Shafiq Malik/Express

The designer duo proved that floral can be for fall too. Their collection presented both options, traditional and modern. Nickie and Nina belted out a line of sensuous, east meets west ensembles that included floor length gowns and long shirts coupled with ghararas and lehengas. It displayed the designer's ability to seamlessly merge the traditional with the contemporary. Navy blue, forest green and magenta made for a lush colour palette. The collection assimilated the ancient art of block printing, tie-dye and self-printed brocade. The silhouettes were relaxed and effortless which should be the main focus when making a bridal and radiated a contemporary appeal. Hira Mani walked the ramp in a heavily embellished gown with pearls and crystals generously splashed all over.

Fahad Hussayn

Collection: Labyagawachi




PHOTOS COURTESY: Shafiq Malik/Express

Utter chaos and confusion took over the ramp. There was an array of colours, cuts and silhouettes but there was no principle of design philosophy, rhythm, harmony or continuity in the line. He is immensely talented but none of the offerings showed that. There were lehengas, cholis, voluminous gowns and dresses. The menswear comprised of jackets and suits but all with perplexed aesthetics, craftsmanship, embroidery and silhouettes. It looked like more of a circus than anything else.




PHOTOS COURTESY: Shafiq Malik/Express

Hareem Farooq donned a red embroidered lehenga with an ill-fitted choli and an oversized dupatta. Aima Baig also participated as the showstopper. Overall, Hussyn presented a below average collection in an attempt to be unique.

Republic by Omer Farooq

Collection: Adamah




PHOTOS COURTESY: Shafiq Malik/Express

Art Deco fabric patterns meshed with hand embroideries ruled the showcase. The colour palette was primarily white, gold, burgundy and blue. There were jacquard tuxedos, sherwanis with edgy details and high ankle trousers for the modern man. The menswear consisted primarily of black and white outfits with gold embellishments. Republic is known for its bespoke menswear but it failed to bring anything new for the season.

In fact, it was a very dull, miss-matchy and unflattering collection such as the white sherwani paired with an olive green and red block-printed shawl and the black sherwani worn with a silver and red one. The finishing touches were OTT like the embroidery on green and maroon waistcoats. The only saving grace was Emmad Irfani's walk for the design house.

Have something to add to the story? Share in the comments below.
COMMENTS
Comments are moderated and generally will be posted if they are on-topic and not abusive.
For more information, please see our Comments FAQ