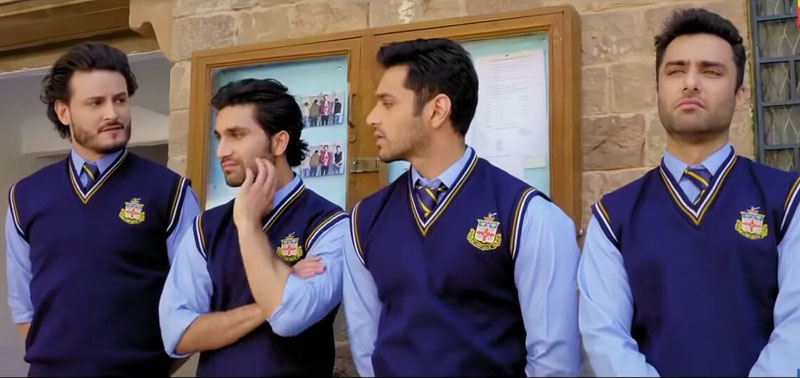 ---
KARACHI: Written by Mustafa Afridi, directed by Saife Hasan, and jointly produced by MD Production and ISPR, Ehd-e-Wafa is the newest drama on the block. Void of the usual saas bahu, extramarital affairs, and rape scripts, it is a story of 4 friends in boarding school at Lawrence College.

Summary:

The drama stars Osman Khalid Butt (OKB) as Malik Shahzain, Ahmed Ali as Shehryar, Ahad Raza Mir as Saad, and Wahaj Ali as Shariq. They are referred to as 'The SSG,' Special S Gang (as all of their names begin with S. The leader of the gang is the brattish Shahzain who is a 4th time repeater with Saad kind of like his right hand. Shariq and Shehryaar often threaten the other two with talaaq and istefaahs.

In the first two episodes, the SSG, is shown as the brat pack. They try to bunk school, lie to get out of trouble, and get into more mischief than anyone else at the boarding school. Shahzain can't seem to sit idle and always has some sort of a plan in the works. Their warden, Sir Firdous, does his best to make sure the SSG gets in trouble with the headmaster, but fails.

So far, we don't know anything about Shehryaar, Shahzain, and Shariq or what their stories. The only one we know a bit about is Saad; his father is in the army (Faraz from Alpha Bravo Charlie), his mother's birthday is in October, his sister is Rameen, and he has a dog named Zorro.

Apart from the SSG, the drama also stars Zara Noor Abbas as Rani and Alizeh Shah as Dua. Rani is some Chaudhery's thoroughly irritating daughter who can't seem to pass whatever grade she is in to save her life. She cheats on the exam and gets caught yet makes herself out to be the victim in front of her mother. From the teasers, it seems Rani and Shahzain will be paired together so this will be interesting to see.

Dua is in pre-med and from the second episode we learn that her and Saad know each other somehow. The only other thing the audience knows about Dua is that she likes to stop traffic to yell at people in front of her for driving too slowly…seriously, this happened. She had her driver pull in front of the car ahead and yelled at an elderly couple because they were in the fast lane driving too slowly and backing up traffic. Anyone see rhyme and reason for this scene? Also there was no traffic. Someone please explain to me what road in Pakistan, in the middle of the day, doesn't have traffic?

Analysis:

So far, I liked the first two episodes. As I said above, there's finally a drama on air that doesn't deal with evil saas or bahus, extra-marital affairs or love triangles, or rape and other forms of physical abuse. The writers have beat those horses to death so Ehd-e-Wafa is a breath of fresh air. What I most like about it is the camaraderie between the SSG. Its just nice to see genuine friendships. The last time we saw this was in the first 4-5 episodes of the drama serial Goya and before that was Coke Kahani.




Mustafa Afridi's script if full of light-hearted comedy, which is such a relief. The lines given to the SSG are brilliantly written and funny to the core. Dua and Rani however seem to be there, just to be there though. I honestly didn't understand the whole Dua getting out of her car in the middle of the road to yell at the driver ahead of her car. Nor did I understand Rani acting like a 15-year-old and playing cricket with little boys. These scenes seem to be fillers and that is where I become hesitant. Hopefully we'll see these characters develop over time.

OKB, Ahad Raza Mir shine in teaser of upcoming military drama 'Ehd-e-Wafa'

Another thing I didn't get is that no one from SSG look like they should be 2nd, 3rd year college student. Even if Shahzain is a 4th time repeater, it's hard to believe that these are kids who are supposed to be in their late teens/early twenties. Wahaj Ali and Ahad Raza Mir barely pass, but Ahmed Ali and OKB don't. Having said that, I'm just grateful they didn't give these roles to Humayoun Saeed, Adnan Siddiqi, Faysal Qureshi, and Aijaaz Aslam – cause that's not completely out of the realm of possibility you know.




It was really nice to hear the national anthem though – as completely not in synch as it was. As far as acting goes, OKB is brilliant and has excellent comedic timing…add to that his expressions while speaking and you will can't find one fault in his acting. Ahmed Ali, Ahad Raza Mir, and Wahaj Ali are equally great. What's even better is their chemistry. When you watch them on screen, it doesn't seem like they are acting. They are all very natural and their personalities really gel. I think Saife Hassan did an incredible job directing them.

Zara Noor Abbas as Rani is thoroughly annoying and irritating and if that is what her character is supposed to be, then she aced it. It's way too OTT for me though. Also, how is it that she fails every year and there seems to be nothing wrong with that? Same goes for Shahzain.
Alizeh Shah too wasn't very impressive unfortunately. Sanam Chaudhery or Mariam Nafees would've been more convincible in Dua's role.

All in all, I'd give Ehd-e-Wafa 4/5 stars and the audience should watch it just for the SSG if nothing else.

Have something to add to the story? Share it in the comments below.
COMMENTS
Comments are moderated and generally will be posted if they are on-topic and not abusive.
For more information, please see our Comments FAQ