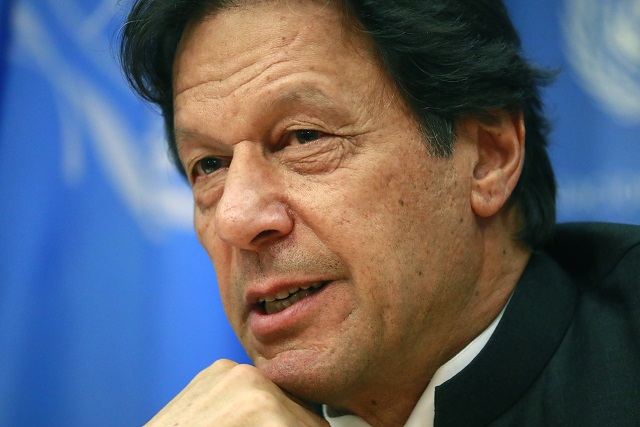 ---
ISLAMABAD: Prime Minister Imran Khan returned home on Sunday after what many believe his successful week-long visit to New York where in his maiden address at the United Nations General Assembly session he forcefully raised the longstanding Kashmir dispute.

At the airport, a huge crowed greeted the prime minister for advancing the cause of Kashmir.

But other than the brewing tensions with India, another issue that gave Prime Minister Imran prominence was his revelation that he was mediating between the US and Iran as well as Saudi Arabia in order to defuse the Middle East crises.

Tensions have been on the rise in the volatile Middle East for months but recent drone strikes targeting Saudi oil facilities have raised the spectre of direct conflict between Saudi Arabia and Iran.

Does UN speech signal Imran's arrival as a global leader?

The deteriorating situation sent alarm bells ringing in Pakistan as any direct conflict between Saudi Arabia and Iran would not only bring new challenges, but also huge implications for the country.

It was because of this that Pakistan decided to reach out to all international and regional players to offer mediation, said officials privy to the development.

Before embarking on a visit to the US, Prime Minister Imran travelled to Riyadh where he had discussed the issue with Saudi Crown Prince Mohammad bin Salman.

In New York after meeting US President Donald Trump, Imran disclosed that Trump had asked him to play a role in defusing tensions with Iran.

The prime minister held talks with Iranian President Hassan Rouhani while Foreign Minister Shah Mehmood Qureshi met at least thrice with his Iranian counterpart Javad Zarif. The prime minister didn't share further details.

But officials and diplomatic sources told The Express Tribune that no serious headway was made in those efforts by Pakistan. Trump also claimed that it was Imran who brought up the issue and wished to play the role of a mediator.

Diplomatic sources are of the view that Iran's conflict with Saudi Arabia and the US is far more complicated to be brokered by Pakistan.

Ambassador (retd) Ali Sarwar Naqvi, who served in different Middle Eastern capitals, endorsed the assessment but added that Prime Minister Imran's efforts could help clear some misunderstandings between Iran and Saudi Arabia, on the recent missile attacks on Saudi oil facilities in particular.

Both the US and Saudi Arabia have blamed Iran for the attack, although Houthi rebels in Yemen took the responsibility. Tehran denied its role and insisted that such an attack would never benefit the country.

This is not the first time Pakistan has offered mediation between Iran and Gulf states.

During Iran-Iraq war, the then military ruler Gen Ziaul Haq undertook several visits to Tehran and Baghdad, said Ambassador Naqvi, who was also part of many such visits.

He, however, pointed out that those efforts made little impact as Iran-Iraq war continued for eight long years.

What those diplomatic manoeuvres did was to send a positive message to domestic audience in Pakistan.

"And that's perhaps the main purpose of the government's current offer of mediation," he noted while arguing that public opinion in Pakistan is always against taking sides in any conflict between Muslim countries.

Sensing the public sentiments, former prime minister Nawaz Sharif also tried to mediate between Iran and Saudi Arabia over the Yemen war in 2015 instead of joining the Saudi-led alliance against Houthi rebels.

He along with the then army chief Gen Raheel Sharif, who now heads a Saudi-led Islamic coalition, visited Tehran and Riyadh.

But even those efforts couldn't achieve the desired results as tensions continued to simmer between Iran and Saudi Arabia.

A Foreign Office official, who spoke on the condition of anonymity, admitted that while Prime Minister Imran's efforts may not be successful, Pakistan has no option except to seek de-escalation in tensions between the two countries.

"Irrespective of the end result, Pakistan will continue with its diplomatic push with regard to Saudi-Iran tensions," the official added.
COMMENTS (1)
Comments are moderated and generally will be posted if they are on-topic and not abusive.
For more information, please see our Comments FAQ