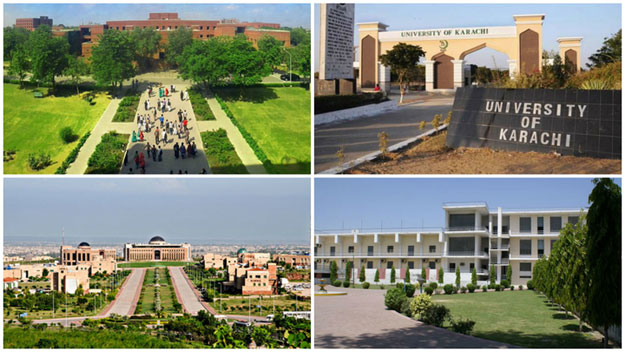 ---
As many as seven Pakistani universities made it into the Times Higher Education (THE) ranking of the top 1,000 universities for 2020.

The recently-released annual ranking ranks some 1,400 universities from 92 countries. Of these, some 14 institutions are from Pakistan.

Quaid-e-Azam University (QAU) in the federal capital was the only Pakistani varsity to make it into the top 500 with a rank of 470, making it the highest-ranked university in the country.

QAU was followed by COMSATS at 632, THE, though had included it in the 601-800 seemingly homogenous, unranked bracket. The varsity, which has multiple campuses across the country, was the only higher educational body of the country to make it in that bracket.

Last year, COMSATS had been ranked in the same bracket, 601-800 and held the highest position for a Pakistani varsity in the ranking. But it was beaten out by QAU this year, a varsity which had failed to make it to the rankings last year.

COMSATS was followed by the University of Agriculture of Faisalabad (UAF) at 805. The International Islamic University Islamabad (IIUI) was fourth at 873, Lahore University of Management Sciences (LUMS) was fifth at 896, the National University of Science and Technology (NUST) was sixth at 918 and the University of Punjab was seventh at 950.

Other Pakistani universities who made it to the list but were ranked outside the first thousand include the Bahauddin Zakariya University at 1,038, University of Engineering and Technology (UET) Lahore at 1,094, Government College University Lahore at 1,129, University of Peshawar at 1,257, Pir Mehr Ali Shah Arid Agriculture University Rawalpindi at 1,259, University of Sargodha at 1,280 and the University of Veterinary and Animal Sciences at 1,372.

None of the universities from Sindh, Balochistan or even Gilgit-Baltistan even made it to the list. Last year, after COMSATS, the other varsities to make it into the rankings included UAF and NUST which ranked between 801 and 1,000. Both of these varsities made it to the top 1,000 rankings this year as well.

THE World University Rankings 2020, rate universities are based on 13 calibrated performance indicators which measure an institution's performance across teaching, research, knowledge transfer and international outlook.

At the top of the rankings, the University of Oxford in the United Kingdom (UK) retained its top position. It was followed by the California Institute of Technology (CalTech), which rose three spots. Cambridge University came in at third while the top ten also included the private colleges of Stanford, Yale, and Harvard.

Published in The Express Tribune, September 26th, 2019.