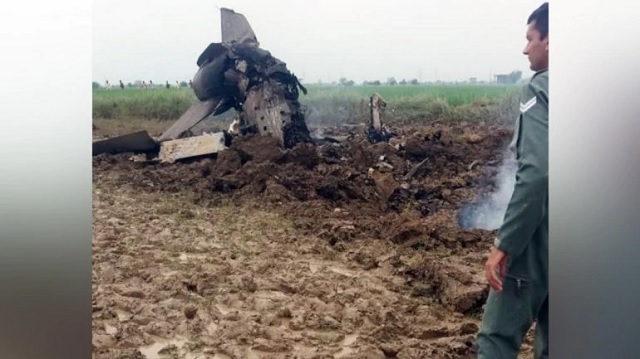 ---
An Indian Air Force (IAF) MiG-21 crashed near the Gwalior Air Force Base in Madhya Pradesh on Wednesday.

As per Indian media reports, the aircraft was on a routine training mission and both pilots - a group captain and a squadron leader - managed to eject safely.


Madhya Pradesh: MiG 21 Trainer aircraft of the Indian Air Force crashed in Gwalior, today. Both the pilots, including a Group Captain and a squadron leader, managed to eject safely. pic.twitter.com/Gdmik5RhTN

— ANI (@ANI) September 25, 2019


"Today morning a MiG-21 trainer aircraft on a routine training mission from Gwalior airbase crashed near the airfield at around 1000hrs. Both pilots ejected safely," the IAF said in a statement.

A Court of Inquiry will ascertain the cause of the accident, the statement added.

'Friendly fire' possible reason behind Indian Air Force chopper crash

This is the latest in an exhaustive series of IAF MiG-21 crashes.

In March, a MiG-21 crashed in Bikaner in Rajasthan during a routine mission. The pilot managed to eject successfully and the crash was put down to technical issues in the engine.

According to another Indian media report, more than 170 Indian pilots and 40 civilians have been killed in air crashes since 1970.

All these crashes involved fighter planes and most were attributed to MiG-21 jets, which have had 210 accidents from 1963-2015.

"According to Rajya Sabha, over the past 40 years, India had lost more than half of its MiG combat fleet of 872 aircraft. Over half of the 840 aircraft that were lost in crashes were built between 1966 and 1984," the report states.

"Since 2016, the IAF has lost 27 aircraft in crashes, which include 15 fighter jets and helicopters," India's Minister of State for Defence Shripad Naik said in June.

The MiG-21 is also the aircraft shot down by the Pakistan Air Force in February this year, which led to the capture of IAF Wing Commander Abhinandan Varthaman.




The MiG-21 is a Soviet-era single-engine multi-role fighter and ground-attack aircraft that was first inducted into the IAF in the 1960s and upgraded to the MiG-21 Bison version in 2006.


COMMENTS
Comments are moderated and generally will be posted if they are on-topic and not abusive.
For more information, please see our Comments FAQ