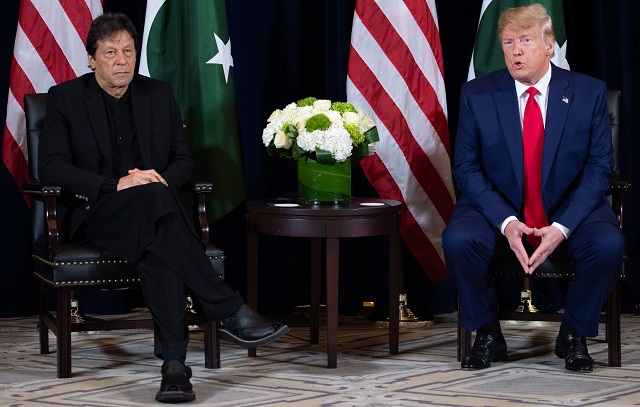 ---
[fbvideo link="https://www.facebook.com/etribune/videos/507534833346258/"][/fbvideo]

US President Donald Trump on Monday reiterated his offer for mediation between Pakistan and India on the Kashmir dispute but emphasised that arbitration could not be carried out unless both the parties involved welcome it.

Addressing the media alongside Prime Minister Imran Khan before their one-on-one meeting on the sidelines of the United Nations General Assembly session in New York, the US president acknowledged that the Kashmir was a complex issue that had been going on for a long time.

He said that he had never failed as an arbitrator in the past and would be available to help if asked. "If I can help, I will certainly do that," he said. "If both (Pakistan and India) want, I am ready, willing and able to do it," he said. "I think it's important that both sides want Washington to mediate on the Kashmir issue."

When asked if he was concerned about human rights violations in occupied Kashmir (IOK), he said, "Yes…I am, I want both sides to come to the negotiating table… I'd like to see everything work out. I want everybody to be treated well. There is always a solution and I do believe that there is a solution."

Trump said he has a "very good relationship" with Indian Prime Minister Narendra Modi as well as with Prime Minister Imran Khan and hoped the two neighbours would come together and resolve their differences over Kashmir. Without specifying, he added he had heard a "very aggressive" statement from Modi on Sunday, but "I hope they (Pakistan and India) are going to be able to come together and do something that's really smart and good for both".


Many country heads wanted to meet President of the US @realDonaldTrump but one of the countries' heads Trump wanted to meet, was Imran Khan. Tells a lot about Pakistan's global standing, doesn't it? #ManOfPeaceImranKhan pic.twitter.com/7K0ZRXai9X

— PTI (@PTIofficial) September 23, 2019


Speaking about the Pakistan-US relations, Trump said the previous US governments treated Pakistan badly and that he trusts the current leadership of the country. "I trust Pakistan but people before me didn't, but they didn't know what they were doing," he said in response to a question. "I really trust and like him [Imran Khan]," he said.

Commenting on Pakistan's progress to counterterrorism, he said: "I have heard they have made great progress and I think he (Imran) wants to make great progress." However, he added Iran was "doing very poorly". He said when he took office, "Iran was a real threat to the entire Middle East and maybe beyond. And now they are having very very big difficulties, to put it mildly." Answering another question, Trump termed Iran as the "number one state of terror in the world".

About Afghanistan, Trump said he had a great discussion with Prime Minister Imran Khan on dialogue with the Taliban, the situation in Afghanistan and regional peace. He added they discussed enhancing of the bilateral trade volume which was currently very low.

This is the second interaction between the two leaders after July this year when they met at the Oval Office during the Imran's visit to Washington. Trump said he wanted to meet the prime minister during the UNGA session as he (Imran) wanted to play his role for the regional development.

When Prime Minister Imran was asked about his expectations from Trump on Kashmir, he replied that Trump heads the most powerful country in the world, which has a responsibility to resolve disputes. "The world looks to the US to put out the flames in the world.

He said even though Trump had offered to mediate, India was refusing to talk to Pakistan. "In this situation, I feel that this is the beginning of a crisis. I honestly feel that the crisis is going to get much bigger [considering] what is happening in Kashmir," cautioned.

Referring to the Afghan issue, the prime minister said stability in Afghanistan was need of the hour and in the best interest of Pakistan.


Just came out of a very productive meeting between President Trump and PM Imran Khan pic.twitter.com/04YUBDwtuM

— Asad M. Khan (@asadmk17) September 23, 2019


The prime minister is in New York to address the UN General Assembly later this week. On Monday, he also met British Prime Minister Boris Johnson and discussed a wide range of bilateral, regional and multilateral issues of mutual interest, the Foreign Office said in a statement issued in Islamabad.

During the meeting, Prime Minister Imran apprised Johnson of the latest situation in occupied Kashmir and underlined the need for the international community to play its role in helping address the dire human rights and humanitarian situation and its attendant consequences.

Specifically, the prime minister underscored the importance of immediate lifting of the curfew and other restrictions, averting any dangers to peace and security, and facilitating the peaceful resolution of the Jammu and Kashmir dispute.

Johnson conveyed that the UK remained cognizant of the situation and would continue to be engaged. The leaders agreed to remain in close contact. The two prime ministers also exchanged views on other regional developments including Afghan peace and reconciliation process. They also agreed to enhance cooperation in diverse areas.

The prime minister also held a meeting with Chinese Foreign Minister Wang Yi ahead of his planned meeting with China's Vice President Wang Qishan.

Earlier, Imran spoke at an event at the Council on Foreign Relations (CFR) think tank in New York. He said that Pakistan and India – the two nuclear-armed countries – facing each other, the United Nations and international community should play their role in the resolution of Kashmir dispute, which posed a serious threat to peace in the region and beyond.

"Two nuclear-armed countries are facing each other…And as prime minister I am saying that anything can happen in such a situation," he told a gathering, comprising former US diplomats, analysts, intellectuals and media. "The international community should at least ask India to lift the curfew."

During the course of his talk at CFR, Imran spoke at length on various subjects ranging from Pakistan's foreign policy and its relations with various countries, including the United State, China, Afghanistan, Iran, and India, as well as the situation in the region.

Giving a brief account of Pakistan-India relations since he came to power 13 months ago, the prime minister said that even before the Pulwama incident in February, New Delhi had continued to shy away from any bilateral talks due to its domestic politics.

He said the Indian government was following the racist agenda of Hindu dominance led by Rashtriya Swayamsevak Sangh (RSS), adding it was the same philosophy which assassinated Mahatma Gandhi. To a question, he said having a cricketing career he had lived and loved India more than that of any other Pakistani but viewed that present India was not heading in the right direction. "It is not the India of Gandhi."

When asked by CFR President Richard N. Haass as to why Pakistan has repeatedly turned to the International Monetary Fund (IMF) for financial assistance, Imran said: "The moment you have a deficit, whether it is current account or fiscal deficit, means you are not managing your economy properly [...] This inability of successive governments to manage our economy is why we keep lining up with the IMF."

He said when his party came into power last year, Pakistan was in "the worst economic situation". He added: "I am really proud to say that we have cut down this deficit almost by 70%. We now have an economy which is heading in the right direction."

Answering to another question regarding former US defence secretary James Mattis' remark that he considered Pakistan to be "the most dangerous" among all countries he had dealt with, Imran said: "I do not think James Mattis fully understands why Pakistan became radicalised."

"In the 1980s, when the Soviets invaded Afghanistan, Pakistan, helped by the United States, organised the resistance to the Soviets. And so we created these militant groups to fight the Soviets. Come 1989, Soviets leave Afghanistan, the US packs up and leaves Afghanistan [...] and we were left with these groups," he said.

"Then comes 9/11, and Pakistan again joins the US in the war on terror and now we are required to go after these groups as terrorists. They were indoctrinated that fighting foreign occupation in jihad but now when the US arrived in Afghanistan, it was supposed to be terrorism. "So Pakistan took a real battering in this," he said.

Asked about the insurgents allegedly going from Pakistan to carry out attacks in Afghanistan, Imran said there are some 2.7 million Afghan refugees in Pakistan and there is no actual border in the tribal region. "How do we know who is coming in and going out?" he questioned.

He said it was "painful" for Pakistan that the peace deal that was about to be signed between the US and Afghan Taliban had collapsed. He added he would emphasise in his meeting with US President Donald Trump that there will not be a military solution to the Afghan conflict.

"I don't think the Taliban will be able to control the whole country. I think there will be a settlement," he said. "I honestly believe that this is not the Taliban of 2001. There are a lot of things that happened and I believe they will be more accommodating," he said.


COMMENTS
Comments are moderated and generally will be posted if they are on-topic and not abusive.
For more information, please see our Comments FAQ