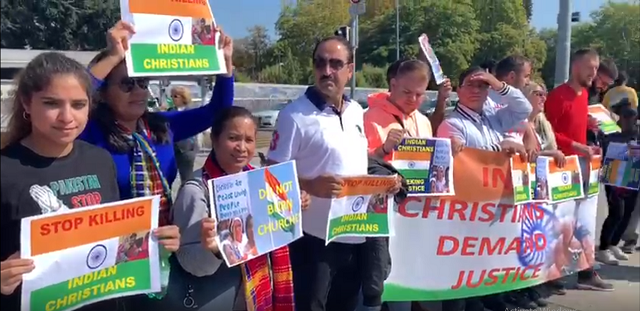 ---
Indian minority groups protested against Prime Minister Narendra Modi outside the United Nations Headquarters in Geneva on Sunday.

The slogan chanting demonstrators condemned the Hindu extremist Bharatiya Janata Party (BJP) government for the rise in cases of abuse against minorities.

The participants called for the United Nations to not allow Modi to speak at its general assembly session in view of his government denying Muslims, Sikhs and Christians of their basic rights.

'Modi is a terrorist': Pakistanis, Sikhs stage counter Modi rally in Houston

"How can someone whose government is known for spreading Hindu extremism and its head known as the butcher of Gujarat be allowed to speak at the UNGA," one of the protesters told The Express Tribune.

They also called on the international body to take notice of the torture cases of minority groups in India.

Modi is scheduled to address the UNGA on September 27, hours after Prime Minister Imran Khan takes the stage.

The Indian premier, who is currently on a visit to the United States, was received at an event in Houston by protesters calling for an end to human rights violations in Occupied Kashmir.