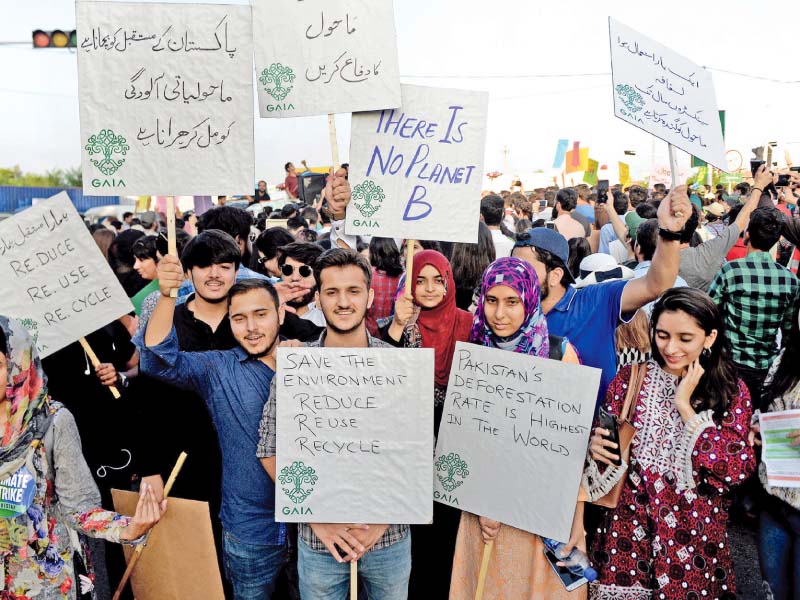 ---
ISLAMABAD: The climate change activists from the federal capital presented their demands to the Minister for Climate Change Zartaj Gul to help reduce the burden of environmental degradation and climate change impacts in the region.

Islamabad is a victim of global warming and the human induced climate crisis, they said in Islamabad Charter of Climate Demands presented during Climate Action March in the federal capital.

The climate action marches were held in 34 major cities across the country, where students and people from all walks of life, participated to mark the urgency of climate change issue.

The participants also staged a 10 minutes die-in to show solidarity with the people dying due to climate change and chanted slogans "Our earth, our responsibility" where the protesters had placards, having different slogans and commitments written to bring stakeholders' attention towards massive climate change.

'Day Zero' looms in Australian Outback as climate change bites

In Islamabad, a large number of youth, students, and members of civil society, climate activists, farmers, artists and concerned citizens came out to streets of the capital and demanded the government to declare climate emergency to save planet earth. They call for stringent and immediate actions in response to the global climate crisis.

The march was organised by the civil society organizations including the Sustainable Development Policy Institute (SDPI), climate activists, students, farmers and concerned citizens to demand transformative action in response to the global climate crisis.

Advisor to Prime Minister on Climate Change Malik Amin Aslam also joined the march. Addressing the Climate Action March near National Press Club he said Pakistan was emitting less than one per cent CO2 globally but was facing adverse impacts of climate change. "Pakistan demands climate justice from the global community, ," he said. Pakistan will lead the climate emergency in Asia, he added.

State Minister for Climate Change, Zartaj Gul Wazir said that such a massive crowd in the Climate Action March and enthusiasm shows the level of awareness among the people of Pakistan about dire consequences of climate change. She said her government after coming into power started 'Clean Green Pakistan' movement with the purpose to ensure safe and healthy environment for every citizen.

Maryam Shabbir, Environmentalist at SDPI said the purpose of the Climate March was to demand low carbon economies and global action against emissions. "Every developmental project is cutting trees without following regulations", she said. Government must end deforestation and should act against timber mafia, she added.

Climate change imperils one in four natural heritage sites

Participants of Islamabad Climate March, while presenting their charter of demand to the Advisor and the State Minister for climate change, call upon the government for climate resilient urban planning and development. Marchers also presented Islamabad specific demands and urged the government to preserve green spaces, encourage frequent plantation drives, introduce congestion charges and promote vertical development to reduce urban sprawl to help protect the environment.

Climate charter

According to the Islamabad Charter of Climate Demands, adverse impacts are already being felt like more frequent and intense precipitation will increase flooding within Islamabad and surrounding areas, rising temperatures erasing spring and autumn seasons, increasing likelihood of vector borne diseases and such.

Therefore, the document said there was a need to declare a climate emergency; demand climate justice through a national and global coalition; adopt a low carbon economy; and ensure grassroots level climate adaptation efforts.

Published in The Express Tribune, September 21st, 2019.
COMMENTS
Comments are moderated and generally will be posted if they are on-topic and not abusive.
For more information, please see our Comments FAQ