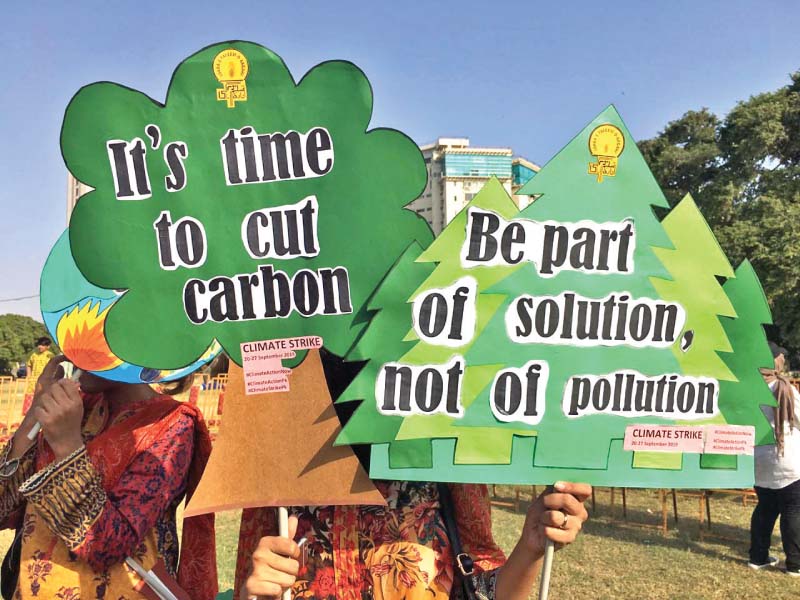 ---
KARACHI: As the world comes together to observe the Global Climate Strike, a large number of students, activists and environmentalists gathered in Karachi to voice their concerns and demand immediate action on climate change. The rally, part of a broader nationwide call, focused on drawing attention towards environmental degradation and the challenges faced by the country as it feels the impact of climate change.

Armed with banners and flyers, the men, women and children stressed that it had become imperative to adopt a low-carbon economy along with making a swift shift towards renewable energy sources to combat and prevent the drastic effects of greenhouse gases and deteriorating weather conditions in Pakistan.

"We're trying to notify the citizens, authorities and the younger generation about the impacts of climate change," said social activist, Sheema Kirmani, one of the organisers of the march. "Our trees are being cut, our mangroves are disappearing, our rivers are clogged, we have plastic all over the place," she bemoaned. "This is indeed a crisis and for the future of our children, we need accelerated action. We need to promote dialogue to compel the authorities to take action to protect the environment."

The participants identified issues faced by citizens, particularly in rural areas, as a result of increasing temperatures. Lady health workers from Sindh and female agriculture workers shared that they have become vulnerable to skin diseases because of the intense sun rays and increasing temperatures.

The protesters also stressed the need to promote recycling and the use of sustainable resources. Speaking about the recent ban on polythene bags, Tofiq Pasha, another organiser of the march, said that it was a good initiative, but did not even address the 'tip of the iceberg'. "We are among the top ten countries that are to be worst hit by global warming and the process has already begun. So many drastic changes in the weather patterns are a clear indication of it," he told The Express Tribune. "There's a lot that needs to be done and through this march, we are showing solidarity with the global movement."




Lack of awareness

Environmentalists highlighted the lack of knowledge in society about carbon emissions and stressed the need to spread awareness at the grassroots level. The participants urged the government to convene the National Climate Change Council and immediately declare an environmental emergency.

Amna Ashraf, 21, who is passionate about protecting the environment, lamented that there are not enough actions taken at an individual level. "If people don't engage, change can never begin," she lamented. Let's start from somewhere by observing how much trash we produce in a day. Let's keep a check on how we are travelling and how the released fumes contribute to increasing pollution," she suggested." I want to do my part and I encourage the youth to do so as well."

Students from various high schools and colleges also protested against deforestation, air pollution and the use of plastic, since they contribute a great deal in environmental degradation.

"We have to quit using plastic and plant more trees. This is something we have always been taught yet we don't implement," said 18-year-old Abdullah Asif, a college student. "This climate march is a great step towards spreading environmental awareness."




Senior lawyers, rights activists and celebrities also attended the march.

Speaking on the occasion, lawyer and human rights activist Jibran Nasir said that such initiatives should be conducted and encouraged in all corners of the city.  "Climate should be on the agenda of all parties and stakeholders. These marches instil a sense of responsibility and purpose among the people," he affirmed.

TV personality Anoushey Ashraf also shared her two cents with The Express Tribune. "It's about time we do something about climate change. This issue is as real and concerning as any other we face in the country," she asserted. "Such initiatives by the people will push the authorities to take action. If there is no Earth, there will be nothing."

Published in The Express Tribune, September 21st, 2019.
COMMENTS
Comments are moderated and generally will be posted if they are on-topic and not abusive.
For more information, please see our Comments FAQ