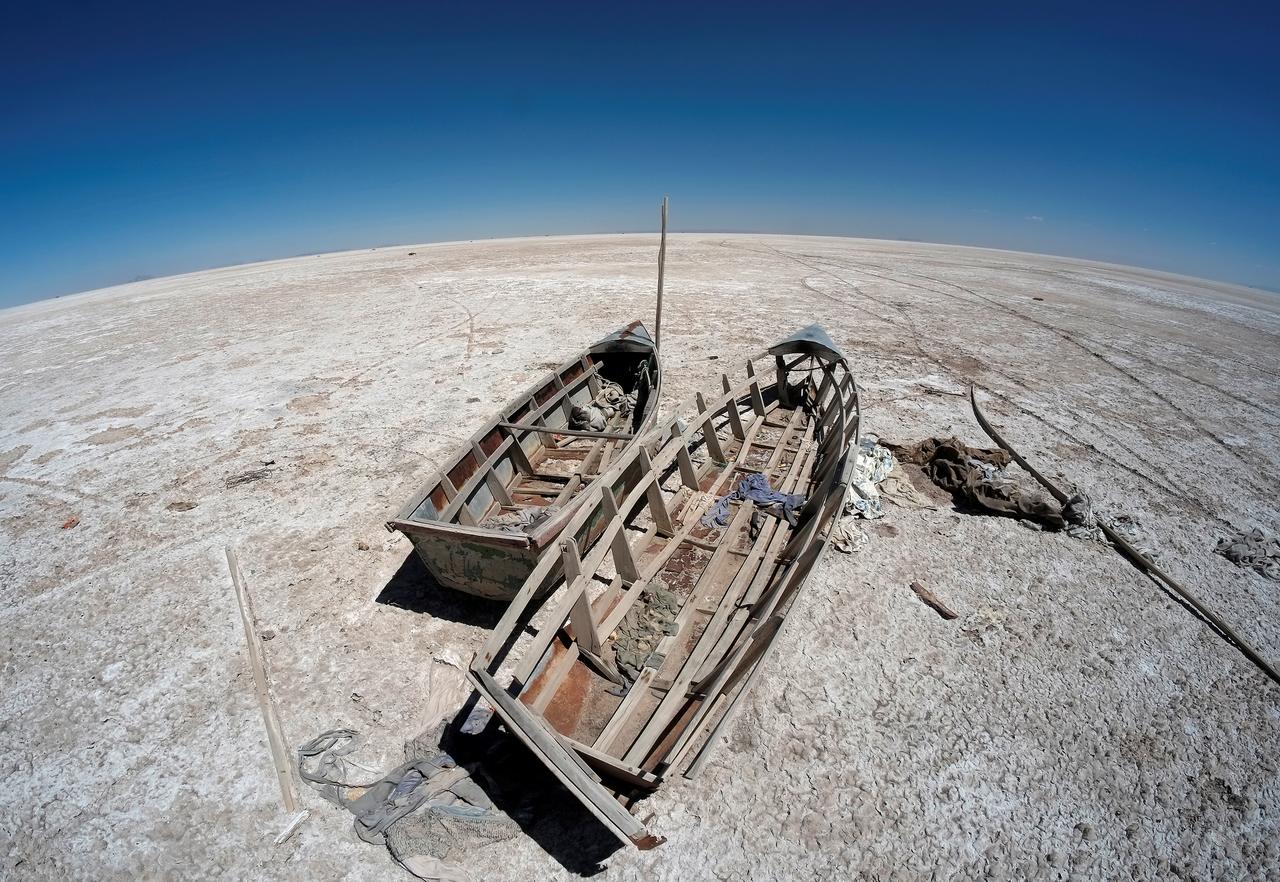 ---
KARACHI: "Our house is on fire ... The climate crisis won't wait, so neither will we," reads the official website of the Global Climate Strike movement.

This has been the rallying call that millions have responded to as 'climate strikes' are being observed in countries across the globe on Friday, demanding politicians and businesses take drastic action to stop global warming.

Pakistan, too, has risen to the occasion and 'climate marches' have been organised in more than 30 cities to demand action to avert what is a global catastrophe in the making.

These include major cities such as Karachi, Lahore, Islamabad and Peshawar, as well as smaller ones such as Mardan, Gwadar, Faisalabad, Jhang and Gilgit.

Led by climate activists and students, citizens have taken to the streets to demand government action to mitigate the rising effects of climate change being witnessed throughout Pakistan.

The climate strike is inspired by 16-year-old Swedish activist Greta Thunberg who was nominated for a Nobel Peace Prize for climate activism.

In what can be described as the largest collective effort to push for climate emergency, more than 5,000 events have been planned across the world.

Friday's mass action sets the scene for a range of high-profile climate events in New York. A Youth Climate Summit will take place at the United Nations on Saturday.

UN Secretary-General Antonio Guterres will then host an emergency summit on Monday in which he will urge world leaders to raise their commitments made in the 2015 Paris climate accord.

The agreement saw countries pledge to limit the long-term rise in the average temperature of the Earth to two degrees Celsius over pre-industrial levels, and if possible, to 1.5 degrees Celsius.

A landmark UN report to be unveiled next week will warn that global warming and pollution are ravaging Earth's oceans and icy regions in ways that could unleash misery on a global scale.

The scientific report from the Intergovernmental Panel on Climate Change (IPCC) will be put to a gathering of experts from 195 countries meeting in Morocco from Friday.

'Time running out'

As countries leisurely adhere to the UN Sustainable Development Goals 2030 agenda, for Pakistan, the time to act may be running out. Pakistan has been listed as the seventh most vulnerable country to be affected by climate change.

The impact of climate change is at highpoint with growing weather concerns including heatwaves, flash floods, melting glaciers and droughts.

According to a report by the Asia Development Bank, the number of heatwaves in Pakistan has increased five-fold in the last 30 years.

The sea-level along the Karachi coast has risen approximately 10 centimeters in the last century and it is expected to rise by a further 60 centimeters by the end of this century, says the report.

According to a national global greenhouse gas (GHG) inventory for the year 2011-2012, Pakistan's GHG emissions was at 369 million tons of carbon dioxide equivalent (MtCO2e) with 45.9 per cent share of energy, 44.8 per cent share of agriculture and livestock sector, 3.9 per cent share of industrial processes, and 2.6 per cent share of land-use change for forestry sectors.

"The energy and agriculture livestock sectors alone account for 90.7 percent of the total emissions pool and have thus far remained the biggest emitters of GHGs since 1994."

And yet, the Ministry of Climate Change in Pakistan is under-funded and under-staffed. Most importantly, it is led by a minister who rivals US President Donald Trump's level of denial.

When asked about extreme rainfall earlier this year, Minister of State for Climate Change Zartaj Gul Wazir proudly replied that an increase in rain was related to good leaders in power.

However, in a phone conversation with The Express Tribune on Friday, she said the Pakistan Tehreek-e-Insaf (PTI)-led government was fully supporting the climate strike initiative.

"Our government is well aware of the threats posed by climate change and we are giving this problem the attention it warrants," she said.

Unsurprisingly, the allocation for climate change in the federal budget was a mere Rs7579 million.

Speaking to The Express Tribune about creating awareness on a micro level, environmental lawyer Rafay Alam said: "It is the other way around."

During the organisation phase, Alam said his team listened to farmers, tradesmen, labour and students explain what climate change meant to them. He hoped the success of the march will open a discourse on the climate crisis that includes voices of the marginalized and make it a grass-root movement.

At a time when Pakistan is consumed by economic and political chaos, Alam hopes the march would sway the government's attention towards 'real-life issues'.

"In order to bring change on a macro-level, climate change has to be a collective social and political movement," added Alam. "We are facing a climate crisis as a result of a particular type of economic – capitalist, consumerist and fossil fuel-driven economy."

"In order to combat the crisis, we have to dismantle this type of economy. Unfortunately, it can't be done entirely through individual efforts, what is required is a collective, a political effort where people can raise their voice and demand their rights to be protected from the climate crisis, and to demand climate justice."

K-P Secretary for Rescue and Relief Abid Majeed dwelled on the available resources to combat the impact of climate change. "We have set 2010 floods as our baseline and made three variants: small, medium and large scale." He added that the government remained unprepared for a 2010-like situation.

Majeed underlined investing in infrastructure and strengthening Rescue 1122 to mitigate impact is a safer option that dealing with the aftermath of a disaster. He also stressed on the importance of research into the impact of food industry on climate.  "Changing world's eating habits is important as well."

Like most things in our part of the world, the void to tackle climate emergency is filled by the citizens taking charge. The grass-root level movement is finding roots in small towns and big cities.

Ghotki


'Stand for what you stand on' #Ghotki, #Sindh have started their climate march. We are proud of our children. We owe them a future. Let's demand #ClimateActionNow #ClimateMarchPakistan pic.twitter.com/QicceF7t8v

— Climate Action Now! → Pakistan (@ClimateActionPk) September 20, 2019
Karachi
#Karachi waalon!

Ready up for the #KarachiClimateMarch

This is our game plan 👇🏼 pic.twitter.com/wVqSQDWAaV

— Climate Action Now! → Pakistan (@ClimateActionPk) September 20, 2019
Peshawar
#ClimateMarch at University of Peshawar! #Climatestrikepakistan #climatemarchpakistan #climateactionpk @ExtinctionR @GretaThunberg @ClimateActionPk pic.twitter.com/7XDxUVU66l

— Voice Organized for Climate Advocacy & Lobbying (@VOCC_Advocacy) September 20, 2019
Faisalabad
#Faisalabad's march has begun too!#ClimateActionNow#ClimateMarch #ClimateEmergency #ClimateStrike pic.twitter.com/wb08fgHRPZ

— Climate Action Now! → Pakistan (@ClimateActionPk) September 20, 2019
Mardan
The first of 3 climate protests planned for #Mardan has started! #ClimateMarchPakistan pic.twitter.com/sldhirCAbA

— Climate Action Now! → Pakistan (@ClimateActionPk) September 20, 2019
Jhang
Students from #Jhang (#Punjab) #ClimateMarch in solidarity with global community against #ClimateCrisis and demand the Government to declare #ClimateEmergency for their safe future!#ClimateMarchPakistan@MuslimAid_PK pic.twitter.com/3fd7v5zRHB

— Climate Action Now! → Pakistan (@ClimateActionPk) September 20, 2019
Gilgit
#Gilgit, rested in the #Karakoram mountains, has joined the #ClimateMarch!

Nearly 10 years ago, #GilgitBaltistan witnesses the massive #Attabad disaster triggered in part by #ClimateCrisis in Pakistan's Northern Areas.

We march to save the #HKH region. #ClimateMarchPakistan pic.twitter.com/lTsFlIghst

— Climate Action Now! → Pakistan (@ClimateActionPk) September 20, 2019
Gwadar
We know #Gawadar stands no chance against rising sea levels. Protest lead by female students at the University of Turbat, Gawadar campus, underway. #ClimateMarchPakistan pic.twitter.com/semQE3MAMH

— Climate Action Now! → Pakistan (@ClimateActionPk) September 20, 2019


Worldwide action

Children across Asia and the Pacific kicked off what are set to be the largest global climate protests in history Friday, demanding adults act now to stop environmental disaster.

From Sydney to Seoul, Manila to Mumbai, children heeded the rallying cry of fellow teen activist Greta Thunberg and shut their textbooks in a collective call to action.

In Australia, more than 300,000 kids, parents and supporters rallied, organisers said, more than double the turnout at climate strikes in March, and among the first of 5,000 events planned worldwide by a movement dubbed "Fridays for Future".


The kids are doing fine #ClimateStrike Melbourne pic.twitter.com/iZMj4WBxSb

— theJuiceMedia (@thejuicemedia) September 20, 2019


Children in the Solomon Islands rallied on the shoreline wearing traditional grass skirts and carrying wooden shields in solidarity with the global movement.

In Thailand, more than 200 young people stormed into the Environment Ministry and dropped to the ground feigning death as they demanded government action on climate change.


This #ClimateStrike photo is incredible.

We know that people power makes a massive difference to the reality of decarbonisation - which needs bigger, louder, broader public pressure. But this is way bigger than I expected. #schoolstrike4climate pic.twitter.com/jd7EL3sGPx

— Ketan Joshi (@KetanJ0) September 20, 2019


The day of protests is already eclipsing crowd numbers seen in strikes last May and will culminate in New York, where 1.1 million students in around 1,800 public schools have been permitted to skip school.
COMMENTS
Comments are moderated and generally will be posted if they are on-topic and not abusive.
For more information, please see our Comments FAQ