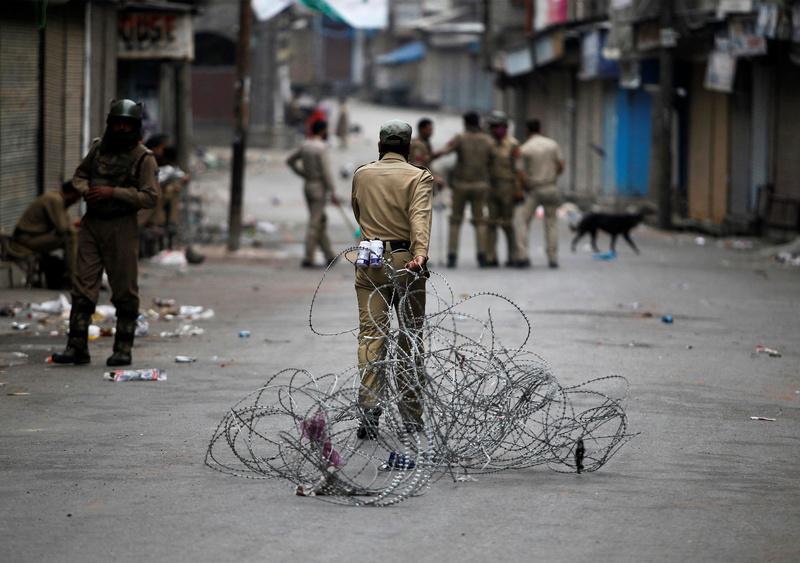 ---
Let me begin by saying that diplomacy is a process, not an event. And this process is about multiple independent and dependent variables which not only shape and shove the process itself but also its outcome. I may hasten to add that when foreign policy goals are vague, diplomacy cannot be expected to produce concrete results. Kashmir is a case in point.

From lack of clarity to hyperbolic and inconsistent statements, the government does not seem to have any substantive and long-term plan of action beyond creating optics mostly for domestic consumption. Moreover, using Kashmir for personal aggrandizement is a curse that continues to hobble our capacity to come up with coherent and effective policy responses. Hence, and it pains to say, we will likely end up struggling with hortatory narratives with little traction abroad.

Since 5 August, we have doubtless taken a few necessary steps including downgrading the diplomatic relations with India and terminating the bilateral trade. Some cabinet ministers also openly talked about closing Pakistan's airspace for India which later turned out not to be the case. Similarly, we were also told about taking India to the International Court of Justice and subsequently to be informed by our Law Minister about the jurisdiction problem.

Meanwhile, the government also constituted a seven-member team, headed by the Foreign Minister, "who shall make recommendations to formulate the legal/political/diplomatic response to the latest developments related to Indian occupied Kashmir". This was followed by creating a two-member Kashmir Cell in the Foreign Office. Whereas one should not expect recommendations of the team to be made public, the constitution of the two-member Kashmir Cell only betrays how serious we are to step up to the challenge. Denying adequate organizational wherewithal to Kashmir diplomacy and then hoping for tangible results is nothing but quixotic.

And then we bestow individuals with official positions to accommodate their private comforts. Our entire bureaucratic system unfortunately has become hostage to well-connected people who make to the top on nepotism and have also learnt to continue living in power corridors long after retirement. We would never learn and even use crisis situations to promote personal agendas.

Massive hype was created around our request to the UNSC President to hold a special session on Kashmir. Instead, we ended up having "informal consultations" on 16 August which did not even consider it advisable to issue a press statement to inform us as to what was the sense of discussion behind the closed doors. As per the rules of procedure, neither Pakistan nor India was part of this informal exercise. There are no recorded minutes of the consultations. Yet, we do not tire of depicting these inconsequential consultations as a historic victory for Pakistan. In fact, even this informal meeting would not have taken place if China had not come to our rescue.

The fact remains we didn't put much effort into our cause. Just four days before the meeting in New York our Foreign Minister, speaking to the media in Muzaffarabad, told us not to expect much from the major states given their respective interests vis-à-vis India. The Foreign Office also informed us on 15 August that the Foreign Minister was still not able to speak to his French counterpart. They did finally have the telephone conversation after the UNSC consultations.

In such critical situations one would expect our Foreign Minister to be at least visiting major and relevant capitals. Our reliance on telephone and letter diplomacy is another reflection of our seriousness of purpose. If we are happy and content with the informal consultations and term them as "historic" why should the world oblige us with more?

Ditto for the OIC. The OIC Contact Group on Kashmir has been meeting for years with outcome documents against Indian atrocities in IOK and urging India to give the right of self-determination to Kashmiris. Our Foreign Minister was in Saudi Arabia for Hajj. A meeting of the OIC Contact Group (Turkey, Azerbaijan, Niger, Saudi Arabia and Pakistan) was hurriedly convened before the Foreign Minister returned to Pakistan to attend the National Security Committee meeting on 7 August. Interestingly, we could not even persuade the OIC Secretary General to attend the meeting let alone the Foreign Ministers of the Contact Group member countries. We declared the Contact Group meeting a huge victory for our diplomacy.

No wonder, an extraordinary meeting of the OIC Foreign Ministers on Kashmir has now become well-nigh impossible. A day-long joint visit by the Foreign Minister of the UAE and the Minister of State for Foreign Affairs of Saudi Arabia was a sop to assuage the public anger in Pakistan. The OIC Contact Group would meet again in New York this month on the margins of the UNGA session. We are looking forward to another "historic victory" for Pakistan.

Unfortunately, the 42nd session of the UN Human Rights Council underway in Geneva would likely end without either a special debate or a resolution on Kashmir. In 1994, we did make an effort in the erstwhile UN Human Rights Commission but eventually withdrew our draft resolution for lack of support even from OIC countries.

I have no doubt Prime Minister Imran Khan would make a great debut speech in the General Assembly on 27 September. He would say all the right things about state terrorism in IOK, and the growing extremism in India and how Hindutva is a grave danger to peace and stability in South Asia. It is some consolation that Prime Minister Modi would be addressing the General Assembly before our Prime Minister. Needless to say our Prime Minister would be able to give a strong rebuttal to Modi's direct and indirect shenanigans.

The Prime Minister will have a very hectic visit full of multilateral and bilateral engagements including meetings with President Donald Trump and other leaders and a Kashmir rally in New York. Given the fact that the Prime Minister has declared himself the Ambassador of Kashmir, we are confident he would give his best to the Kashmir cause and lay bare the Indian hypocrisy and its racist democracy. But the question is what next?

Kashmir conflict is not going to settle on 27 September. From President Pervaiz Musharaf's four-point formula to the 10 July 2015 Ufa Joint Statement, we have done considerable damage to the Kashmir cause. The Jammu and Kashmir dispute would not end with the restoration of Articles 370 and 35A. Even that seems highly unlikely unless the Indian Supreme Court musters some courage and takes a decision purely on constitutional and legal merits.

One cannot agree more with the Prime Minister that the time for bilateral dialogue with India is now over. India has been deftly using the bogey of bilateral dialogue to inveigle us into weakening our principled position on Kashmir. One hopes we would not buckle under international pressure, and yet again give carte blanche to India to continue perpetrating its atrocities in IOK and keep prevaricating and procrastinating on meeting the political aspirations of Kashmiris.

We must formulate a long-term diplomatic strategy encompassing all internal and external dimensions. There are no doubt limitations to what we can do and achieve. However, Kashmiris, while willing to continue sacrificing everything to win freedom from India, do expect Pakistan to give its best. It is time to avoid bombasitc and pleonastic statements. And may I end by saying that stating publicly that war is not an option, we only weaken our diplomacy to deliver. On some issues it is sometimes better to keep mum. 

Published in The Express Tribune, September 20th, 2019.

Like Opinion & Editorial on Facebook, follow @ETOpEd on Twitter to receive all updates on all our daily pieces.