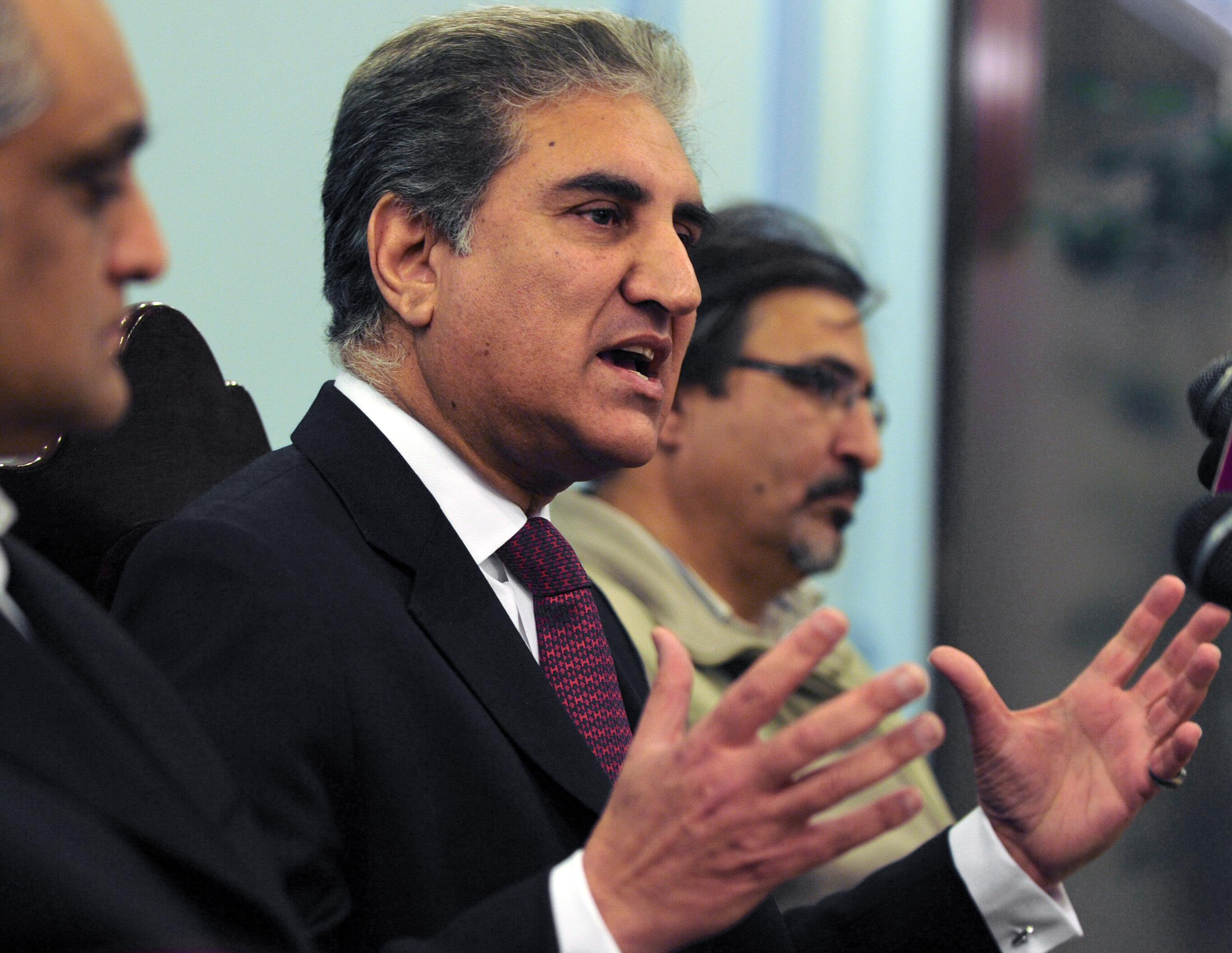 ---
ISLAMABAD: Foreign Minister Shah Mahmood Qureshi said Wednesday that Pakistan was fully cognizant of the situation in Indian Occupied Jammu and Kashmir (IOK), stood with its people and would continue to extend moral and diplomatic support to them until the realization of their just demand for self-determination in line with United Nations Security Council (UNSC) resolutions.

"Pakistan stands with Kashmiris. We are right behind you. The world can turn away from you but we will not betray you, our brethren. This is the decision of the government and the people of Pakistan as well as Imran Khan, an elected prime minister of Pakistan", Qureshi said while addressing the National Parliamentarians Conference on Kashmir.

He also said that Prime Minister Imran Khan, whose government, he claimed, had so far been successful in reviving and highlighting the Kashmir dispute at world forums after decades, would also effectively present the case of Kashmiris in his upcoming speech during the United Nations (UN) General Assembly session on September 27.

The foreign minister further contended that it was due to the diplomatic efforts of the present Pakistan government that the issue of Kashmir had been discussed by the UN Security Council after a lapse of 54 years, adding the international media was also now highlighting the grave human rights situation in IOK which had now entered the 45th day of the siege and curfew imposed by the Indian government.

Speaking at the conference, Senate Chairman Muhammad Sadiq Sanjrani emphasized Wednesday the international community should immediately resolve the Kashmir issue, and India should grant Kashmiris their right of self-determination and stop violations of human rights.

He also underlined that the conference had been convened to express solidarity with Kashmiris living on both sides of the Line of Control (LoC), adding that the Kashmir dispute had become the most important issue in the world.

He further said the conference was reflective of Pakistan's determination and resolve to support Kashmiris who were striving for freedom and basic human rights.

He maintained that, for the last 44 days, curfew had been imposed in IOK and Kashmiris' lives made miserable amid a humanitarian crisis and severe shortage of food and medicines.

Sanjrani vowed that Pakistan would continue to stand with Kashmiris in their quest for freedom from Indian rule  and would persuade the international community  to find a solution to the Kashmir conflict.

Azad Jammu and Kashmir (AJK) Prime Minister Raja Farooq Haider Khan, in his address at the conference, termed the  Narendra Modi-led Indian government a fascist regime which had dreams of hegemony on the basis of her might in the region and considered Pakistan a major hurdle in the fulfilment of its nefarious designs. He also said India considered herself  the successor to British rule in the region.

"Modi is propagating a slogan of nationalism in the manner adopted by Hitler", the AJK prime minister stated.
COMMENTS
Comments are moderated and generally will be posted if they are on-topic and not abusive.
For more information, please see our Comments FAQ