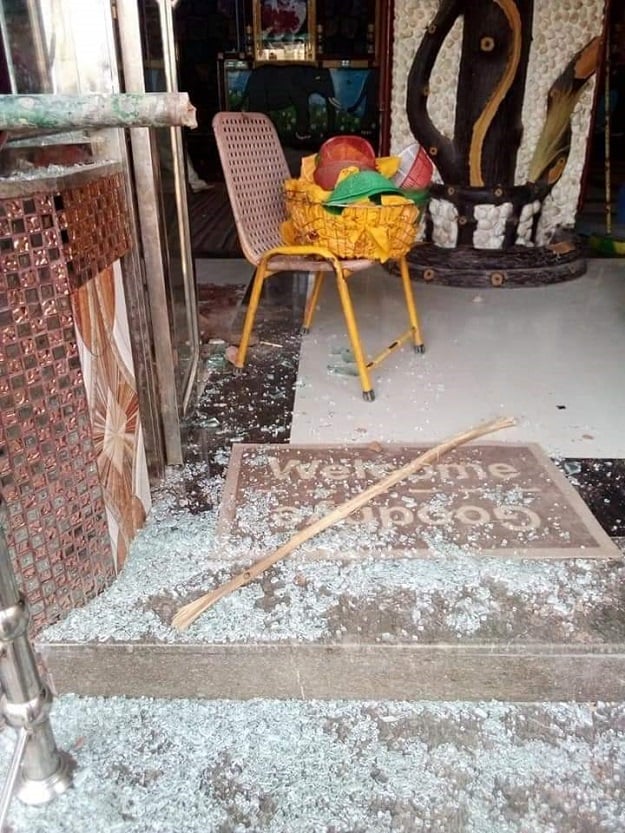 ---
GHOTKI: Law enforcers are on alert in Sindh's District Ghotki as reports emerge of rioting and violence by a mob after a Hindu school teacher was booked on charges of blasphemy.

The mob attacked a school - Sindh Public School - and desecrated a temple in the area over accusations of blasphemy against the school principal, who is from the Hindu community.


Alarming reports of accusations of blasphemy in #Ghotki and the outbreak of mob violence. https://t.co/PEc15iBsJi

— Human Rights Commission of Pakistan (@HRCP87) September 15, 2019


Reports suggest houses of Hindu families have also been attacked and the mob has blocked off roads in the area.




The rioting comes after a student accused the Hindu teacher of allegedly passing blasphemous remarks.

Blasphemy allegations: Ghotki on edge as mob demands 'justice'




An FIR registered against the accused teacher on behalf of the student's father includes Section 295-C of the Pakistan Penal Code, which pertains to the use of derogatory remarks against the Holy Prophet (PBUH).




Activists and journalists used Twitter to share videos and images of the rioting in Ghotki, and appealed to the Sindh government and law enforcement agencies to protect the vulnerable Hindu community.

https://twitter.com/shamshad_bhutto/status/1173176983670460416


The situation in Ghotki, Sindh over the blasphemy accusations against a Hindu principal is getting out of control. Extremists have desecrated a temple, attacked homes of Hindu community members and blocked roads. Report and video via Shankar Meghwar pic.twitter.com/j6qca5qt2d

— Bilal Farooqi (@bilalfqi) September 15, 2019


Sukkur Additional IGP Dr Jamil Ahmed confirmed the worrying developments in a tweet, saying that police were "trying to deal with a serious situation".






Yes we are trying to deal with a serious situation in a cool, calculated, impartial and professional manner. Moderate and educated sections of society must fully support our earnest efforts to do justice and maintain peace in Ghotki, please https://t.co/6beA0dgtCx

— Addl. IGP Dr. Jamil Ahmed PSP, PPM (@jahmed95) September 15, 2019


The rioters allegedly include supporters of notorious religious leader Pir Abdul Haq alias Mian Mithu, who is widely accused of involvement in forced conversion of Hindu women in Sindh.