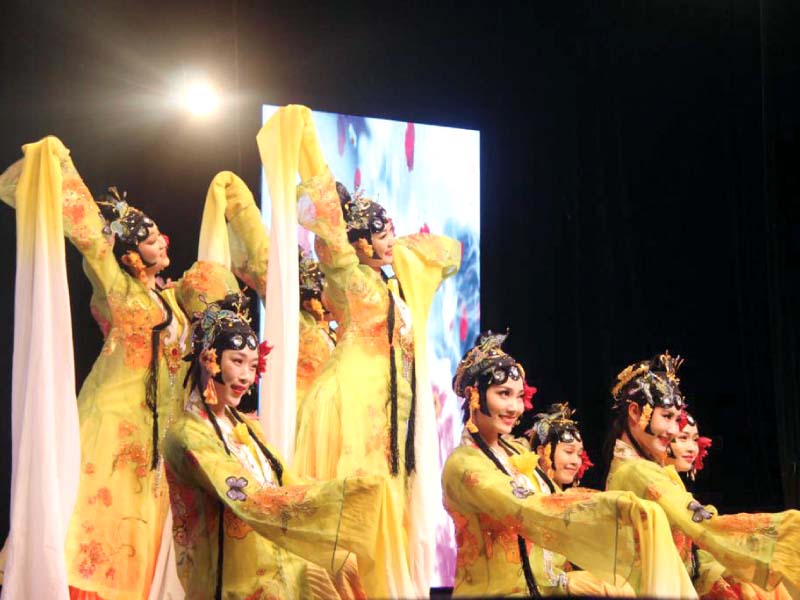 ---
ISLAMABAD: Chinese Mid-Autumn Festival Gala Performances, Workshop on Chinese Intangible Cultural Heritage for Pakistani Students and Wuhan Photographic Exhibition opened at China Cultural Center in Pakistan.

China Cultural Center in Pakistan is hosting two different cultural troupes in Islamabad. The Artists comprising of 19 members are coming from Chengdu School of Culture and Art presented Chinese music and dance at PNCA to celebrate the Chinese Mid-Autumn Festival and 70th anniversary of the founding of the People's Republic of China.

Another Chinese troupe comprising of nine members are from Wuhan Municipal Bureau of Culture and Tourism of China came for a training workshop on Chinese Intangible Cultural Heritage that is Han embroidery, clay sculpture, oil paper umbrella, calligraphy, hangmen fist (traditional chinese boxing) for Pakistani students at China Cultural Center on Saturday.




Zhong Qiu Jie which is also known as the Mid-Autumn Festival, is celebrated on the 15th day of the 8th month of the lunar calendar. To the Chinese, Mid-Autumn Festival means family reunion and peace. The festival is celebrated when the moon is believed to be the biggest and fullest. To the Chinese, a full moon is a symbol of prosperity, happiness, and family reunion. It is a time for family members and loved ones to congregate and enjoy the full moon - an auspicious symbol of abundance, harmony and luck.

The Mid-Autumn Festival has a history of over 3,000 years, it grew to be a major festival of China.

China Cultural Center invited more than 100 Pakistani students from seven different schools of Rawalpindi and Islamabad to participate in the training workshop of Han Embroidery, Clay Sculpture, Marital Art and other intangible heritage to experience the traditional history and culture of China.

Charming Wuhan Photography Exhibition was inaugurated by Zhang Heqing, Cultural Counsellor of Embassy China & Director China Cultural Center in Pakistan which will display from September 14 to 21 at China Cultural Center. 

Published in The Express Tribune, September 15th, 2019.