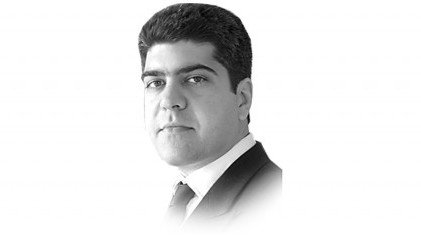 ---
Last week, I was invited to vote for Mustafa Kamal, former nazim of Karachi, as the best mayor in the world. As far as I know, Karachi is one of the world's most complicated megalopolises. It is not just the city with the largest population in Pakistan; teeming with over 15 million people, it is one of the largest cities in the world. Anyone who can manage it definitely deserves to be called the best mayor in the world. But is the city of Karachi being run well? And if not, what it does say about people who are his fast and fervent supporters?

I have to admit a personal bias: I'm a great fan of Kamal. Unlike other urban managers in Pakistan he is dynamic, articulate, seems to have his head and heart in the right place, doesn't shy from a good fight and, importantly, is a good listener. A few years ago he announced a plan to protect the city's trees from being mercilessly felled, as they often are. A student of mine and I had previously done some legal research into the subject and so I emailed (CDGK is online and e-savvy) our findings to the nazim's office. Within days I received an acknowledgment, along with tangible evidence (the minutes of a district nazim meeting) that our work had been considered by the nazim himself.

But does good PR make for the best mayor in the world? I'm afraid not.

Karachi is a city beset with problems. Despite being the economic powerhouse of the country over half its population lives in katchi abadis. There's no proper public transport. Clean drinking water is scarce, and this does nothing for the city's sewage and sanitation. These tip-of-the iceberg issues play into a long-standing and dangerous rivalry between competing political parties. Karachi has serious systemic as well as random acts of violence. There's not a single person I know in Karachi who has either not been mugged or doesn't know someone who has been mugged.

What then makes people think, and defend, Mustafa Kamal as one of the best mayors in the world? When I put this issue to some people, these gist of the replies I got was that Kamal was a tireless worker who, more than anyone else, had instilled a sense of civic pride in Karachi wallahs. But does it make him one of the best mayor's in the world? Sadly not.

World Mayor is an independent and non-commercial project publication that seeks to honour those who have served their communities or have contributed to the well-being of cities. The World Mayor website informs that, "Above all, World Mayor wants to show the world what great mayors can achieve."

World Mayor was the contest in which I was asked to vote for Mustafa Kamal. In 2005, Dora Bakoyannis, the mayor of Athens, was recognised for her contribution towards the success of the Athens Olympics. In 2004, Edi Rama, the mayor of Tirana, was given the prize for transforming the drab, post-communist capital of Albania into a thriving European city.

In three years Enrique Penalosa, mayor of Bogota from 1998 to 2001, built hundreds of kilometres of pedestrian and cycle lanes connecting the poor of his city to the libraries and public parks that he built. He also introduced a bus rapid transit system which is now a model for the rest of the world. As a result crime was reduced in one of the world's cocaine capitals, levels of pollution dropped and quality of life improved.

These are just some of the things that people should be honoured with the title of world's best mayor for. Having an affable politician who builds overpass after overpass for a minority urban elite does not even begin to measure up to what is done elsewhere. I have nothing but praise for the hard work of Mustafa Kamal but I worry about his ardent supporters. Somewhere in their love for their city, they have forgotten what urban development priorities should be. And when everyone loves the status quo, there's simply no room for change, let alone improvement.

Published in the Express Tribune, June 12th, 2010.
COMMENTS (63)
Comments are moderated and generally will be posted if they are on-topic and not abusive.
For more information, please see our Comments FAQ