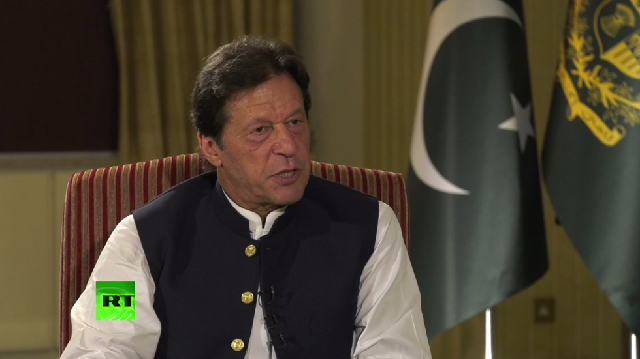 ---
Prime Minister Imran Khan has warned that further escalation between nuclear-armed rivals Pakistan and India may lead to an "unimaginable" catastrophe and urged the international community to intervene immediately to avoid a global tragedy.

In an exclusive interview with Russia Today, the premier said Kashmir's explosive situation could escalate well beyond the Indian subcontinent if the international community fails to play its due role, adding "so far the response of the international community is not what we expected".



Referring to Indian Occupied Kashmir as the "most militarised region in the world," the prime minister said the only thing Pakistan can do to help the people is to approach the international community.

Responding to a question about what Pakistan would sacrifice for the people of Kashmir if mediation was to take place, the premier said, "Whatever the people of Kashmir want, we will go with that. We will stand with the will of the people of Kashmir".

Unfair to pin blame of US setbacks in Afghanistan on Pakistan: PM Imran

He further added that the only solution to the crisis in the occupied region is if the United Nations Security Council (UNSC) keeps the promises they made to the people of Kashmir - their right to self-determination.

"What they are doing is not only violating UN resolutions but also the bilateral agreement between Pakistan and India - the Simla Agreement - they are going against the Indian Constitution, as well as what the founding fathers of India had said."

The prime minister also expressed concern about Muslims living in India, adding that the brutalities faced by Muslims in Kashmir "will have a reaction to the 200m Muslims in India and 1.3 billion Muslims in the world".

He also reietrated that India will try to divert global attention from the Kashmir issue by conducting a false flag operation - similar to the suicide attack in Kashmir in February.

Reminiscing about the incident, the premier said that when his government came to power, he told Indian Prime Minister Narendra Modi to discuss issues of the past and move forward, but nothing happened.

He added that it is impossible to deal with the fascist and racist mindset of the Indian leaders and at this point, there is no chance of improving any relationship with India.