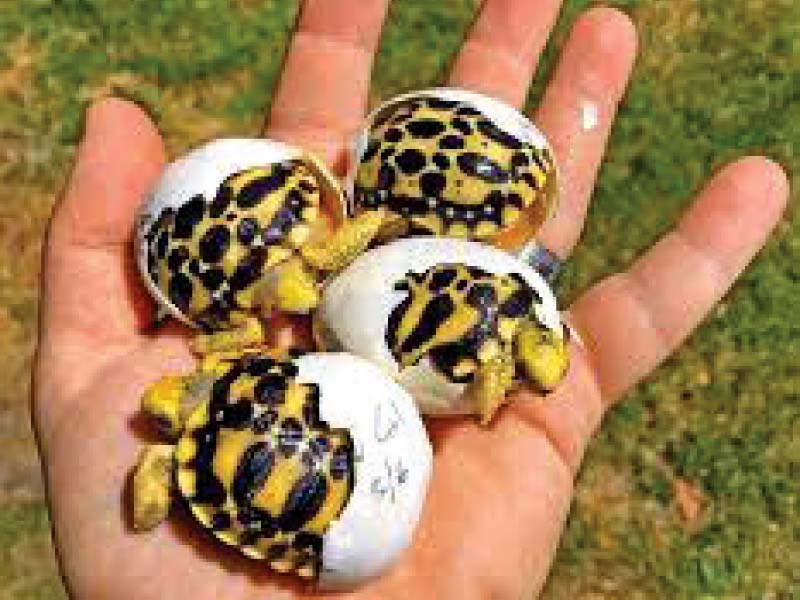 ---
KARACHI: Star tortoise, found in Sindh and Balochistan, is a threatened species endangered by smugglers due to its value as an 'exotic pet'. At an international conference on wildlife protection held in Colombo earlier this week, the Sindh wildlife department expressed its commitment to preserving this particular species of tortoise and sought to seek higher protection for it. The wildlife department's position was commended by representatives of all 183 countries partaking in the conference.

Representing Pakistan, Sindh wildlife department officials said that in the absence of special conservation laws and practices, star tortoise were at risk of extinction in Pakistan and other Asian countries. Representatives of other countries endorsed this position and start tortoise were boosted from endangered level two species to endangered level one in the wildlife conversation appendix.




Turtle species, categorised as level one, are given complete protection under the rules and regulations, including prohibition of trade. Whereas earlier, as a level two species, it was permissible to engage in international trade of start tortoise.

Wildlife department recovers 154 smuggled tortoises in Karachi's Liaquatabad

Star tortoises found in the coastal areas of Sindh and Balochistan, as well as in Kalabagh area of Punjab. The Sindh wildlife department, assured the conference that given the rare species' status as 'endangered' the department would ensure strict action against smugglers.

According to Sindh Wildlife Conservation Officer Javed Mahar said that this species of tortoise is endangered in India and Sri Lanka as well. He said that it is difficult to ascertain the number of star tortoise left as they have excessively been hunted and smuggled. The tortoise, which live for up to 40 to 120 years, are especially popular because of their unique and colourful shell. They are desirous as pets and even for their flesh, said Mahar, adding that it was a milestone for the country, that Pakistan's demand for higher protection of the species was accepted at the conference. 

Published in The Express Tribune, September 8th, 2019.