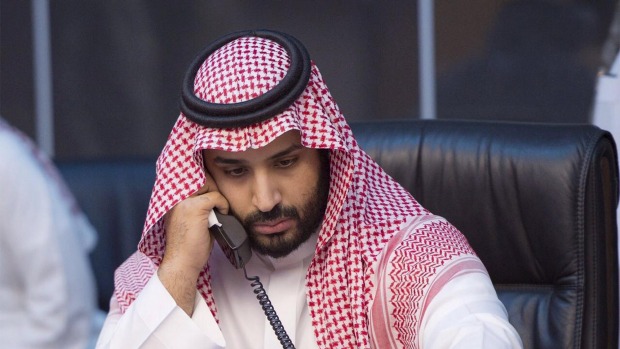 ---
ISLAMABAD: Saudi Arabia has vowed to show tangible progress on $20 billion investment commitments before the next meeting of Pak-Saudi Supreme Coordination Council, which will also require a big push from Pakistan to take these projects to their next level of implementation.

"The proposed mega projects are complex and require time and studies but our leaderships want to accelerate work on them," said Saudi Arabia Deputy Minister of Energy Khalid Saleh Al-Modaifer during an interaction on Friday.

Saleh Al-Modaifer is heading a Saudi delegation to review progress on the memorandums of understanding (MoUs) signed during the visit of Saudi Crown Prince Mohammed Bin Salman in February.

Saudi, UAE envoys vow 'full support' for resolving Kashmir situation: ISPR

The deputy energy minister said there is a resolve to show tangible results before the meeting of the Supreme Coordination Council. The meeting is tentatively scheduled to take place early next year and the kingdom wants to use this period to give a push to the projects.

Saudi Arabia has announced a $20 billion investment package for Pakistan that includes a petrochemical complex, renewable energy projects and investment in mineral resources.  All these projects are located in Balochistan.

The Kingdom has already given $3 billion in cash assistance besides providing $3.2 billion oil facility on deferred payments.  Saudi Arabia plans to set up a $10 to $12 billion oil refinery in Pakistan's deep-sea port of Gwadar.

"The refinery complex is very large project and will have all value chain that will require studies. Its technical study will be done by October," said the deputy minister.

Minister for Power Omar Aub said the government has finalised four sites for setting up wind farms to generate approximately 500MW of electricity. "200MW will be generated through renewable energy in Quetta while three other sites have also been identified in Balochsitan to setup wind farms," he said.

The Pak-Saudi Supreme Coordination Council was established this year for promotion of political, economic and cultural cooperation between the two countries.

Prime Minister Imran Khan and Saudi Crown Prince Mohammed Bin Salman jointly presided over an inaugural session of the council during the visit of the crown prince.

The objective of the council is to put in place a high level institutional mechanism to fast-track decisions in key areas of bilateral cooperation, and for close monitoring of their implementation.

However, Pakistan has to show top level commitment to take these projects to their next stage, as the bureaucracy lacks the capacity and will to work on fast-track basis.

"A dedicated unit should be setup to monitor progress on $20 billion investment projects and the prime minister should assign the monitoring responsibility to somebody," said the Board of Investment (BoI) former chairman Haroon Sharif.

The deputy energy minister said in the first phase, the kingdom wants to focus on oil, petrochemical and mining sectors. Adviser to PM on Commerce and Investment Razak Dawood said economic relations must match political relations and we want to see larger footprints of Saudi companies in Pakistan.

The Saudi delegation also held meetings with various government departments in the past couple days.

Dawood assured the Saudi delegation that Pakistan will provide all facilitate to attract foreign investment, according to a handout issued by the Ministry of Commerce on Friday.

He said the government has approved an Alternate Energy Policy, which provides immense investment opportunities to Saudi companies in power sector.  "Pakistan is not a cheap energy country and the government is focusing on development of alternate energy to bring the costs down."

UAE, KSA will urge New Delhi to end IOK curfew, rights violations: sources

Dawood said the current mix of alternate energy is 4% of the total and the government is looking at 20% to 30% of the energy target from renewable sources in the coming years. He urged Saudi companies to invest in in power sector in order to get high returns on their investment.

The government also informed the Saudi delegation that Special Economic Zones (SEZs) provide incentives to investors by allowing duty free import of machinery besides tax holidays for ten years and urged the KSA companies to make investment in these zones to get better returns on their investments

"All the issues pertaining to materialisation of the projects under various MOUs with the KSA would be resolved and the BOI would act as a single bridge between the KSA and government departments," Razak Dawood said.
COMMENTS
Comments are moderated and generally will be posted if they are on-topic and not abusive.
For more information, please see our Comments FAQ