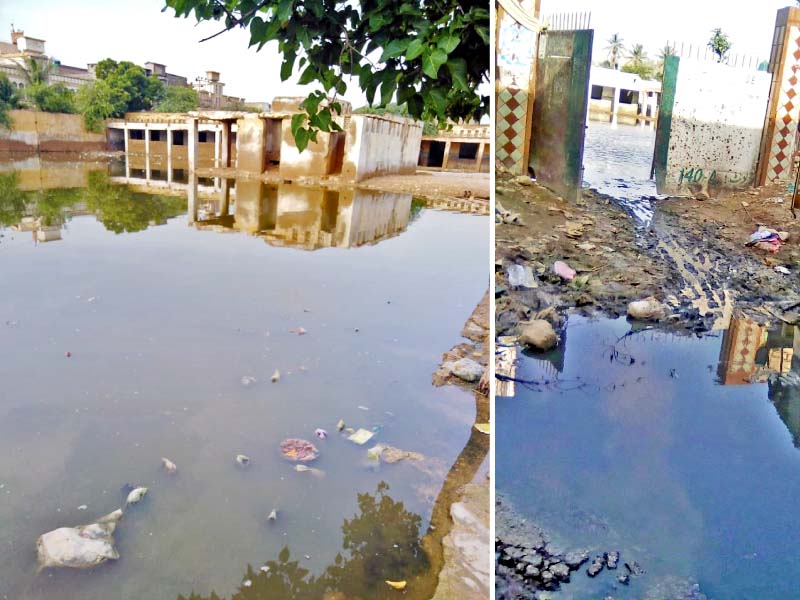 ---
KARACHI: Classes have remained suspended at the Government Boys Secondary School 5E in New Karachi for the last 20 days, owing to the rainwater accumulated inside the school's compound. The deferral is jeopardising the future of as many as 600 students who are currently enrolled at the school.

Each day, scores of students show up the school's gate but are turned away as the rainwater has made it impossible to enter the compound. The rainwater has accumulated at the main gate, playground, classrooms and even in the balconies of the upper storeys.

Besides, the garbage that was lying around in the compound, has mixed up with the water, creating a foul odour that has stunk up the adjacent areas too. The stagnant water and dirt have also added to the swarms of mosquitoes, flies and other insects in the school's premises.

For their part, the school's administration officials lamented that dirty water had accumulated at the school's main gate and they had no other choice but to walk through it to enter the facility. The dirty water has given rise to various allergies and infections and one of the female teachers has developed a skin allergy on her feet. "It is imperative upon us to attend the school daily but the classes have been suspended," said one official, who asked not to be named.  He added that they had complained to the relevant officials multiple times but no one was willing to pay heed. "The school was already in a terrible condition and now the rain has further damaged the little infrastructure that was left," he said. "The crumbling structure of the school can cause a mishap at any time."

Another official said that the students visit the school daily and ask when classes would resume. The students had also staged a sit-in at the Union Committee (UC) office some days ago, but the school was told by the UC Chairman that they didn't have the machinery required to resolve the issue. "Parents have started coming to the school to complain but there is no one to look into the matter," he said.

The Government Boys Secondary School 5E originally had 16 classrooms, eight of which were completely dilapidated over the years. Several classes were being conducted in the corridors and balconies but now, water has flooded these too. The school hasn't resumed classes Eidul Azha.

CM takes notice

Hours after the issue was highlighted in the mainstream media, Chief Minister Syed Murad Ali Shah took notice of the school's condition and sought a report regarding the issue.

The CM expressed annoyance with the district administration and said that the District Central Deputy Commissioner should state why the school remained invisible to his department. "The future of students is at risk and this is unacceptable," he said. The CM directed to clear the water from the school immediately and start the fumigation process. 

Published in The Express Tribune, September 6th, 2019.