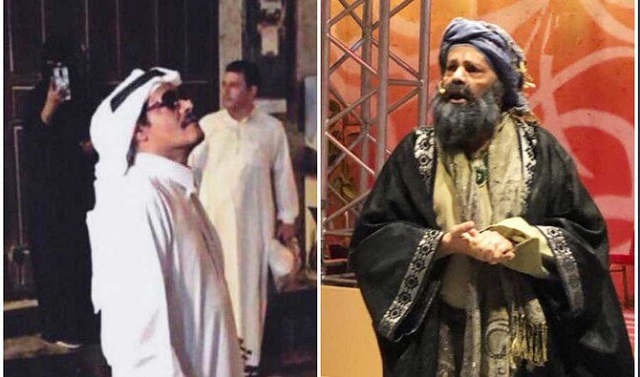 ---
A Saudi artist painted historical characters and brought them back to life through magic of her brushes.

According to Arab News, the artist, Malak Al-Qana'a always had a knack for art and makeup which took her to prestigious national platforms to display her talent and explore promising opportunities.

Her first break came at Jeddah Season when she worked on the makeup for Mohammed Al-Zahrani, a Saudi actor who played the character of the late Saudi singer, Talal Maddah.

In a first, Saudi Arabia appoints woman traffic collision inspector

"That character was the first personality I worked on, and it was a real challenge. It was a success and that gave me an encouraging push forward," she said.

Al-Qana'a takes reference for her artwork from books which help her to collect information about the real person's life and how they looked.




"You can know more about someone through reading books about their works and contributions, how other people described them or what distinguishing body or facial characteristics are known about them. All these things can help a makeup artist," she said.

The artist practised the art of makeup on more than 10 actors at Souk Okaz during the recently concluded Taif Season. Among these was Al-Zahrani, who played the character of the Arab mathematician, astronomer and physicist Ibn Al-Haitham.




Al-Zahrani said that Al-Qana'a had assisted him in portraying the characters of both Maddah and Al-Haitham. "She is such an amazing makeup artist. Her contributions at Souk Okaz exceeded our expectations. So, I will not hesitate to cooperate with her in my future works," said Al-Zahrani.

He added that of the four female makeup artists in the kingdom, Al-Qana'a stood out for her unique skills.




It usually takes 25 minutes for Al Qana' to finish work on a specific character, but now she can finish a maquillage session in around 15 minutes.

Al-Qana'a received ovations for her work creating the face of the Arab poet and philosopher Ibn Al-Khateeb, who was played during the Okaz festival by the Saudi actor Osaid Al-Shami. She triumphed in changing the innocent complexion of the young man to make it appear more like that of the philosopher.


 Malak Al-Qana'a's interpretation of mathematician Al-Battani.

Her work on the Muslim mathematician Al-Battani, played by actor Sultan Al-Baloushi, was also extolled by many.

The story originally appeared in Arab News
COMMENTS
Comments are moderated and generally will be posted if they are on-topic and not abusive.
For more information, please see our Comments FAQ