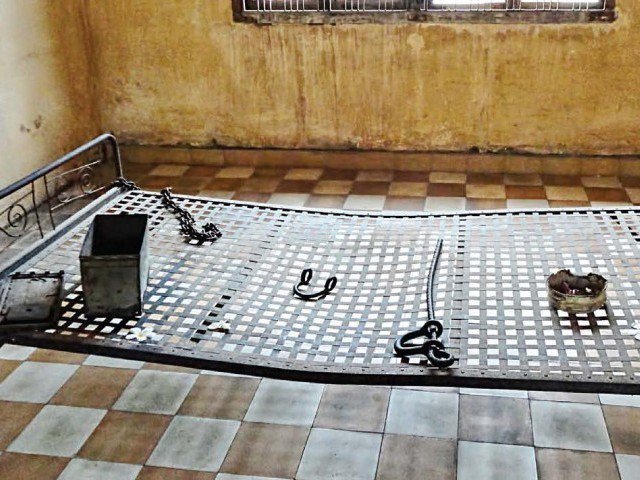 ---
LAHORE: Another victim of alleged torture at an illegal private torture cell being run by SHO Gujjarpura in Karol Village died in hospital on Monday.

The deceased, identified as Amjad Zulfiqar, was undergoing treatment at the hospital for the last few days.

His family alleged that he suffered serious internal injuries due to police beating and died. Police shared a death certificate that described cardiac arrest as cause of his death. The brother of Zulfiqar had registered a case under murder charges against police officers. The complainant stated that police had arrested his brother and kept at a private place in Karol village. Police had also snatched gold ornaments, rings, mobile phones and other valuables during arrest. The victim had received severe internal injuries. On Monday night, he succumbed to these injuries, he alleged.

On the issue, Deputy Inspector General of Police (DIG) Operations Ashfaq Ahmad Khan said that SHO Gujjarpura and three other police officials have been suspended. An inquiry into the matter has been launched. The victim Amjad was along with his parents after his disappearance. Khan shared that death certificate described cardiac arrest as cause of his death. He stated that post-mortem would further reveal the facts.

An inquiry has already been initiated and those involved will be bring to justice, said Khan.

A few days back, Amjad along with seven to eight other victims, was spotted at an illegal torture cell set up at Karol Ghati area in the office of the forest department. The deceased Amjad in a video statement had stated that he was tortured so severely that a number of his bones got fractured. The victim could be seen in the video crying and bed-ridden. Other victims included students, shopkeepers and workers. Almost all the victims alleged in the video statement that police had been torturing them but never mentioned what was their offence and why they were being tortured. They also alleged that the police had also looted their money and valuables from them during their detention.

Soon after the news of the torture cell went on viral, Deputy Inspector General Operations Lahore Police Muhammad Ashfaq Ahmad Khan suspended the SHO Gujjar and three other police officials. The Inspector-General of Punjab Police Captain (retd) Arif Nawaz Khan and CCPO BA Nasir also took notice of the incident and ordered an inquiry into the matter.

The whereabouts of the victims were not known or shared by police with public or media. Reportedly, they all disappeared. Amjad died in the hospital last night.

This is not an isolated incident of alleged death of a citizen due to police torture. Two days back, a man who was arrested in Rahim Yar Khan after the video of his ATM robbery went viral, passed away in police custody on Sunday. The accused, Salahuddin, gained social media infamy for the video of his ATM robbery in Faisalabad which showed him sticking out his tongue at surveillance cameras.

He was arrested on Friday while attempting to break another ATM machine in Rahim Yar Khan. At first, Salahuddin pretended to be deaf and mute but eventually confessed to his criminal activities. According to officials, Salahuddin's conduct in custody was highly unusual and he became unwell during a spell of erratic behaviour.

In another video probably shot few hours before his death was making rounds on social media. In the video, the victim had been asking the investigators, how did they learn to torture people.

Though police officers on record condemned the practice majority of them admitted the use of severe torture for 'investigation purposes' as a norm as well as a necessity in the police. So, when officials involved in such a heinous misuse and abuse of authority go scot-free, it shows a subtle complacency at a higher level in the department.

This was just one torture cell that was unearthed, said a police officer. He said dozens of other such cells were being run by the police. Earlier such investigation methods were performed openly in police stations. However, since the scope and access to social and electronic media became public, the investigation cells had to be moved to private places. Now the efforts were made to keep the investigations practices secret. 

Published in The Express Tribune, September 3rd, 2019.
COMMENTS
Comments are moderated and generally will be posted if they are on-topic and not abusive.
For more information, please see our Comments FAQ