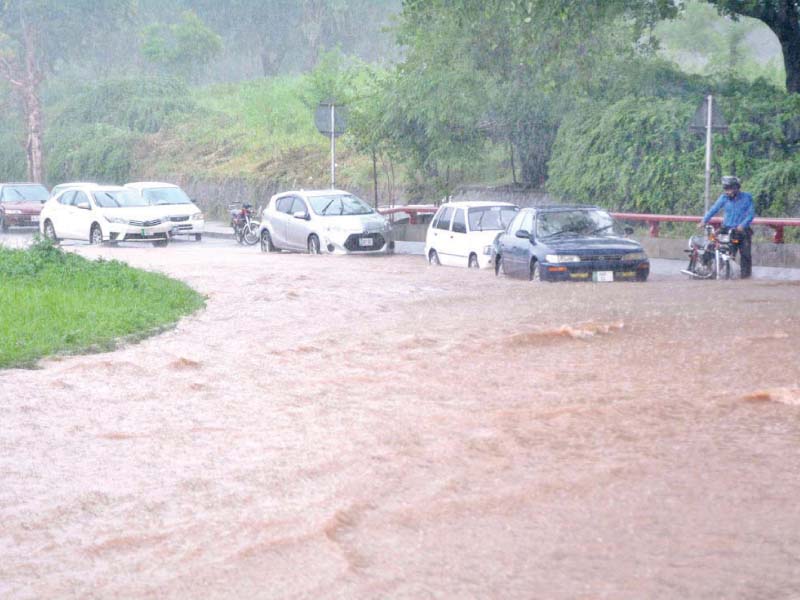 ---
RAWALPINDI: Early morning showers dumped over 103mm of rain in Islamabad and 39mm in Rawalpindi trapping office bound commuters on flooded roads, tripping power feeders and leaving many localities without electricity.

The water level in Nullah Leh swelled by over 10 feet due to heavy downpour, officials of Rawalpindi Water and Sanitation Service said.

People from low-lying areas of Rawalpindi told The Express Tribune that the sewerage system failed again and overflowing sewers and rainwater flowed into their homes causing losses to already impoverished people.

Areas worst hit by the sudden urban flood included Jamia Masjid Road, Sadiqabad, Dhok Kala Khan, Dhok Elahi Bakhsh.

In some of these localities, people had to take refuge on upper stories of the houses to escape gushing gutters.

Due to rain Islamabad Expressway, Murree Road, IJP road , Faizabad Interchange turned into ponds.

Rains continue: Intense showers hit twin cities but significant damage avoided

The administrations of the twin cities had issued high-alerts to WASA and other relief departments in case of emergency situation.

According to Pakistan Meteorological Department, 103mm rain was recorded in Islamabad, while in Rawalpindi; 32mm rain was recorded in Chaklala and 39mm in Shamsabad.

More rain is predicted in the next 24 hours which will further increase level of water in Nullah Leh, Korang River, Soan River and other streams crisscrossing through Rawalpindi and Islamabad.

Due to heavy rain, IESCO feeders were tripped too and provision of electricity to Rawalpindi, Islamabad and Murree were affected and citizens faced immense problems due to the power failure.

Traffic chaos

Expressway commuters, including office-goers, students and patients travelling between the twin cities of Islamabad and Rawalpindi Monday experienced mental anguish due to traffic mess and road-blockages at the Islamabad Expressway.

All the roads connecting the federal capital including, Expressway, Murree and Rawal roads towards Faizabad witnessed blockage due to early morning rain in twin cities of Islamabad and Rawalpindi.

However, it was unfortunate that no official channel was available to communicate the roads condition to commuters, most of the travellers relied on privately established traffic groups to take guideline for reaching to their destinations.

First winter rain: Shower in twin cities offers break from smog

Zaheer Ahmed working in a bank told this agency "I started my journey from Kakpul about 8am and reached Blue Area about 10am with delay of two hours due to traffic mess".

He said that he had to relay on the "Traffic Whatup Group" created by the privately to take guideline to reach to his destinations as no official channel was available to guide the commuters.

"Another commuter Sabir Hussain said he had seen only one traffic official deployed at the PWD stop, while traffic on rest of the Expressway portion operated on their own.

He said it was unfortunate that Islamabad traffic police had no mechanism to deal with emergency like situation in the federal capital.

Numan Ahmed working in a private firm, travelling from Lalkurti to Zeropoint,  said  traffic mess forced him to avail an undesired leave as he failed to reach his destination on time.

When contacted, an official of Islamabad Traffic Police said today rain and VIP movement had created traffic mess at Expressway.

He said other reason of traffic mess at Expressway was motor bickers, who during rainfall take refuge under the main bridges, creating hurdle in smooth flow of traffic.

To a question, he said traffic police had time and again had written to Capital Development Authority about the road conditions from Gulberg to T-Chowk but the civic body paid no due attention towards the issue.

Life remains paralysed as rains continue to lash Karachi

A CDA official, said necessary work was underway from Koral to Rawat-section of the Expressway to ensure smooth flow of traffic there.

He said that CDA had started work on improvement of protected U-Turns around PWD and Pakistan Town from its own resources as it was decided in a meeting chaired by the CDA Chairman Amer Ali Ahmed to end the miseries of Expressway users.

The CDA chairman, he said, had directed that CDA engineering wing and traffic police to take a round of the area and propose interventions to be taken up on emergent basis for ease of traffic flow.

The interim arrangement including repair of the roads, removal of pot holes especially on shoulders would be carried out to ensure smooth flow of traffic on the Expressway.

City Traffic Officer (CTO) Muhammad Bin Ashraf has issued directives to the traffic wardens to maintain smooth flow of traffic during rains. On Monday, he said that additional staff was deployed at Airport, Murree road, Mall raod, Peshwar road, Raja Bazaar, Pirwadhi, Commercial Market, Sadiqabad, Adiala road, Dhoke Syedan, Masrail road, Chungi No 22, Jhelum road and other important roads to avoid a traffic mess during rain.

With additional input by APP 

Published in The Express Tribune, August 27th, 2019.