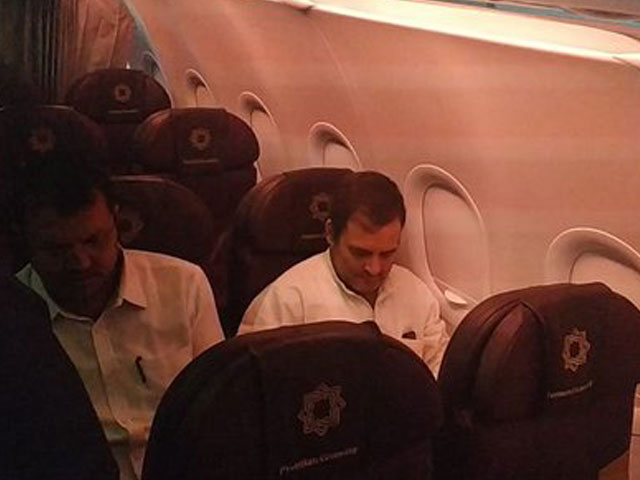 ---


After a nine-member delegation led by Congress leader Rahul Gandhi was sent away at the Srinagar airport, the scion of the Gandhi political dynasty has conceded that the law and order situation in the Himalayan valley is "not normal."





The delegation was sent back after an hour of arriving on Governor Satya Pal Malik invitation.

India tightens curfew to prevent Kashmiris' march on UN office in Srinagar

Amid restrictions imposed in the region since the abrogation of Article-370, the delegation was not allowed to step out of Srinagar airport and was sent back after an hour.


#Heartbreaking see this #Kashmiri woman telling #RahulGandhi about the difficulties she and her family are facing in Indian occupied #Kashmir by #IndianArmy #brutality pic.twitter.com/vZaei4toOu

— Ghulam Abbas Shah (@ghulamabbasshah) August 24, 2019


Ghulam Nabi Azad and Anand Sharma were the top Congress leaders other than Rahul to visit the region.

If the situation in Jammu & Kashmir is "normal" as the govt claims, why has the delegation of Opposition leaders led by Shri @RahulGandhi been sent back from Srinagar airport?

What is the Modi govt trying to hide? #RahulGandhiWithJnK

— Congress (@INCIndia) August 24, 2019

The occupied Kashmir administration had earlier asked the leaders not to visit the valley.

According to India Today, the Indian opposition leaders and media representatives were separated on reaching Srinagar. When the media tried to approach them, police allegedly misbehaved with journalists.

Congress leader Rahul Gandhi arrives at SRINAGAR airport. #JammuAndKashmir pic.twitter.com/fdoskomx1o

— ANI (@ANI) August 24, 2019

Restrictions have been imposed in Kashmir since India withdrew the disputed region's special status under Article-370 and split the state into two Union Territories on August 5.

Azad was twice stopped at Jammu airport, most recently, and was "forcibly" sent back to Delhi on each occasion.

The Indian opposition leaders also intended to visit some other parts of Kashmir. But, authorities in occupied Kashmir did not allowed any Indian leader to enter the valley.

attempts should not be made by senior political leaders to disturb the gradual restoration of normal life. Political leaders are requested to cooperate and not visit Srinagar as they would be putting other people to inconvenience. (2/3)

— DIPR-J&K (@diprjk) August 23, 2019

"If the situation is normal then why is the government restricting us from entering the valley. On the one hand, the government says that things are normal and on the other, they impose entry restrictions, why so much contradictions," senior Congress leader Ghulam Nabi told reporters earlier before taking the flight from New Delhi.

On August 22, the Indian opposition parties staged a protest in New Delhi, demanding the release of scores of political leaders arrested or detained in Kashmir.

Nearly 400 Jammu and Kashmir politicians and leaders, including former chief ministers Omar Abdullah and Mehbooba Mufti, were either arrested or detained following the centre's decision to withdraw special status, said the report.

Qureshi challenges Modi's 'all is well' rhetoric in IOK

Kashmiris were barred from holding a protest demonstration outside the UN office in Srinagar after Friday prayers against India's provocative August 5 move and its illegal occupation of Jammu and Kashmir.

Security forces were deployed in strength in many places to maintain law and order amid unrest over India's treatment of the region.

However, sporadic demonstrations rocked some parts of Srinagar, with clashes between stone-throwing protesters and Indian security forces leaving more than 100 injured.