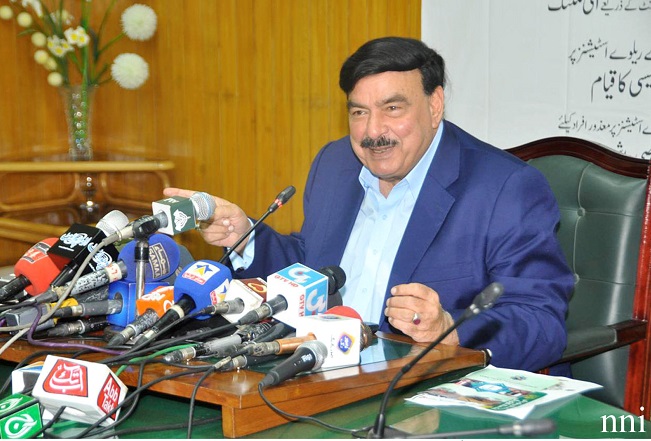 ---
LAHORE:

Railways Minister Sheikh Rashid Ahmed has said that railways was trying its best to serve the people within its given resources and would improve its services within the due course of time.Addressing a news conference at railways headquarters on Thursday, the minister said "We have reduced the corporations deficit by Rs4 billion.

Liabilities are huge, like we pay Rs35 billion in annual pension, Rs31 billion in shape of salaries, the corporation spends nearly Rs8 billion in fuel cost," and added "Out of Rs16 billion from Public Sector Development Programme, Rs4 billion are for Main Line-1 project, whereas only Rs12 billion are available for development purposes".

"Prime Minister is committed to pursue the ML-1 project with the help of China. For this, the feasibility report and PC-1 of the project has been completed," he remarked."We will strengthen railways and will give more benefits to the general public, but masses should consider the fact that we do not have any coach available right now as the railways management in the last one year started some 32 passenger and freight trains, without spending a single rupee," he said.Speaking about the ongoing crisis in held Kashmir, the minister said, "China has put its weight in favour of the people of Kashmir. It is not Bosnia or Palestine. I think that all the doors of negotiations have been closed and the time will prove what blunder Indian Premier Narendra Modi has made," he said.The minister said that no amendment regarding National Accountability Bureau (NAB) powers had been moved and reports on the subject were just gossips.

"Yes the matter of NAB was discussed in cabinet meetings, but what will be the amendments and when the bill will be presented, the time frame is not clear yet," he said."Bureaucrats are not working due to the fear of NAB. The same bureaucracy was working in the previous tenure for Sharif brothers but they are not working for Imran Khan," he added.