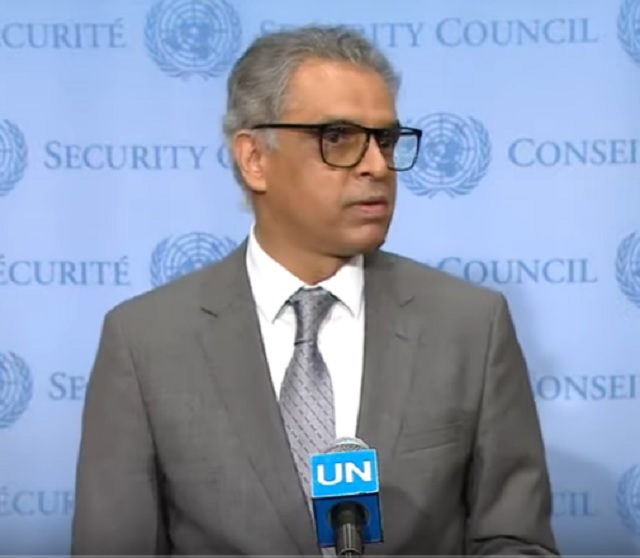 ---
KARACHI: Hours after the United Nations Security Council (UNSC) held a first-ever meeting over Kashmir issue in almost 50 years in a diplomatic triumph to Pakistan, India's envoy to the United Nations Syed Akbaruddin on Friday admitted that Indian-Occupied Jammu and Kashmir was a disputed territory and New Delhi was conditionally ready to engage with Islamabad over the matter.

India has regularly blocked discussion on Occupied Kashmir at the UN because it considers the matter an 'internal affair'.

Facing a barrage of questions in a press briefing following the historic meeting at the UN headquarters in New York, Akbaruddin said that India is committed to the Simla accord inked with Pakistan in 1972, which explicitly declared the Kashmir as dispute between the two countries.

"So let me begin by coming across to you and shaking your hand… as we've already extended our hand of friendship by saying we are committed to Simla agreement. Let us wait on that from the Pakistani side," said the Indian ambassador while awkwardly reaching out to Pakistani journalists and shaking hands with them.

UNSC meeting nullifies India's claims IOK is its 'internal matter': Lodhi

Responding to a question, he said: "In closed consultations at the UNSC, anyone, especially parties to the dispute, can try and throw in anything at the members of the Security Council. That's the nature of the beast."

He added: "We are ready to address these issues in a matter in which states who have normal approaches to international ties address them… and in our case, we are committed to Simla agreement. It's now for Pakistan to make that commitment to 'stop terror and start talks'."

New Delhi has been harping on its terror mantra despite Islamabad's repeated attempts at resolving all outstanding issues between the two countries, including that of Kashmir, through dialogue.

After coming into power last year, Prime Minister Imran Khan has extended an olive branch to his Indian counterpart Narendra Modi on multiple occasions, however, India never responded positively.

The Simla accord highlighted that 'no settlement' had been reached on the Kashmir issue, but it mentioned 'a final solution of Jammu and Kashmir' as one of the outstanding questions for settlement. The accord also stated that: "The Line of Control resulting from the ceasefire of December 17, 1971 shall be respected by both sides without prejudice to the recognised position of either side. Neither side shall seek to alter it unilaterally, irrespective of mutual differences and legal interpretations."

The 17-point agreement reaffirmed the principles and purposes of the Charter of United Nations to "govern the relations between the two countries".

Trump urges India-Pakistan talks on Kashmir in call with PM Imran

Visibly frustrated over the Kashmir issue being discussed at the highest diplomatic forum of the world, Akbaruddin lashed out at the 'international interference' in his government's very 'internal matter'. "We don't need international busybodies to try to tell us how to run our lives. We are a billion plus people," he told reporters.

On August 5, New Delhi scrapped Article 370 in the Indian constitution that had granted Kashmir special autonomy. It split the state of Jammu and Kashmir in two and downgraded their status to union territories, sparking a row with Pakistan.

PM Modi's government also restricted freedom of movement in the region and cut the internet and phone lines. Akbaruddin said the restrictions were "reasonable" and are being eased.

"Public order is integral to ensuring that democracy prospers," he added, denying reports that India was committing human rights violations in the former Himalayan region.