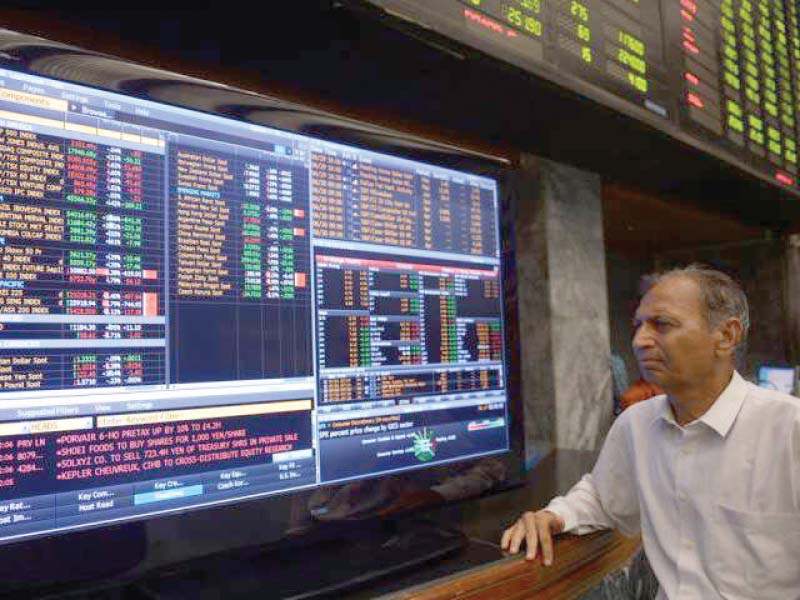 ---
KARACHI: The Pakistan Stock Exchange (PSX) - which has dropped to a five-year new low with six-seven years thin volumes in its third successive year of downfall on Friday - has now hit stockbrokers hard as well, as around a dozen of them have quit the business in recent months.

"Low volume has caused around a dozen stockbrokers to surrender their PSX's membership in the past two to three months," PSX Stockbrokers Association former general secretary Adil Ghaffar told The Express Tribune.

"Another dozens stockbrokers are anticipated to quit after banks gave them repeated calls to submit required margins against their cumulative bank borrowing worth around Rs50 billion," he estimated.

The PSX's benchmark KSE-100 Index dropped 2.31%, or 664.44 points, to a five-year new low at 28,764.63 points with around six-seven years thin volume of 53.42 million shares on Friday, according to JS Research Head of Equity Sales Syed Atif Zafar.

In the past three years, the index points have cut to half at present compared to all-time high near 53,000 points in May 2017. This has wiped out around $60 billion from the market.

"What has fallen from $100 billion to $41 billion in just two years? PSX," Topline Securities CEO Muhammad Sohail said in a short message the other day.

The PSX management reported on Friday that Ashfaq Ashraf Securities has submitted a request letter to surrender his membership to the exchange on June 18, 2019, while the management has accepted MH Securities request for relinquishment of its membership.

Ghaffar elaborated that the consistent drop in volumes has made it almost impossible for dozens out of as many as 242 stockbrokers at PSX to continue running their offices. "Brokers earn revenue on trade of shares. Higher trade volumes make higher revenue while low volumes earn them low revenue," he said.

"Continuing brokering business at PSX is no more feasible with mere 50 million shares a day," he said. "Trade volume of around 500 million shares a day is a must to revive the stockbrokers' offices," he said.

He said there are some 18 big brokers at PSX whose share in everyday total revenue at PSX stands at around 80%, while remaining thin 20% revenue was keeping rest of the 225 stockbrokers alive.

No one is ready to buy PSX membership for a mere Rs2.5 million today compared to Rs140-150 million several years ago, he said.

The situation has taken place due to two major reasons; one that the apex regulator, the Securities and Exchange Commission of Pakistan (SECP), has overregulated the market. Secondly, a massive slowdown in Pakistan's economy has made shares trading unattractive.

A 7.5 percentage points hike in key interest rate since January 2018 to eight-year high at 13.25% at present and a 32% rupee devaluation to 160 to the US dollar in fiscal year 2019 alone has multiplied the cost of doing business many times in the past two-three years. This has also made shares business unviable at PSX, he said.

He recalled that the Economic Coordination Committee (ECC) of the cabinet approved establishment of stock market support fund worth Rs20 billion in May, but failed to launch it due to limitations under the International Monetary Fund (IMF) tough conditioning.

He said this was high time for the government and SECP to soften regulations at PSX to allow the market to revive.

"SECP should at least undo overregulation at PSX immediately," he said, adding many of the relevant regulations are done, but await SECP officials' signatures to be implemented since long.

Published in The Express Tribune, August 17th, 2019.

Like Business on Facebook, follow @TribuneBiz on Twitter to stay informed and join in the conversation.