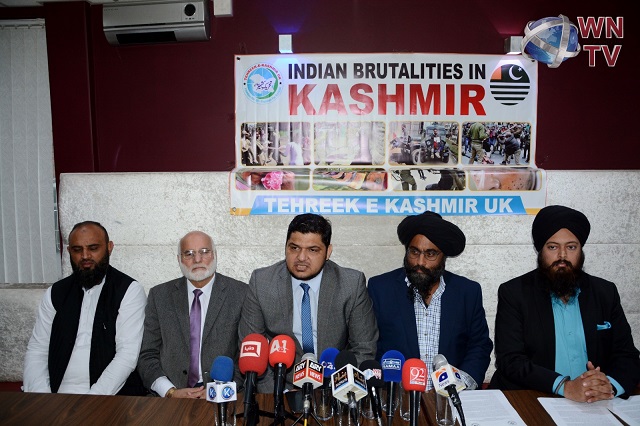 ---
MUZAFFARABAD: With the world's eyes firmly set on Occupied Kashmir (IoK) as Indian atrocities in the disputed Himalayan valley reach their zenith, London is to observe India's Independence Day as Black Day.

Preparations are in full swing to gather thousands of people in London to protest the repeal of the special status of IoK.

The anti-India protest will be held outside the Indian High Commission in London to express solidarity with the besieged people of IoK.

While addressing a press conference, the coordinator of the August 15 anti-India protest and United Kingdom Tehreek-e-Kashmir (TeK) President Raja Fahim Kayani said that they have been working since the last six days to convince British Kashmiris, Pakistanis and Sikhs to come out of their homes and observe Black Day.

World Sikh Parliament President Ranjit Singh also condemnedteh Indian Government's abrogation of IoK's special status.

"All political, social and non-governmental organisation workers have been working around the clock in Birmingham, Luton, Bradford, Manchester, Nottingham Watford, London and other areas of South East England to make the anti-India protest a story of success," said Kayani.

"Buses and coaches have been arranged to ferry maximum protesters to London on August 15. Following the siege of more than 10 million people of IoK since August 5 nobody knows what is happening in the streets of Srinagar," Kayani said, adding that women and children from both Sikh and Muslim communities will also join the protest to show their concern against New Delhi's illegal and unconstitutional move in IoK.

The TeK president also expressed anger and said that the protest will expose the fascist regime in India, under which more than 10 million Muslims were not allowed to practice their religious rights on Eidul Azha.

He said the protest in London aims to create a global pressure on New Delhi to lift the siege and curfew in IoK where people are facing food and medicine shortages.

This is the first time the locking up of mosques and other religious places has taken place since the last 70 years.

The protest will begin at noon on August 15 in London.