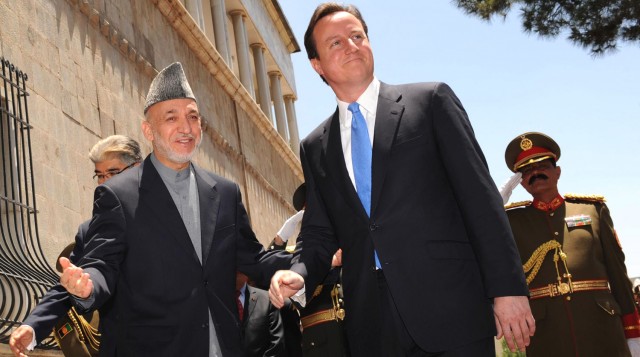 ---
KABUL: British Prime Minister David Cameron made his first official visit to Afghanistan on Thursday,  ruling out the prospect of sending extra forces and calling for quicker progress to bring troops home.

Cameron, whose visit was not announced in advance for security reasons, held talks with President Hamid Karzai in Kabul and declared Afghanistan "the most important national security issue for my country", adding that "the issue of more troops is not remotely on the UK agenda".

Britain has around 9,500 troops in Afghanistan and is the second-biggest contributor to the Nato-led mission after the US.  The British government is facing increasing public opposition to the long and costly war in Afghanistan, where 294 British personnel have died since operations began to topple the Taliban government in October 2001.

"We should be asking all the time 'Can we go further, can we go faster?" said Cameron. "Nobody wants British troops to be in Afghanistan a moment longer than is necessary."

Cameron announced an additional 67 million pounds for British forces to counter the threat from improvised bombs, which are the biggest killer of Western soldiers in Afghanistan.

Meanwhile in Brussels, the Nato commander for Afghanistan, US General Stanley McChrystal, conceded that the scheduled operation in Kandahar will be slower than expected. "I do think it will happen more slowly than we originally anticipated," McChrystal told reporters, adding it will "take a number of months for this to play out" His comments indicate that the area is presenting a bigger challenge than Nato commanders had expected, amid a shortage of Afghan security forces and scepticism among the local population.

Published in the Express Tribune, June 11th, 2010.
COMMENTS
Comments are moderated and generally will be posted if they are on-topic and not abusive.
For more information, please see our Comments FAQ