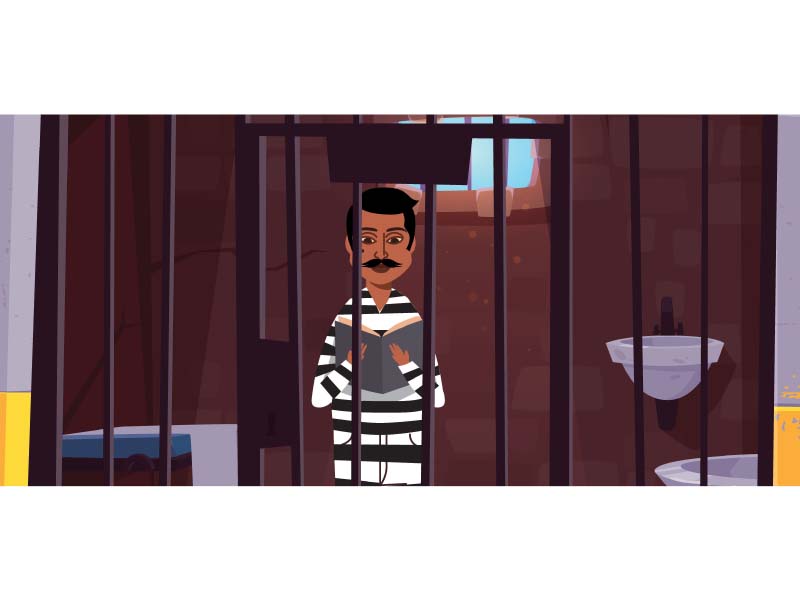 ---
KARACHI: To most people, a police station is a dreaded place. Either one goes there as an accused or as a victim of a crime. In the case of Sindh, both instances are equally horrifying.

But some young police officials are trying to change this image. The idea is to bridge the trust deficit between the public and the police, besides treating suspects brought to the police stations with respect and dignity, in line with the rights accorded to them under the Constitution.

For Sukkur SSP Irfan Samo, it is the judiciary's job to provide justice, not the police. In line with this vision, SSP Samo has introduced a new concept by setting up small libraries in the lockups of around 10 police stations in the last one month.

Besides, every morning, police constables provide daily newspapers to inmates. The books placed in the shelves have mostly been donated by authors and civil society activists.

The books range from sociology to changing human behavior. Not a single shelf has a book on extremism or politically-motivated content. SSP Samo selects the books himself and has a fair idea on what kinds of books the inmates should read.

 The idea

"It's like a rehabilitation concept," SSP Samo told The Express Tribune. "All [inmates] must be treated as human beings," he added. He said that a fair quality of life is the basic right of every individual and that the police are not meant to dispense justice or judge anyone, based on accusations leveled against them. "Let the judiciary does its work."

SSP Samo joined the Police Service of Pakistan at the age of 24 in 2009. He established the first lockup library in Abad Police Station of Sukkur district in the last week of June and has established such libraries in nine more police stations since. He plans to replicate the initiative in all police stations within his jurisdition.

"Police are a pillar of society," said Samo. He reasoned that all persons who are locked up in police station's holding cells are not habitual offenders. Many first-time offenders are locked up in these cells, he said, adding that they should be provided a conducive environment. "We have to take care of their mental health."

According to SSP Samo, the initiative is the first of its kind in the country. He expressed the hope that the idea would be applied in other parts of the country. "I hope it will change the mindset of common people," he said.

Speaking to The Express Tribune, SSP Samo said that habitual offenders must be kept separate from those who are charged with a crime for the first time.

Reactions

Various authors and civil society activists have visited the police stations and expressed delight over the new concept introduced by SSP Samo. "Police means terror, abuse and fear," commented Sikandar Ali Hullio, an anthropologist, who has recently visited Abad Police Station. "It is a good-will gesture by police to people," he added, with reference to SSP Samo's initiative.

Hullio said that inmates have sufficient time and if they are provided good literature, booklets, and well-researched articles, they will read them. "It helps develop their mental capacity. It is an ideal culture that can complement traditional policing."

He urged the police department to replicate such initiatives taken by young police officials. "Rather, I would suggest to institutionalise it; all police stations must have a separate library room," Hullio suggested. He added that the whole society is directly or indirectly linked with the police system, therefore, people should support officials like SSP Samo.

Published in The Express Tribune, August 14th, 2019.