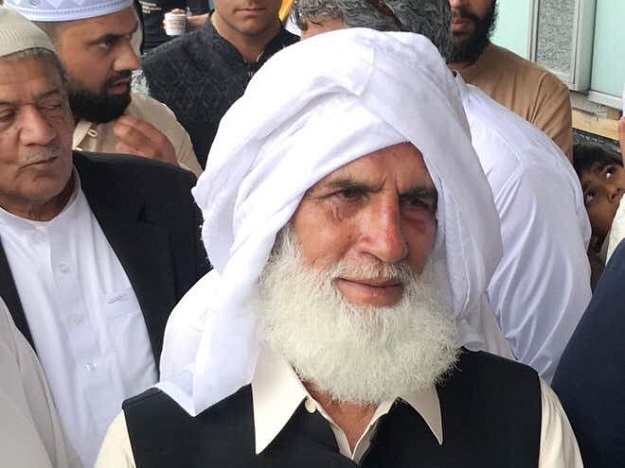 ---
A Pakistani man is being hailed as a hero after foiling Sunday's attack on a mosque in Norway.

Muhammad Rafiq, a 65-year-old retired Pakistani Air Force officer, was one of three people in al-Noor Islamic Centre near the Norwegian capital, Oslo, at the time of the attack.

Rafiq was the person who tackled the suspect, 21-year-old Philip Manshaus, and managed to hold him and take away his weapons.

"I suddenly heard shooting from outside," Rafiq told Reuters via an interpreter, adding that a man then entered the building with guns and pistols.

"He started to fire towards the two other men," Rafiq said, adding that he had then grabbed the attacker, holding him down and wrestling the weapons off the attacker.

His eye red and one hand swollen, Rafiq, who has lived in Norway for the past two and a half years, said he was still recovering from the attack.

"He put his finger inside my eye, up to here; full finger inside my eye," Rafiq added.


When an armed man burst into a Norwegian mosque, retired Pakistani Air Force officer Mohammad Rafiq leapt into action https://t.co/kWabHZFJZR pic.twitter.com/DMMybRx77Z @reuters

— Jim Stevenson (@VOAStevenson) August 12, 2019


Manshaus appeared in court on Monday with black eyes and wounds on his face and neck. A judge gave police permission to hold the 21-year-old in custody for an initial four weeks while he is investigated on suspicion of murder and breach of anti-terrorism law, the court's ruling later showed.

Manshaus, who briefly smiled at photographers, does not admit to any crime, his lawyer said. He wore a helmet camera, filming the shooting, but did not appear to have broadcast the attack, according to prosecutors.

"This video is key evidence," police attorney Paal-Fredrik Hjort Kraby told a news conference.

Manshaus, whose home is near the mosque just outside the Norwegian capital, had expressed far-right, anti-immigrant views before the attack, police said.

Online postings under Manshaus' name, made shortly before the attack, expressed admiration for the massacre of more than 50 people at two New Zealand mosques in March by a suspected white supremacist, who filmed and broadcast the killings live online.

Reuters could not independently verify that the postings were made by Philip Manshaus.

A few hours after the Norwegian mosque attack, police discovered the body of a young woman at what they said was the suspect's address.

Police later named her as his stepsister, Chinese-born Johanne Zhangjia Ihle-Hansen. The 17-year-old was adopted as a small child by a Norwegian woman, who is now the spouse of Philip Manshaus' father, the mother's lawyer said.

"These hours after what happened have been chaotic, unreal, a tragedy," the lawyer, Elisabeth Hagen, told Reuters. "These are two tragedies, one with the girl and one with the mosque. I represent the mother of the girl," she said, adding that the girl's mother and Manshaus' father were together, and surrounded by friends helping them cope.

Hagen declined to comment on any possible motive for the killing.

Manshaus did not speak while reporters were present, and has
so far declined to talk to the police. "He is exercising his right not to be interrogated," his defence attorney, Unni Fries, told Reuters. "He is not admitting any guilt."

Police sought to hold him on suspicion of murder, as well as of breaching anti-terrorism law by spreading severe fear among
the population when firing several guns at the mosque.