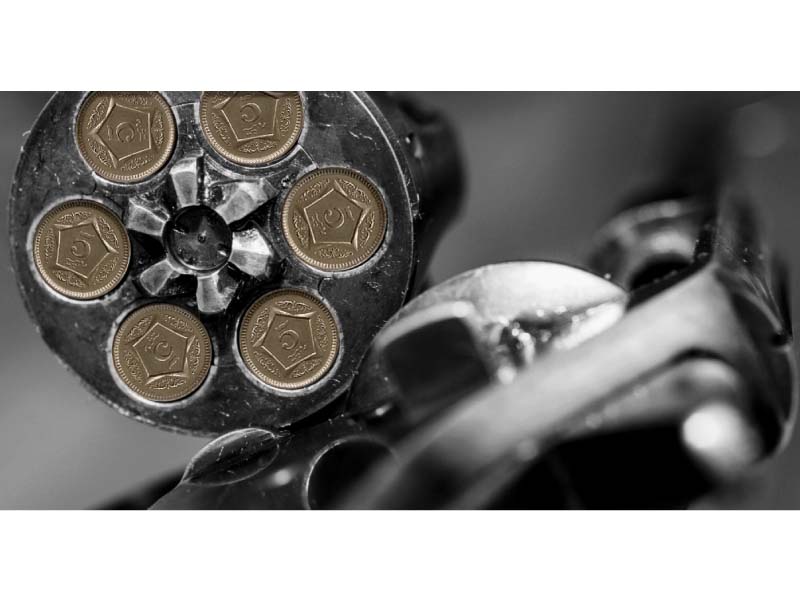 ---
LAHORE: When most people picture an assassin, they either see a man dressed to the nines in suit and tie, or a female clad in hip-hugging leather and knee-length boots. However, chances are that the 'shooters' in Lahore are a far cry from the romanticised assassin of Hollywood or Bollywood cinema.

The reality of 'hitmen' in the provincial capital is rather different as these criminals will take a human life in exchange for whatever they can get – which in most cases is a few thousand rupees.

The hit squads of Lahore are part of a mafia and it is common practice for them to kill for measly sums.  Those involved in the business of blindly pumping bullets into other humans for the sake of money are locally known as 'shooters', a term first popularised by gangster movies originating from across the border in India. A sense of insecurity looms over the provincial capital as news has started spreading of how little it costs to have another person eliminated. For example, take the murder of a man in Nishtar Colony who was gunned down by a hitman named Azhar for just Rs10,000. CIA investigations revealed that the assassin's friend, called Mehboob, offered Rs0.2 million to Azhar as payment to 'off' the target.

The assassin took Rs10,000 as advance payment, carried out the murder, and never heard again from his client who pocketed the rest of the agreed amount. At the time of his arrest, the killer revealed that he needed the money to pay for his sister's wedding.

Three killed, at least 15 injured in US festival shooting

Police point out that GC University Professor Tanzeem Akbar, stage dancer Qismat Baig and cable operator Javad Firdosi were all slain thanks to the brazen acts of these 'shooters'. According to police investigations, several of these incidents linked back to gangsters operating out of Dubai.

Speaking to The Express Tribune about the phenomenon, SSP Operations Lahore Ismail Kharrak says these crimes are a result of young people falling into the wrong company. "The dream of becoming rich overnight is pushing young people on the wrong path," he bemoans.

Kharrak says parents are often to blame for failing to look after children who have gone down this spiral. "They never ask why their children are wearing a particular type of clothing of where they got their hands on a weapon. Where does the extra money originate from?" he asks. The SSP Operations further says the police can only arrest a youth if he has committed a crime, but regrets some real damage is done when he is confined to jail.

"He falls into bad company. If the suspect goes to jail for a minor crime, he is exposed to others who are in custody for heinous offences. This contact turns him into a fearless criminal," the SSP narrates.

Investigation Department Head SSP Zeeshan Asghar, whose job it is to probe serious criminal cases, says these shooters are actively involved in gang warfare. There was another recent example at the Allama Iqbal Airport in which one group engaged shooters to gun down a man accused of murdering one of their peers. This incident proved the grizzly nature of such acts as the victim was shot multiple times in broad daylight and in the complete public view of men, women and child passengers who were present at the arrivals lounge.

Another more recent incident saw four hitmen, riding motorcycles, intercept the vehicle of business Sheikh Irfan Channa before gunning him down in cold blood. Footage of the brutal act was captured by Safe City cameras.

SSP Asghar says a common factor among these the shooters is that they are unable to find meaningful employment or are incapable of doing anything else in life. Therefore, they are willing to commit murder for the sake of money. "Many films also play a vital role in shaping their outlook as movies portray gangsters as heroes," he concludes.

The police are yet to determine the actual number of hitmen in the city, but an estimate suggests there are 20 small and large gangs operating as shooters. Speaking to The Express Tribune, law expert Syed Farhad Ali Shah blames the police's poor investigation which seldom leads to punishment for either the assassins or their clients.

Shah says in case of target killings, the client, who has put a price on the head of the victim, manages to get off sco- free due to poor evidence collection and investigation. He says the law dictates that if a suspect confesses before the police, it does not hold the same weight as an admission before a magistrate. 

Published in The Express Tribune, August 11th, 2019.
COMMENTS
Comments are moderated and generally will be posted if they are on-topic and not abusive.
For more information, please see our Comments FAQ