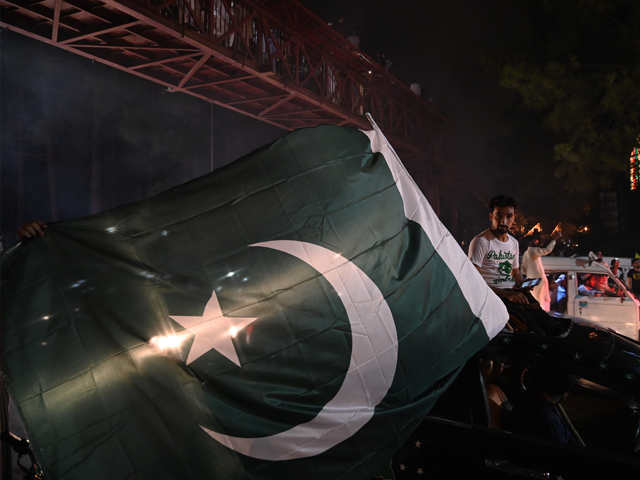 ---
KARACHI: It's a question that we ask ourselves every year and every year the answers get even more complicated. It sounds quite simple on paper but once you start giving, "what makes Pakistan, Pakistan"  a thought, it leads to a stream of thought riddled with power outages and a lack of social security.

However, as much resilience is a term many hate, and a few admire, our circumstances have made us thick-skinned enough to hope for a brand new day. There's a light at the end of the tunnel and today is the day when we hope it is not a train.

If you ask someone what's that one thing that instantly hits you as typical Pakistani - what would you say? "That Miadad's six!" a friend shared while talking of the same. Another one commented that it was undoubtedly, "Ghausia's Nalli Biryani."




Some one also mentioned something about Naya Pakistan as well but that's besides the point.

You see, it varies when it comes to what Pakistan might mean to one. For some, it's Nusrat Fateh Ali Khan's qawwalis, for others it might be Hunza valley's beautiful locales.

As we celebrate 72 years of Independence, let's have a look at what makes Pakistan, Pakistan.

One thing us Pakistanis can proudly say is that we are food lovers. Be it Lahori Chargha or Khaddi Kabab from Quetta, we love our cuisine. With a specialty central to almost every city of the country, it's safe to assume we know our food as well.

And don't even get me started on chai! Let's be honest, we do make really good tea. In fact, 'fantastic tea.'




Did you know, Pakistan is the third-largest importer of tea, although some tea is grown locally too? It's a must have after every meal - may it be breakfast or dinner! Sometimes cardamom and other spices are added to tea on special occasions.

Black tea was introduced to the country by the English during the colonial years, but green tea has been a part of the local culture for thousands of years.

Pakistani pop music has been making waves in the region since Alamgir picked the guitar and rocked those Elvis moves on TV. Since then, many artists have reshaped the music of South Asia with Nazia Hassan, Zoheb Hassan, Vital Signs, Junoon, Hadiqa Kiani and Atif Aslam being just a few.




Other than Pakistan's pop music, maestros such as Abida Parveen, Sabri brothers, Nusrat Fateh Ali Khan, Noor Jehan and others have formed a league of their own on an international scale.

Qawwali and Ghazal are the nation's auditory treasures. Building on that, Pakistani TV shows, such as  Coke Studio, have amassed a humongous following internationally and locally, from non-Pakistanis to non-Urdu speakers. Contemporary musicians too play with modern styles and develop fusions in the Urdu language, of blues, funk, rock and jazz.

There's a certain aura that revolves around Pakistanis when it comes to sports. Well, cricket essentially. We're all pretty emotional about the gentleman's game but Pakistani cricket team can rattle with our feelings a bit too strongly. We cry together, we cheer together.




Other sports, like hockey, squash and badminton, are also widely played and appreciated. Polo has a special place in northern Pakistan too, with one of the highest polo grounds in the world situated in the country.

I won't believe it if you tell me that you haven't had a week-long stay over for a family wedding in Pakistan.

Pakistani weddings epitomise the richness of tradition. A single wedding will introduce you to the many elements of our local heritage. Weddings in Pakistan are a serious deal, with preparations starting months before. From disorganised dance practices to last minute detailing, weddings in Pakistan are hectic, fun and memorable.

And we are also very catering to our guests as well. Ask anyone who visits the country. US comedian Jeremy McLellen has always praised Pakistan for its hospitality. Guests, tourists and visitors, whether domestic or international, are always welcomed with open arms.

Even the poorest go out of their way to share a morsel of bread with the guests.

If this doesn't makes Pakistan, Pakistan for you then you should go listen to Eye to Eye.

Have something to add to the story? Share it in the comments below.