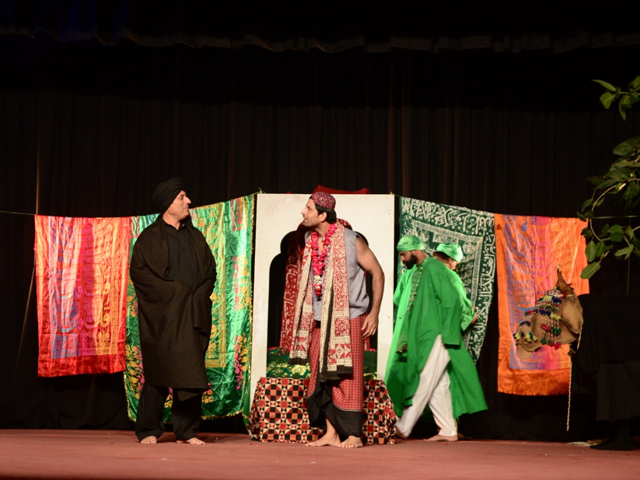 ---
LAHORE: The Punjab Government has decided to take strict action against theater productions that promote vulgarity. The decision was taken keeping in mind the various productions that take place on and around the occasion of Eidul Azha.

According to sources, the provincial government has advised the culture department and censor board to keep a strict check on the content and production of the upcoming performances.




Administrative offices in respective districts have also been ordered to oversee the productions that are underway and the Lahore Commissioner office has devised a plan of action specifically to counter vulgarity.

Talking to The Express Tribune, Deputy Commissioner Lahore Saleha Saeed said, "District Administration Lahore will not allow the theater industry to spread vulgarity through inappropriate dances and dialogues in stage dramas. We will do our best to eliminate this practice and take all measures to provide healthy entertainment to the audiences."




On receiving complaints about plays that are too profane to be watched with kids, Saeed ordered Assistant Commissioner Khawar Bashir to ensure that theater owners and managers follow the rules and regulations set by censor board. Bashir told the stakeholders that they should seek permission from the government officials before making any changes in the dance choreography or content of the production. In this regard, the District Administration is advised to closely monitor rehearsals in respective theater halls.

On the other hand, senior artists appreciated the move and said that they are expecting this action to be practically implemented this time.




Talking to The Express Tribune, senior theater actor Shiba Butt said, "We have heard about these measures before as well but things go on and no one keeps a check. Vulgarity was one of the major reasons why a number of senior artists distanced themselves from stage. Such a crackdown is much-needed and I hope something positive comes out of it."

Eid is the most happening season for theater (stage) lovers in Punjab, and particularly Lahore. Fans and families flock to the walled city from all over the province to watch their favourite actors and performers in action.




However, in the last few years, complaints of vulgarity, explicit dialogues and tacky scripts have stopped families and kids from showing up at such productions. While their absence did not have a huge impact on the box office collections it did create a sense of distaste among the audience members, which is worrisome for some producers and government officials at large.



Edited by Haddiqua Siddiqui

Have something to add to the story? Share it in the comments below.