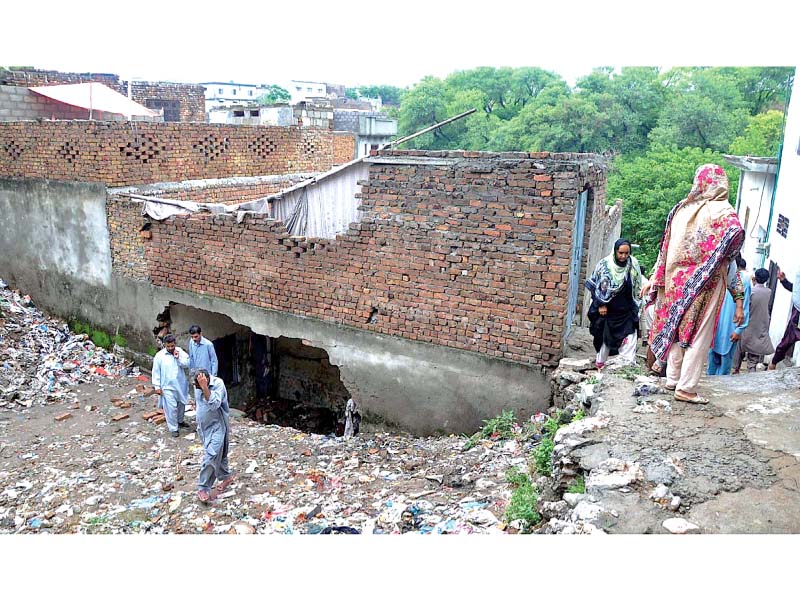 ---
RAWALPINDI: Torrential rain that started on Tuesday night wreaked havoc in Rawalpindi killing eight people and flooding low-lying areas in short spell of three hours.

Rescue officials managed to save seven lives as water channels ran in full flow in Rawalpindi.

Water and Sanitation Agency (WASA) officials said that 59mm rain was recorded in Rawalpindi and 109mm in Islamabad in only three hours.

A number of low-lying areas were inundated with heavy downpour while Rawalpindi WASA Managing Director (MD) Muhammad Tanveer was present to monitor de-watering operation in Committee Chowk underpass.

Continuous rains raised water level in Nullah Leh to 10 feet at Katariyan Bridge and four feet at Gwalmandi Bridge. Anticipating the danger, the authorities issued warning to residents living near banks of these areas.




House washed away

Four people were killed when a dilapidated house built on encroached land of Soan River was washed away by raging currents.

Pakistan to witness fresh spell of monsoon rains

Torrential rain had caused the Soan River to swell in the night. The wall of the house on the riverbank gave away and water entered the basement where 11 people were sleeping. The river current swept them away.

Rescue 1122 spokesperson said that seven of the victims were rescued with assistance of local people while other four of same family including Mai Musarat, her nine-year old son Zaheer, 21-one year old Inayat Shah and 10-year old Wahab lost their lives.

According to Rescue 1122, search operation was still underway to find Wahab's body. Funeral of remaining three was held after Zohar prayers on Wednesday.

In another incident in Qaziyan area of Gujjar Khan, the spokesperson said, they put in 10-hours efforts to recover body of a seven-year old boy who had accidently fallen in an open drain in Dhok Chaudaryan and was swept away by fast current.

He added that in another 32-year Mohsin of Khurram Colony drowned when his car plunged into Soan River. The victim had come to drop his friend to his home.

Rescue teams were still looking for a child, Ali Kazim, who was swimming in a Nullah in Qaziyan area of Gujjar Khan

Rescue 1122 District Emergency Officer Dr Abdul Rehman told The Express Tribune that it was extremely difficult for teams to conduct rescue operation in wall collapse incident while rescue workers performed their duties with search lights and in extremely unfavorable conditions.

Rescue teams conducted operations in various parts of city which were overseen by Deputy Commissioner (DC) Muhammad Ali Randhawa, WASA MD Tanveer and Rescue 1122 Director Dr Abdul Rehman.

Soan bus stand rescue

During the course of rainfall, rescue operations continued across the city.

The teams recovered six people who were marooned in vehicles near Soan bus stand.

The Soan River current has damage huge sections of road near the bus stand. Around 30mm of rain was recorded in Saidpur, 41mm in Shamsabad, 42mm in Golra and 22mm in Golra. Highest rain was recorded in MDC with 73ml.

The met office has forecasted more downpours in next 24 hours and there is threat of overflow of storm drains, Rawal and Khanpur Dams and Soan River. An advisory has been issued to all related institutions after which they have been alerted.

Published in The Express Tribune, August 8th, 2019.
COMMENTS
Comments are moderated and generally will be posted if they are on-topic and not abusive.
For more information, please see our Comments FAQ