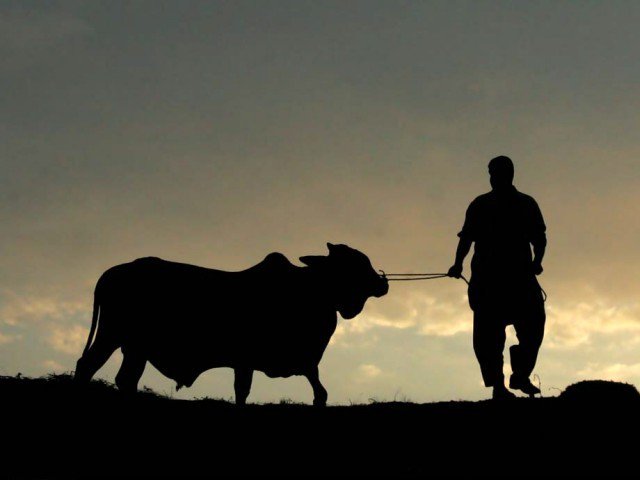 ---
LAHORE: The festival of Eidul Azha is around the corner and the streets of the provincial capital have started becoming more crowded with sacrificial animals and their caretakers. In almost every neighbourhood, young children can be seen playing with sacrificial animals such as goats, sheep, cows and camels outside their houses.

Sacrificial animal trading has gained momentum at makeshift sale points established in different areas of the provincial capital. Both buyers and sellers are unhappy over sacrificial animals' prices. Citizens are complaining about inflated rates, while farmers and sacrificial animal traders are cursing high input costs and transport charges.

Unauthorised cattle markets spring up in Pindi

Speaking to The Express Tribune, a citizen named Liaquat Butt pointed that prices of an average-sized goat are hovering between Rs35,000 to Rs40,000 while traders are charging Rs30,000 to Rs35,000 for sheep. "Last year, animals of similar weight were traded for Rs25,000 to Rs30,000 and traders are blaming inflation and high transport costs for the increase in sacrificial animals pricing."

Another citizen, Shahid Khan, said that even though sacrificial animals' prices were high in makeshift markets, he still bought an animal since it is a religious obligation. "I have visited two sale points and roadside vendors to find a good bargain but remain unlucky."

He complained, "Though, I liked a couple of goats but failed to make a deal since traders were asking for exorbitantly high prices."

A livestock farmer, Hanif Jutt said that during weekend, a large number of citizens were visiting sacrificial animals' sale points but only a few are genuine buyers. "Most citizens are still visiting sacrificial animal markets to find price estimates."

He expressed that all his stocks would be sold like previous years before Eidul Azha. Similar remarks were made by several other traders.

Lahore Division Commissioner Asif Bilal had directed all deputy commissioners to visit all sacrificial animals' sale points to ensure drainage of expected rainwater and security arrangements. He directed Lahore Waste Management Company (LWMC), Livestock Department and Traffic Police to enhance personnel in markets based on the type of markets, market size and importance.

He highlighted that 36 temporary animals markets have been established in Lahore Division, including seven in Lahore. He added that keeping in view the increasing number of animals, the area of the market must be enhanced to bring comfort for sellers, purchasers and animals.

Lahore Deputy Commissioner Saleha Saeed also issued instructions to assistant commissioners to personally visit all sacrificial animals' markets to ensure cleanliness and disposal of rainwater to facilitate purchasers and sellers.

In a circular, the DC also directed the LWMC, the Lahore Metropolitan Corporation, the Livestock Department and Traffic Police to enhance personnel deployment in markets. She added that seven animal selling markets were established in the city.

She advised making electricity arrangements in a proper manner to avoid even a single incident of electrocution in animal markets. She further said that keeping in view the increasing number of animals, the area of markets must be enhanced to bring comfort for sellers and purchasers.

Online sale of animals

Over the last few years, online shopping has become a viable option in the country. More and more people are flocking to purchase items from online stores.

The buying and selling of sacrificial animals and their online slaughtering through social media is trending. Instead of visiting the cattle market to negotiate and purchase animals, people are looking for goats, cows, bulls, and sheep online in preparation for Eidul Azha. However, the issue of fraudulent practices in online shopping persists and is increasing.

Previously, there were different websites that in offering an animal for the past few years, now there are dozens of Facebook pages are also available where you can purchase sacrificial animals and also pay for the service of slaughtering.

Now, Facebook pages provide photos and videos of goats, bulls, camels and cows along with details such as their weight, age and health information which makes it easier to choose the animal for sacrifice.

Tanvir Ahmed, the representative of a company offering sacrificial animals online in the provincial capital, said that they keep in touch with various cattle rearing farmers. "We take the pictures and videos of healthy animals reared in the farmhouse and share it on our website."

He added that the cost of each animal is determined by its weight, health and age so that customers are aware of the different options they have when purchasing the animal.

He further said that his company has been providing services for the last seven years and no complaint has been received to date. "Despite online bargaining, if the buyer sees any contradiction in the stated information of the animal, the purchase can be cancelled. The most important value for us is the trust of our customers."

Chaudhry Muzaffar, a representative of a cattle farm that offers cheap sacrificial animals on a Facebook page, said that he offers only those animals which were shown on his page. "We do not cheat our customers because slaughtering animals has religious significance." He added that his cattle farm regularly updates the animal's price on the second or third day. 'The reason for this is that the cost of caring for these animals keeps changing and therefore its price."'

Rizwan Ahmed, a sales manager at a private company selling sacrificial animals online said that buyers can also pay online for animal bookings, in which case we deliver the buyer's animal(s) of choice to their address. "In this process, transport fares are charged separately based on distance. Apart from this, we also offer buyers the opportunity to purchase the animal directly from the cattle farms."

Congo virus check mandatory for sacrificial animals

He added that his company has more than two cattle farms registered in the province. "Buyers go to the nearest cattle farms in their city and buy the animals."

Along with sacrificial animals, several companies and organisations that offer online sacrificial facilities have also emerged. The focus of these companies is on oversees Pakistanis who pay for the animals of their choice on the website and the sacrificial animals' meat is distributed according to the customer's instructions. Many welfare and philanthropic organisations including Edhi Foundation, Minhaj Welfare Foundation, Al-Khidmat Foundation, Shaukat Khanam, and others are offering local and overseas Pakistani Muslims an opportunity to participate in online-based sacrifice and mass sacrifice.

Published in The Express Tribune, August 5th, 2019.