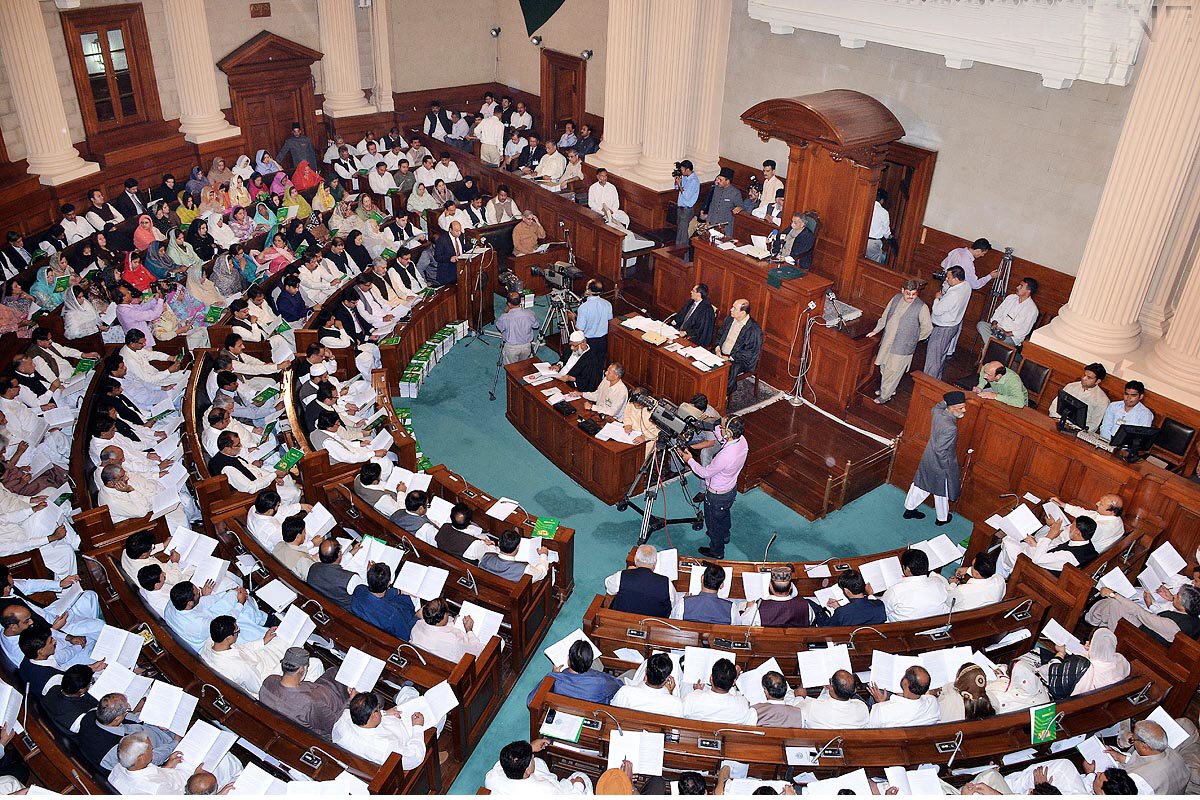 ---
LAHORE: The treasury benches of the Punjab Assembly said that the reduction on the defence budget is a result of the government's better relations with the establishment compared to previous regimes.

Waseem Khan was among the PTI's MPAs who paid tribute to Chief of Army Staff General Qamar Javed Bajwa and applauded current civil-military relations. "I pay tribute to COAS Bajwa and his team for curtailing the defense budget for the first time. Credit goes to the good relations between the civilian government and the military," Khan expressed.

He expressed these views while delivering his speech on fifth day of the General Discussion on the Annual Budget for the Year 2019-20. A few opposition lawmakers, who delivered their speeches on Friday, failed to make much of an impression.

Their speeches were confined to applauding the "broader vision" of PML-N's leadership, while the treasury lawmakers were more focused on the outlook  of Prime Minister Iman Khan and Punjab Chief Minister Sardar Usman Buzdar.

At one point, the treasury denied accepting the opposition's offer to sit with them for a charter of economy to pull the country out its ongoing economic crisis. Punjab Minister for Public Prosecution Chaudhary Zaheeruddin said his party was ready to sit down with the opposition for the said purpose only if the PML-N agreed to return looted money.

The offer was put forward by PML-N's Malik Muhammad Ahmed who said federal opposition leader Mian Shehbaz Sharif and former president Asif Ali Zardari were ready to talk about a charter of economy.

He also proposed forming a fresh committee to probe the debts of PML-N's government after the PTI raised a hue and cry over the matter. Ahmed said the facts should be made public and remained confident that the hands of PML-N leaders were clean.

He said doubters were welcome to come and investigate the governance of the previous regime and the projects initiated by it. He warned the PTI government to refrain from playing politics on the back of an economic crisis.  He said sincere efforts were needed to pull the country out of its current imbroglio.

Ahmed raised objections over finance minister Makhdoom Hashim Jawan Bakht's speech, adding it was not a fact-based speech. Bemoaning the National Accountability Bureau's (NAB) manner of investigation, he said the accountability watchdog was harassing politicians and businessmen.

The finance minister, responding to Ahmed, said this was the first government to make a Punjab growth strategy consisting of 77 variables. "We want to achieve a sustainable growth rate of 7%."

Published in The Express Tribune, June 22nd, 2019.
COMMENTS
Comments are moderated and generally will be posted if they are on-topic and not abusive.
For more information, please see our Comments FAQ