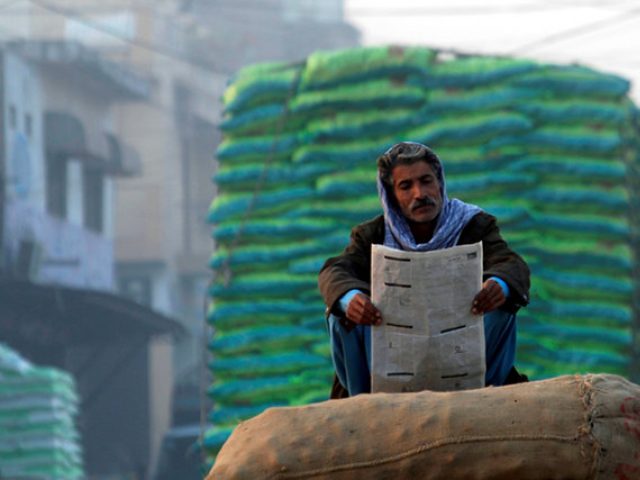 ---
KARACHI: [fbvideo link="https://www.facebook.com/etribune/videos/1211392125705237/"][/fbvideo]

The Ministry of Information and Broadcasting announced on Wednesday the 8th Interim Wage Award for newspaper employees with the interim relief (increase in salary) ranging between Rs5,000 and 8,500 per month.

While the adhoc increment had earlier been announced by the board under the chairmanship of Justice (retd) Hasnat Ahmad Khan in Islamabad on April 10, the PM's adviser made the announcement afresh for reasons best known to her.

"Your [journalists'] efforts did not go waste. Today the government is announcing the 8th Interim Wage Award," PM's Special Assistant on Information Dr Firdous Ashiq Awan told a press conference.

"This interim award is a way forward, a crucial step towards a final award, which has been formulated in consultation with both the employees and the employers… it has not been decided by any specific favourite group but following consultations and consensus in hearings by tribunals, she said, referring to the Implementation Tribunal for Newspapers Employees (ITNE), a body that deals with the implementation of the wage award. It hears complaints both on an individual and collective level regarding the application of wage board salaries.

The de facto information minister admitted that the relief was not enough if adjusted with inflation rates but said that it reflected the government's commitment and that it was all ears for the resolution of journalists' issues.

"Since we are planning a future mechanism, these issues will be addressed," she claimed.

According to Awan, Special Grade/Category A/Grade I that includes editors and others, the interim relief will be Rs8,500 per month. From Grade I-IV the relief will be Rs6,500 whereas for employees falling between Grade V and Grade VIII the increase will be Rs5,000.

Reacting to the announcement, President Pakistan Federal Union of Journalists Afzal Butt said although the relief was not enough, media owners should implement the new award.

"It's better to get something rather than nothing," he told The Express Tribune. "Newspaper owners should implement it."

Karachi Union of Journalists (KUJ) President Ashraf Khan termed the development a "political statement" and a "formality" as it was already announced and notified earlier.

Starving the press into submission

Khan said the KUJ had reservations over the nominal increase but accepted it since it was long overdue.

"It should be implemented in letter and spirit…the government should take practical steps rather than making mere announcements only," he said.

Are wage board salaries implemented in Pakistan?

Only a few newspapers in the country implement the wage board salaries.

"This announcement will not materialise," a senior editor in Karachi, who wished not to be named, told The Express Tribune. "Print media's glory days have gone and their return is not expected anytime soon."

New advertisement policy

The information adviser said the existing advertisement policy was flawed, and a new policy would be announced on August 14, the Independence Day.

The information adviser said a committee will be formed to turn the interim award into a permanent one. It will act, she added, as a bridge between employers and employees to hold those accountable for the crisis prevailing in the media industry.

Dr Awan said the government was also increasing the number of tribunals for early redressal of complaints, as well as working out issues of media workers with the Employees Old Age Benefits Institution (EOBI).

"Since media workers do not get the same benefits other workers as well as labourers are getting, we have decided to consult with the relevant ministry and come up with new effective legislation that addresses the problems once and for all," she said.

The information adviser also announced resumption of grants to news agencies and press clubs.

Prevailing crisis in the media industry

The PTI government after coming into power allegedly attempted to control the print and electronic media by curbing its advertisements.

While the volume of advertisements fell drastically, former information minister Fawad Chaudhry also imposed a ban on releasing payments of advertisements run during previous tenures.

The non-payment of dues led to severe financial crisis in the media industry, and on the pretext of 'losses' media owners carried out a ruthless retrenchment drive. According to an IFJ report, Pakistan's media houses laid off nearly 2,000 journalist and non-journalist staff between May 2018 and April 2019.

Besides lay-offs, there were pay cuts, delays in salaries, reduction in newspaper pages, shelving of editions and even closure of some television channels and newspapers.

Following directives of Prime Minister Imran Khan, however, Awan initiated the process for payment of arrears.

PML-N leader Marriyum Aurangzeb, speaking to The Express Tribune, said resolving the crisis wasn't among the PTI government's priorities, and the PM's "multiple media advisers had their own vested interests".

The measures, she added, were part of the government's strategy to curb freedom of the press and starve it into submission.

Chaudhry, meanwhile, said the government could not 'subsidise' the media.

"How can you subsidise everything…people in Pakistan don't want to pay taxes but want relief through subsidies," he told The Express Tribune.

The federal minister said the media in Pakistan was facing a technological rather than an economic crisis. Private media houses, he added, should innovate, find and explore new avenues for revenue generation, including digital advertising as "government cannot support them anymore".
COMMENTS
Comments are moderated and generally will be posted if they are on-topic and not abusive.
For more information, please see our Comments FAQ