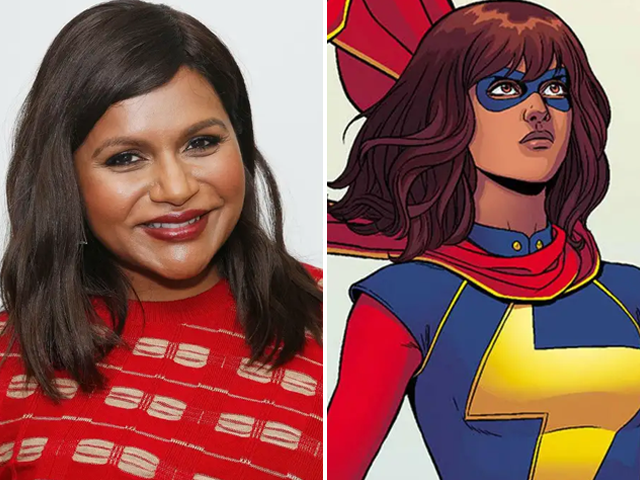 ---
Hollywood star Mindy Kaling has indicated that Marvel is in the process of bringing a Pakistani-American character to the big screen. According to the Late Night actor, studio bosses are "excited" about the prospect of introducing Ms Marvel to the MCU.

In an interview with MTV News, Kaling spoke of her love for the character and hinted that she would choose a relatively unknown female actress to play the heroine. "I think the people I've spoken to at Marvel about it are so excited about the character! I think that they're trying to figure out what to do with it. I told them I would help in any way because I truly love her," she said.


.@mindykaling on the conversations she's had with @MarvelStudios about #MsMarvel, and who she thinks she portray the Pakistani American superhero: "I feel it might need to be an unknown" pic.twitter.com/kySV3gxgec

— MTV NEWS (@MTVNEWS) June 9, 2019


"They really seemed interested and I think they will probably do something. Now that there's this streaming platform with them, it might be something like that, but I think they understand how much excitement there is."

After her interview, speculations arose that Kaling was onboard to portray Marvel's latest superstar. She later went on to clarify that she had "no information" about an adaptation but was quick to state how huge she thinks it will be when it is eventually adapted.


Hi everyone, I love Ms. Marvel (aka Kamala Khan) and the geniuses behind her @GWillowWilson @MiniB622 @Marvel, but I have no information about any tv or film adaptation! Wish I did though, when that hits the screen it's gonna be huge😍

— Mindy Kaling (@mindykaling) June 10, 2019


Earlier, Pakistani-British actor Riz Ahmed had offered to write the script for the film based on Muslim origin superhero. Taking to Twitter, the Venom star roped in Kaling and The Big Sick famed star Kumail Nanjiani. He wrote, "So when do Marvel Studios want me, Mindy Kaling and Kumail Nanjiani to get started on the Ms Marvel screenplay?"

https://twitter.com/rizmc/status/996541121537994752

Kaling, in response to Ahmed's tweet, said she was in love with the character. "Riz! I am obsessed with this comic book. I've read them all. I love Kamala Khan," wrote the Ocean 8 star.


Riz! I am obsessed with this comic book, I've read them all. I love Kamala Khan. https://t.co/f3PevhfUzv

— Mindy Kaling (@mindykaling) May 16, 2018


When news of Ms Marvel's debut spread like wildfire, fans were quick to share their two cents on the perfect actor for the role. Other than Kaling, Bollywood beauty Priyanka Chopra also made it to the top of the list due to her South Asian heritage.


We are here for Priyanka chopra playing the role. You can take all of my money 💵 @priyankachopra pic.twitter.com/mBdCnDGbU8

— S ♡ (@Shezx_) May 12, 2018


Some fans even pointed out that that character should be played by a Pakistani-American instead. Chopra also has some history with the character. In 2016, the 36-year-old actor voiced Ms Marvel for a video game.


Say hello to Ms. Marvel-I'm her voice & she's my alter ego in MARVEL Avengers Academy! Here..https://t.co/dxHpcHgOCu pic.twitter.com/rNqJnxBehT

— PRIYANKA (@priyankachopra) February 5, 2016


Marvel Studios' Kevin Feige also previously confirmed his plans for Ms Marvel to join the MCU, especially considering the success of Captain Marvel. In a BBC interview, he confirmed that after 2019's Captain Marvel, the studio is planning the film.

In the Marvel comics, Ms Marvel is inspired by Captain Marvel to become a hero - hence the similarity in the name. Captain Marvel was Marvel's first solo female superhero - a pilot named Carol Danvers is transformed after an encounter with aliens. The comics portray Ms Marvel, real name Kamala Khan, as a teenage Pakistani-American from New Jersey with shape-shifting abilities.

Have something to add to the story? Share it in the comments below.