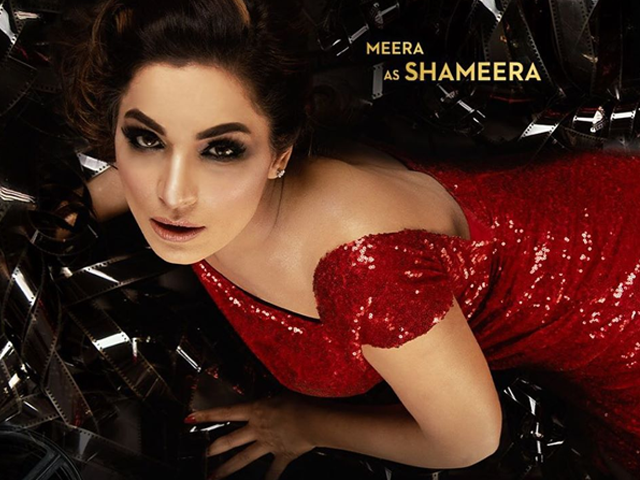 ---
KARACHI: Miss Meera Jee is always unapologetically herself, even as the world takes pride in mocking her. Time has taught the star how to handle life; she isn't one to back down before its many hurdles and this is evident in Baaji, wherein Meera – resplendent as ever – portrays a struggling superstar hanging onto her superstardom by a thread.

The Express Tribune recently caught up with the Lollywood icon to find out more about the upcoming film and whether or not it draws inspiration from Meera's career itself. Here's what she had to say.




'The Express Tribune [ET]:' How is 'Baaji' different from the other projects you've worked on?

Meera Irtiza [MI]: Well, for one thing, Baaji has been an experience of a lifetime! It has given me more opportunity to show my acting skills than anything else I've done before.

But more importantly, it has proved to me what can be achieved when one gives total commitment to a project. Special thanks our director Saqib Malik for this!

ET: What convinced you to choose 'Baaji' as your big comeback project?

MI: I had been waiting for something that would show allow me to prove Meera is an actor first – not a celebrity. You see, with social media, it's very easy to become a star these days but to be appreciated for your work is very difficult.




When Saqib pitched Baaji to me, it felt like a new lease of life. I have the title role; the story and script are unique. And Saqib kept me in mind when conceiving the film. What else could I have asked for? I couldn't have asked for a better comeback.

ET: Speaking of, there seems to be a lot of similarity between you and your character Shameera?

MI: Actually, the only similarity is that I play a movie star. Baaji shows the many ups and downs in the life of a big heroine. Of course, I could relate to Shameera as I am from this industry but there is nothing else in common between me and my character.




ET: If you could adopt one trait from her, what would it be?

MI: Her sense of style! I have to say I have never looked more stylish or glamourous in a film and all the credit goes to my styling team!  Saqib wanted the character to have a larger than life, classic Hollywood presence and I think he succeeded in capturing it that way.




ET: You recently said you want to do films with social messages and spur change. How will 'Baaji' help with that?

MI: I always say good cinema can influence attitudes. You can feel it in your heart when you are doing something meaningful. Baaji has many social messages but it's best you wait and watch the film yourself.

ET: What sort of reaction are you expecting?

MI: I am hoping Baaji will both satisfy my loyal fans and the audience at large. For an actor, nothing is greater than gaining respect for their acting. I have dedicated my entire life it; this is all I know. I work like a foot soldier and just want to deliver my best. Baaji has given me that opportunity.



ET: Any special memory from 'Baaji' that you'd like to share with us?

MI: Shooting for it is been one long, cherished memory. It was a tough shoot, physically and emotionally. Saqib is a perfectionist. But I enjoyed every part of it, especially my scenes with Ali Kazmi. He's an excellent and supportive co-star.

ET: What's next for Meera?

MI: I want to take on quality work only, be it in films or on TV. Baaji is the first big film I have done after the revival of local cinema and I am so, so impressed with the progress we've made! I am also thinking of producing a film. But right now, I am focused Baaji. At least in my heart, I know that it will be remembered as a classic piece of Pakistani cinema.

Have something to add to the story? Share it in the comments below.