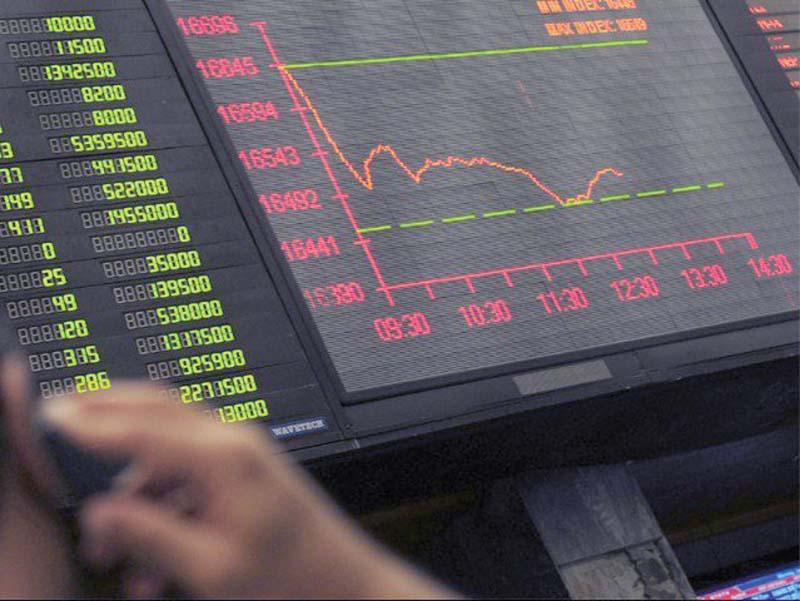 ---
KARACHI: Pakistan's capital market received a battering on Monday ahead of the release of the Economic Survey 2018-19 and presentation of federal budget for FY20.

The Pakistan Stock Exchange (PSX) hit a new three-year low, closing at 34,567.55 points whereas the rupee depreciated to 150.10 to the US dollar, holding just short of the record low. Meanwhile, gold prices surged to the historic high at Rs72,400 per tola (11.66 grams)

Pakistan's economy is estimated to have sharply slowed down in the current fiscal year, hitting a nine-year low at 3.3% against the target of 6.2% on the basis of a dismal 0.85% growth in agriculture, 1.40% in industrial sector and 4.71% in services sector, according to the Economic Survey 2018-19 presented by Adviser to Prime Minister on Finance Dr Abdul Hafeez Shaikh at a press conference.

Market watch: Stocks nosedive 938 points ahead of budget announcement

PSX benchmark KSE 100-share Index recorded a decrease of 937.74 points, or 2.64%, to settle at 34,567.55 on Monday. Such a level was last seen on May 2, 2016.

Talking to The Express Tribune, Alpha Beta Core CEO Khurram Schehzad said investors were afraid anticipating a tax-heavy budget. On the other hand, he pointed out, the Financial Action Task Force (FATF) provided room to Pakistan till September for meeting its nine-point agenda and the NIT fund was also approved.

"Despite the positive news, the market maintained a negative trend," he said. "A hike in taxes and withdrawal of subsidies are expected in the upcoming budget and the government has set an unusually high tax collection target at Rs5.55 trillion."

Schehzad was of the view that the additional tax target of Rs1,400 billion was a big challenge and following a shortfall in the current year, investors felt that the government would not be able to meet next year's target.

"Corporate tax rate may be increased. If not, it may not be reduced either," he added. "Certain positive measures in the previous mini-budget, announced by former finance minister Asad Umar, including the abolition of super tax, may also be reversed."

Other than that, Prime Minister Imran Khan's statement urging people to opt for the amnesty scheme also sparked fears among investors.

"This happens every time before budget announcement when a tax-heavy budget is expected," Schehzad remarked. "A few days before the announcement, the index falls but clarity emerges after the announcement and the market gradually recovers."




Rupee falls

The rupee depreciated Rs1.50, or 1%, and closed at 150.10 to the US dollar in the inter-bank market on Monday. This is just 1.21% short of the all-time low close at Rs151.95 recorded around three weeks ago on May 22, 2019, according to the State Bank of Pakistan (SBP).

"The rupee has just adjusted against the (US) dollar. Otherwise, there was apparently no immediate international payment pressure in the market," said Arif Habib Limited Head of Research Samiullah Tariq.

The rupee had recovered significant ground against the greenback over the past three weeks, particularly in the last 10 days of Ramazan, on increased inflow of dollars. The inflow increased on account of remittances sent home by overseas Pakistanis and foreign currencies brought home by expats who came to celebrate Eid with their relatives.

ECC set to approve two support funds for PSX

"The absence of such inflows (remittances) pushed the adjustment of the rupee against the dollar today (Monday)," he said.

"The rupee is expected to reach 153 by the end of current month and 157 by December 31, 2019…on import payment and foreign debt repayment pressures," he anticipated.

Gold surges

Gold prices increased Rs600 per tola (11.66 grams) to a record high of Rs72,400 "mainly due to rupee depreciation", said All Sindh Saraf and Jewellers Association (ASSJA) President Haji Haroon Chand.

Besides, an uptick of $2 per ounce (31.10 grams) to $1,322 in the international market also prompted the gold pricing committee to revise the price upwards of the imported commodity in Pakistan, he said. 

Published in The Express Tribune, June 11th, 2019.

Like Business on Facebook, follow @TribuneBiz on Twitter to stay informed and join in the conversation.