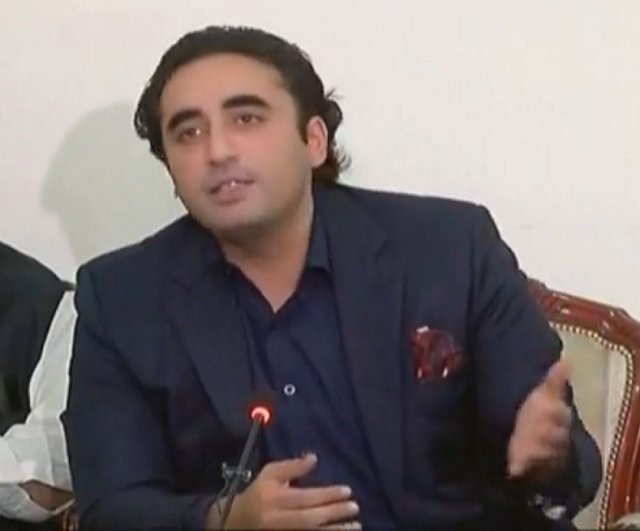 ---
[fbvideo link="https://www.facebook.com/etribune/videos/303061213915488/"][/fbvideo]

Hours after Pakistan Peoples Party (PPP) co-chairman Asif Ali Zardari was arrested by the National Accountability Bureau (NAB), his son Bilawal Bhutto Zardari demanded resignations of speaker and deputy speaker of National Assembly for not allowing him to speak on the matter on Monday.

"I was not allowed to speak in two consecutive sessions of the lower house of the parliament," said the PPP chairman in a news conference called following today's developments.

"I condemn the conduct and behaviour of speaker and deputy speaker and I demand their resignations. Both of them take dictation from the ruling party and their ministers."

Zardari arrested by NAB as IHC rejects bail plea

The lower house witnessed scenes of chaos as opposition members chanted slogans against the government when deputy speaker Qasim Suri gave the floor to Railways Minister Sheikh Rashid instead of the PPP chairman.

As the commotion showed no signs of subsiding, Suri adjourned the proceedings until Tuesday, the day budget 2019/20 will be presented.

Bilawal said the government of Prime Minister Imran Khan was attacking people's right of freedom of speech. "A lot of similarities exist between dictatorship of Zia and Musharaf and this government," he remarked.

He said three female MNAs belonging to Sindh were beaten up and were not even allowed to raise their voice in the National Assembly.

"Pashtun Tahafuz Movement (PTM) lawmakers were arrested without speaker's knowledge … this is a blatant violation of law and Constitution. The speaker has also failed in issuing production orders of the two PTM MNAs," he said.

'Fake PM won't be able to dodge his accountability by arresting rivals'

"The Article 10A of the Constitution gives right of fair trial to every citizen. This government is usurping basic human rights … silencing voice of dissent does not happen in any democratic country," he added.

Mohsin Javed Dawar and Ali Wazir, MNAs belonging to PTM, were arrested following tension in North Waziristan after a clash occurred between security officials and protesters led by the two lawmakers at the Khar Kamar check post in Boya last month.

Bilawal said the government wanted a selected judiciary and opposition. "These judges should have been informed in advance about the reference being filed against them. They shouldn't have come to know about it from TV tickers," he said, referring to Justice Qazi Faez Isa and Justice KK Agha.

Shehbaz slams NAB over arrest of 'cooperating' Zardari

The PTI government has filed a reference against Justice Isa, alleging that the apex court judge did not declare a foreign property in his wealth statement.

The legal fraternity, collectively, rejected the reference terming it a 'mollified' move.

The PPP chairman, who is grandson of Zulfikar Ali Bhutto and son of Benazir Bhutto – both former prime ministers of the country – said, "How could you scare this child from arrests who has seen his grandfather, his mother and father facing police brutalities and judicial activism all his life?"

He said he will chair the PPP central executive committee's meeting, called in the federal capital tonight to devise future course of action.

"PPP won't compromise on 18th constitutional amendment, NFC award and democracy at any cost," he added.